"This site contains affiliate links to products. We may receive a commission for purchases made through these links."
Having used both Neoprene Waders and Breathable Waders, I think I'm in the right position to compare them.
I had loved my Neoprene Wader and used it for months, but I love to explore and test things out, so I gave breathable a chance and got in about 3 months ago.
So what's the difference?
Neoprene waders are made of rubber materials, which can get hot during warm weather conditions, while Breathable are primarily for cold weather. They are mainly for protecting and insulating an angler in cold weather. Breathable waders are manufactured from a material that lets water vapor escape within the membrane, breathable is a much better option for fly fishing.
In the rest of this article, I'll share both the pros and cons of each type of wader, and then you'll be able to make your decisions.
When it comes to fishing, a lot of people have invented new ways to catch fish out of the water.
Fishing is a special way to spend time with friends. It's the perfect venture to get away from the city and relax.
If you've never tried it, we highly recommend that you do. As anyone who's ever picked up a fishing rod knows, fishing is a wonderful sport and one of the most accessible outdoor activities for families.
But before you head out, there are a couple of things you need to know.
Tournament fans and participants alike know there's far more to out-fishing competition than simply showing up to the game and hoping for the best.
Waders are one piece of clothing that's nearly compulsory for duck hunting and for some forms of fishing.
Why Fish With Waders?
Waders are probably one of the most versatile items of fishing clothing you will purchase.
Helps you access areas of the water that you could not reach with standard fishing boots, helping you increase casting distance, land fish easier, and even keep you dry in the roughest of weather conditions. 
Waders keep you dry and for the most part warm (depending on how you layer underneath or depending on the materials of the waders themselves).
They allow you to access water that might not normally be accessible to fishermen not willing to get wet. This might lead to more fishing success, or might allow you to get away from crowded shores.
Beginners still often get the wrong type – probably on the unfortunate basis that they think of waders as a "luxury" and not a "necessity."
In this article, we will cover everything you need to know about fishing waders that will help you decide, what waders are best for you.
Waders are generally found in two categories: neoprene and "breathable."
Neoprene Waders Review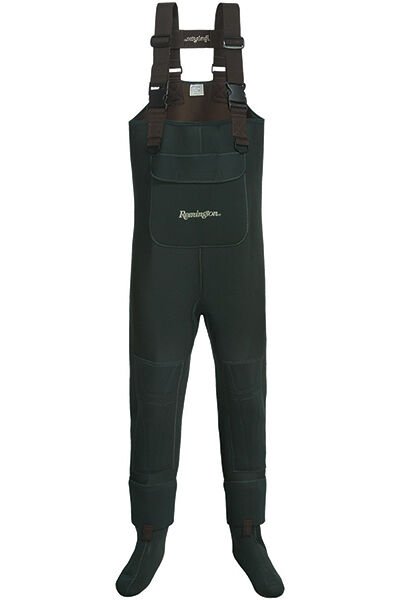 Neoprene is a synthetic rubber that is relatively thick and cushioned. It stretches and generally has a snug fit.
Neoprene waders can be found at nearly any outfitters and at local sporting goods stores, often in waterfowl-style camo.
Neoprene is generally more durable and will withstand activities like duck hunting, where you regularly walk through dense bushes with sharp sticks or murky swamps.
Neoprene is more flexible than nylon and can be more comfortable to wear in some situations.
People frequently ask if neoprene waders are waterproof and the answer is yes. They work differently than wetsuits since they come with a higher density and keep your legs completely dry.
They also insulate incredibly well and even during winter, with the right type of thickness, you shouldn't have to freeze.
The most popular choices are 3.5mm, 5mm, and 7mm neoprene, and obviously, the thicker they get, the better they insulate. Keep in mind that they are really not made for using them in a warm climate.
You will build heat up quickly causing you to sweat.
If you compare neoprene vs rubber waders, neoprene is lighter, more durable, and keeps you warmer. Because of that, they replaced rubber waders almost entirely in the outdoors industry.
If you plan on using your pair mainly in colder weather and under tough conditions, neoprene waders definitely perform better than most breathable nylon versions.
Some people complain about the increased buoyancy neoprene waders often have.
The thicker the neoprene is, the more you will notice how they try to float on top of the water.
In other words, while this effect is barely noticeable while wearing 3.5mm, it can be slightly annoying with 5mm or even 7mm neoprene.
Pros of Neoprene Waders
Waterproof
Warm, Good for Cold Weather
Harder to Field Patch
Cons of Neoprene Waders
Too Warm at Times
Seals Can Fail Quickly Depending on Type of Sewing and Reinforcement
Rubber Snags Easily on Thorns
Bulky
Breathable Waders Review
Breathable waders can be made of different fabrics. Most breathable fishing waders use the construction of layered nylon coated with "Durable Water Repellent" to make them waterproof.
DWR is a fluoropolymer-based treatment that gives them a hydrophobic feature, while they still remain breathable.
The laminated layers keep water out while at the same time allowing moisture to leave your waders, therefore creating a permeable membrane.
The technique is common in combination with Gore-Tex and is used frequently for hiking boots.
Generally, breathable waders keep you warm enough during the winter month, while at the same time preventing you from sweating once temperatures rise.
If the weather gets colder, you can adapt with another layer of thermals underneath to prevent freezing.
When you plan on getting only one pair of waders, while using them in a wide range of environments, breathable is the better choice.
In the heat, they outperform all other fabrics by far, while at the same providing decent insulation that can easily be improved with additional layers of clothing underneath.
There is a chance, that your breathable waders will eventually lose their hydrophobic outer layer. If that happens, you can easily renew the water-repelling coating with a waterproofing spray.
Breathable waders are lightweight and don't restrict your motion as much as Neoprene waders do. Breathable waders will allow water vapor (from the inside) to escape while keeping back liquid water from coming in.
This helps reduce sweat and condensation on the inside, keeping you dry.
These waders are ideal for warmer climates and warmer water, but with the right layering can also be used in cold fishing conditions.
Pros of Breathable Waders
Waterproof
Light
Easy to Patch in the Field
Cooler
Versatile – Easy to Layer Underneath
Resistant to Snagging
Cons of Breathable Waders
Not Warm Enough for Really Cold Weather / Water
Thin Material Can Puncture Easily
Price (Neoprene and Breathable Average Price)
How much does a neoprene wader cost?
Basic neoprene waders can cost $100 or less but don't expect these to last much longer than a season or two without extensive repairs.
How much does a breathable wader cost?
Breathable waders can cost nearly twice as much and mine made it through a couple of seasons before I had to seal the seams again.
Hybrid Waders Review (A combination of Neoprene and Breathable)
Some hybrid waders have come on the market. These have neoprene up to the waist and then breathable material up top.
I'm not sure how effective these will be in keeping you from overheating and it will be interesting to see how people like them over the years.
When facing rougher and colder conditions, neoprene performs better than breathable fabrics.
I would consider neoprene if I did most of my hunting in very cold weather or water. Even then I would be tempted to stick with breathable waders.
If you buy your breathable waders a little loose, you can layer socks, base layers, and sweaters and jackets underneath them.
Final thoughts
Fishing in cold water can sap your body's natural heat, and depending on the circumstances, could lead to hypothermia.
Wading wet even in summer months can lead to hypothermic extremities, especially if the water you are wading in is glad glacial runoff.
With so many different types of waders and optional features that they offer, it can be confusing to decide which waders are best suited to your style of fishing.
There are many different kinds of waders out there to choose from. Do you go with the Neoprene Hip boots or the Breathable-chest waders?
Choosing the right waders will depend on what type of fishing you like to do. If you commonly pursue Alaska salmon, Neoprene chest waders with either a booted foot or stocking foot (your prefeFrance) will probably be the best option.
If you fish in a variety of climates and water types, a breathable pair of chest waders or pants give you the most flexibility.
Whether tackling shallow streams or commanding rolling rivers, having a quality pair of fishing waders can significantly enhance your comfort and efficiency when out on the water.
There are a number of options and styles available to anglers, and matching these qualities to your fishing conditions can help you find more enjoyment with each cast.
Hopefully, this article will help you find the right pair of waders for your fishing activities. Thanks for reading, and happy fishing!