"This site contains affiliate links to products. We may receive a commission for purchases made through these links."
Do you intend to have an outdoor activity or a party soon? You can't enjoy it without having a pelican 70 qt cooler.
Have you considered where you will place your drinks or even food? In this Pelican 70qt cooler review, you'll discover the amazing features to look out for, and whether or not it's right for you.
Pelican 70qt Cooler Review (Features)
It comes in either white or gray color. It has press and pulls latches that are easy to use.
This cooler is usually tight when they are under high pressure. For your content to remain secure, they have a built-in bottle opener. It is also a molded-in lock hasp.
It has durable rubber feet.
The rubber feet are raised, though they are non-skid and also non-marking. When carrying it in your track, you will not have to worry that they will slide around.
Any time you need to step away, you can use the molded-In can holder to keep your beverage safe.
It comes with tie-downs that are molded in, and you don't have to worry about opening and closing since they don't impact it. They also have a molded-in handle and certified bear-proof.
Their interior comes with a length of 23.50″ a width of 11.00″ and a depth of 14.00″. Pelican 70 qt also has an exterior that has a length of 36.00″ and a width of 20.30″ and a depth of 21.00″.
They have a volume of 72.42qt, and that means that each can hold up to 68.53 liters. Pelican 70 qt has a thickness of 2.00," and the total weight is 33.29 lbs.
Their body is made up of polypropylene. The latch is made up of ABS plastic.
They are stainless steel, and their insulation is polyurethane foam. They can retain the ice for a maximum of nine days. They have 46 cans with an ice ratio of 2:1
Factors to consider if you want to buy a portable cooler
Before buying anything, there are factors you consider. The cooler is not an exception. Some coolers are very expensive.
Before you commit your hard-earned money to buy one, you need first to read below. What should you consider?
1. Ice retention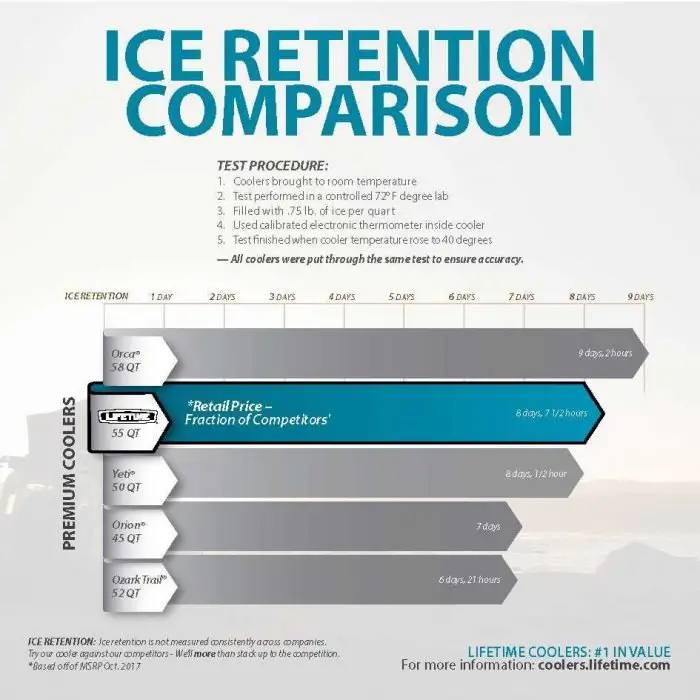 You have to be sure of how long you need your cooler to retain the ice. If for a few days, then you can go for a cheap cooler. Apart from the wall being thinner, it is also softer.
Though they are affordable, they can retain the ice for more than two days.
If you need a cooler that will maintain the ice for many days, then you have to buy the one with a thicker wall. It can be quite expensive, but it is worth the price.
2. Durability
In most cases, you will use the cooler for outdoor activities. If you subject your cooler to harsh conditions, it might not withstand.
The cost of replacement can be high. You don't want to buy a new cooler each time you are going for outdoor activities.
The material of a cooler determines how durable your cooler is. Since the manufacturer requires making some profits, in most cases the cheap coolers have a poor material quality.
To avoid getting frustrated, check the cooler with the right materials. It could be expensive, but it will give you a long-term service.
It's important to note that different coolers can tolerate harsh conditions up to a certain level. The best hint to know if the cooler is well built, check the handles and the hardware.
3. Capacity
You have to be so sure of the purpose of buying the cooler. You could be planning a picnic with a few of your friends, or you have a big party soon.
If you want a cooler for a party, you have to consider a bigger one. If you require a cooler to serve very few people, maybe a few drinks and some hot dogs; a small one is okay.
Again you have to consider if it is for a one-day event or if you might require it for the future.
How many people will you be servicing? For convenience, a bigger one is better since you will not get over-stressed when you decide to host a large party.
A small one is cost-effective and easy to carry, but not for many people. Once you make a mistake selecting the capacity, you might end up very frustrated and over-stressed.
4. Portability
Portability is not an issue for heavily-built youths since they can easily handle a massive cooler. But suppose you have back pain or some injuries?
What if something happens in the future? It is terrible to be negative, but you should also consider that when buying.
The good news is, that some coolers have readily available wheels. You can spare your back and strength for future use, and buy one with the wheel. It becomes easy to take the cooler to the venue.
5. Draining
Remember that ice retention is vital in the cooler. If you keep on opening the lid of your insulator always, it will be tricky for your cooler to hold the ice regardless of the quality.
It could be that you're opening to remove the water that has already condensed; the best way would be to remove the drain plug. Once that's done, the water will run out. 
When purchasing a cooler, you can consider one with a drain hole. The location of a hole is at a low point.
The water drains faster and completely. Always ensure that the drain hole closes tightly and is well attached to the cooler.
6. Price
You can't buy what you can't afford. Price is the area where you have to strike a balance. You have to know what kind of cooler you want.
Then consider the cost and check if you can afford it. You can compare different prices in different areas to ensure that you get the cooler at the right price and get the value for your money.
Are you ready to get your Cooler?
You can't afford to host a party or go out for a picnic without a good cooler. Imagine going out in a hot summer, where everyone wants to have a cold drink. It will stress you up for nothing. 
To make your party memorable, you require to purchase one. You need some background information about the cooler you intend to buy.
You require a cooler with long ice retention. You also have to consider the capacity and price.
You can't afford to ignore portability. You don't want to break your back while trying to impress your guests. Since you will not use a cooler for a single event, you have to consider if it is durable.