"This site contains affiliate links to products. We may receive a commission for purchases made through these links."
A small number of things in life are better on a hurried, bright spring day than taking the family out to the park to fly a kite.
But have you ever considered making your own kite?
Kite flying is one of the most amusing and pleasurable outdoor sports or activities. It does not require any particular places or gear to enjoy flying your kite.
You just require a kite and the thread and a place to fly the kite. But the difficulty with this sport is that you always require a kite to fly.
How to Make a Kite Out of a Plastic Bag
You can purchase a kite simply from a shop that is made up of paper and can simply be torn. Occasionally when there is no season for flying kites, you can`t purchase them from a shop. So then what should you do? Yes! 
You should make your kite with nothing but a plastic bag. With the help of the entire family and a few simple household resources, it's not as difficult a feat as you might think.
Plastic Bag Kite
You can make your kite very easily and quickly with a plastic bag but what is the actual material which you need to make this plastic bag kite?
So don't worry here is given the required material as well as steps for making a kite with a plastic bag.
Just gather the mentioned required material as well as follow the given steps then you will be able to make your beautiful kite so soon.
Required Material to Make a Kite with a Plastic Bag
 You need to follow to make your kite with a plastic bag:
Thin Plastic Bag
Scale
Scissors
Two Lightweight Sticks
Tread or String
Masking Tape
Thin Plastic Bag
You can make use of any type of big shopping bag, but you should choose plastic bags with thin plastic.
Thick or strong plastic has weight, which will oppose flying. But this plastic should not be so thin to stand the force of the air.
It may occur with you when you use a very thin plastic bag it can be slashed your kite from a corner and you might be lost a match with your friend because of this thin plastic.  
Scale
You need a scale for making the lines so that you can cut the plastic bag properly and neatly.
Scissors
You can use any type of scissors, but small scissors will not work so well for making a kite. You should also use spiky scissors.
Before you use them for your kite you should apply a bit over unusual things until you think you are fine to go. So always use good-quality sharp scissors for getting the best cutting of your plastic bag kite.
Two Lightweight Sticks
For your plastic bag kite, you should use lightweight two sticks. For your homemade kite, select sticks that are thin, lightweight, and fairly straight. They should be comparable in size to the plastic bag.
As you'd visualize, smaller sticks will work well with a smaller bag, whereas longer sticks work finest for a garbage bag. You can also use wooden rods if you choose.
Thread or String
To fly a kite you must require some thread or a thin string. You will not require thread for making kites, but in the end, you have to make a managing tie from the thread which is very significant.
You must be cautious buying these threads as the weak and thin thread can break the line in the middle of the air and too much thick thread will not fly so purchase a thread that is of fine value.
Masking Tape
Clear masking tape is an ideal option to make a plastic bag kite. You should always use tape with a 2-inch width because it will be best for your plastic bag kite. With just one masking tape you can make a hundred kites.
So purchase it for just one time and enjoy it like a lifespan. It's really easy to apply to your plastic bag kite. 
Shape your Plastic Bag into a Kite Frame
So you have the whole thing, hmm? Just read cautiously and follow it step by step.
The very first thing you have to do is just cut out a square piece of this plastic bag. To get that square piece cut other both sides of a plastic bag and you can get a rectangular plastic piece very quickly and easily.
Now go beyond the plastic sheets in a triangular form and cut an additional sheet.
Now you will have a square piece of plastic sheet in your own hands. Remember that don`t just open this overlapped triangular sheet quickly.
You don`t wish for your kite to be a square as a square kite can`t fly like an ideal kite in its place you yearn for it to look like a long-shaped and real kite. So at this point, you can shape it into an ideal kite.
Next, you will stumble on three corners. Simply choose two corners. Which should be 1st corner is the middle one having apiece side the same to another corner.
2nd the corner can be any corner having one short side and alongside.
Now it's time to neat these corners a little bit. This adornment assists kites to fly like a bird so be definite you neat them the same way as I did.
If you are still confused so you can read again the steps and then check or match your still done work again. Now see at the done sheet.
It is faultless and will absolutely fly like a bird and simply be controlled. You can also add a beautiful tail with your plastic bag kite.
The purpose of the tail is that it will manage your kite in heavy air; it looks beautiful and enhances the beauty of your kite as well. Don't worry we will make a tail and will add that tail with our done beautiful and perfect plastic bag kite.
 Attaching Sticks
To fly your kite so high in the air you have to keep your sheet make bigger. For this purpose, you have to get thin sticks which should be light in weight and strong adequate to put up with the wind.
Keep in mind that these sticks should be strong and adequate to stand in the air.
Because if you didn't follow this so it may be possible that when you spent a lot of your effort in the making of plastic bag kite and you use thin but not strong sticks so you can fly your kite so high because your kite will go down as you didn't use strong sticks. So you have to attach thin but strong enough sticks to the sheet.
Take a stick and attach it to the middle of the sheet with the help of masking tape. This step is so simple. One time you have taped the middle stick half of your kite is completed. Then attach the second stick with masking tape as well.
Make your Kite Tail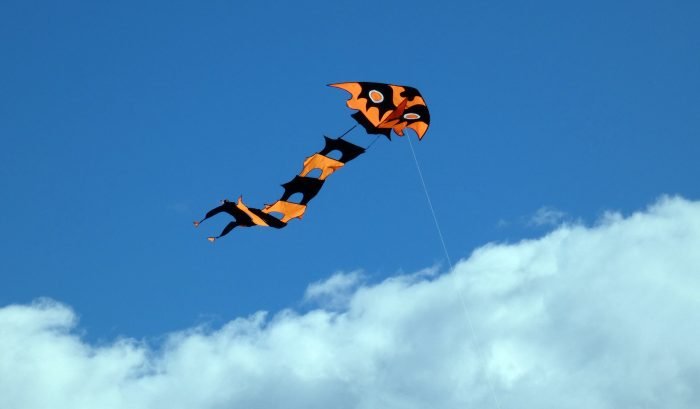 Now it's time to make your plastic bag kite, 'WOW'– So from the left behind pieces of a plastic bag, you can use that and make a tail.
The tail should be approximately 5cm wide and about twice as long as your kite. You might require taping pieces together and possibly will require using a second bag if you don't have enough leftover.
Tie the tail to the base of the longer length of the rod, just beyond where it is taped to the plastic.
You can also use different types of things for making your kite tail. You can use different ribbons or colorful strips of cloth which you can use with your kite tail but in the next step, we will use ribbons to enhance the beauty of our kite.
Attach Ribbons with your Kite Tail
You have to use another plastic bag. Now cut a strip that will be up to 3 to 4 feet long.
Then tape the strip to the bottom position of the kite. Just cut at least three 5-inch pieces of ribbon and attach them to the kite tail. You can add others for decoration or additional weight.
Additional tails can be added to the two side corners of the kite for additional balancing if required.
Ready for flying your Plastic Bag Kite
Now your kite is ready for flying. You can go outside of your home and find a peaceful area for flying. You can go to a park and start flying your new homemade plastic bag kite with a nice-looking tail.
How to Fly your Plastic Bag Kite?
Before flying a plastic bag kite you have to keep a few things in your mind which are these:
It is very significant to find the way of wind as you can`t fly kite against the way of air. So just fine the airway or direction then start flying because if there will be the air you can fly easily and in an enjoyable way.
Take off your kite properly
Taking off your kite in a proper way is a little bit difficult, so say to your friend to take your kite to a distance and you can drag the thread to yourself keeping the head up.
This will take a kite to a height instantly. Then you can allow some thread to go to add more height.
It is very important to control your kite properly.
You have to manage your kite when the air pressure increases so if your kite is at the height you can move it in the direction of its head by pulling down the tread very speedily.
And when the air pressure will be changed you can manage your kite with the help of thread.
Just keep in mind the airflow if you are on the ground or in the park, you can feel the difference in the level of air so you have to manage your plastic bag kite according to the wind flow then you can fly successfully.