"This site contains affiliate links to products. We may receive a commission for purchases made through these links."
If you are a lover of recreational vehicles, there are always great choices to make when you want to purchase one.
Whether you want to be with your lover for a week out in the country, or you want to go cross country with your family, you'll find the right vehicle that suits your needs, taste, and lifestyle. After all, the money is yours!
So much that you find it difficult to choose and you wish you could just buy them all. I'd love that too. Wouldn't it be great to have a space behind your home where you can keep as many RVs as possible?
The advantages of the Fifth wheel and Travel Trailer are so glaring to the eye. In 2016 when I bought my first trailer, I was a novice; I didn't know what to expect or which vehicle I should stick to for the lifestyle that I so much craved. Each of these RVs offers an advantage over the other. We'll look into that closely as you read on.
Where you can just revel in the different designs and the thought that went into making them?
It would be lovely. But many times, our love is usually curbed by financial restraints. So most of us have to settle for one or two. This means you have to pick one RV based on the features and functions you need most from it.
In many cases, you could have to pick between two RVs that overlap in their functions. One such case is choosing between a fifth wheel and a travel trailer.
If it came down to that, what are the things you need to know?
First of all, what are the fifth wheel and travel trailers?
Travel Trailer
Travel trailers have been in use since the 1920s. There have been many new categories of recreational vehicles since then. A travel trailer could range from 18 feet in length up to about 40 feet.
In most cases, two travel trailers are rarely the same. There are different features on a travel trailer depending on the manufacturer or a particular model.
The travel trailer you choose will usually depend on your budget and the features you want. If you want one with many features but have a small budget, you can always shop for a used trailer which will be cheaper.
For the maximum level of comfort, a travel trailer is mostly suitable for two people. If you're tall, you may have some issues with the travel trailer as it's usually lower than the fifth-wheel recreational vehicle.
To tow the travel trailer, you can either use a truck or a van. The vehicle you use to pull your RV will be determined by the size of your RV.
One thing you have with this RV is that apart from towing the RV, you can easily detach your van or truck and use it like before. For a fifth wheel, this may be a bit difficult.
If you have a van and don't want to make an investment in a truck, you'll still be able to use your travel trailer as you only need to connect it to the back of your van and you're ready to go.
Fifth Wheel
The fifth-wheel recreational vehicle is suitable for a big family, say a family of 5 or more. It's also applicable if you're planning to be in your RV for a long time or even planning to live there permanently.
The fifth wheel is taller than the travel trailer, which gives it more space to add important features. If you're tall, you won't have a problem living in this RV as it's tall enough to hold your height conveniently.
In fact, some fifth wheels have ceiling fans and are still tall enough to accommodate most people, except maybe you're the tallest man in the world.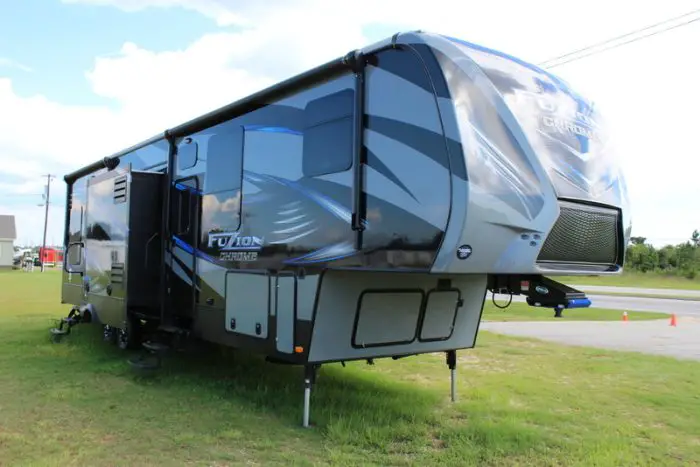 The fifth wheel utilizes a different towing method than the travel trailer. With this RV, you have to attach the jaw hitch of your fifth wheel to the hitch in your truck base.
The size of the truck you use will depend on the size of your fifth wheel. In many cases, a ¾-ton or 1-ton truck will usually be sufficient to tow your RV. This also means you can't use a van to tow this RV.
The fifth wheel puts more emphasis on luxury.
Most of the features you can find in a regular home are also present in this RV. You have a big living room, a master bedroom, a kitchen, water and waste tanks, a filtration system, an option for two bathrooms, a residential-size refrigerator, big storage space, and other features.
The major difference is that the RV is movable and cheaper than your home. You can take the fifth wheel from your state to another state without sacrificing most of the comfort you have in your house.
Due to the many great features of a fifth wheel, it's usually more expensive than a travel trailer of a similar size. But if cost is not your problem, you'll enjoy the convenience that a fifth wheel will afford you.
Another thing you won't mind is that your recreational vehicle will be easier to move around than a travel trailer that is more susceptible to wind.
Advantages of Fifth Wheel over Travel Trailer
Well, you'll have to pardon me for being biased. Because I'll be telling you 25 reasons you should pick a fifth wheel ahead of a travel trailer. Let's look at the benefits of a fifth wheel over the travel trailer.
1. Easier to hook up to the pickup truck
The fifth wheel uses a jaw hitch to connect to the base of the truck that will tow it. First of all, to connect your fifth wheel to your truck, you have to open the tailgate of your truck.
The next thing you do is back the truck up close to where you have the jaw hitch. You have to make sure that your truck is aligned with the fifth wheel to do this properly.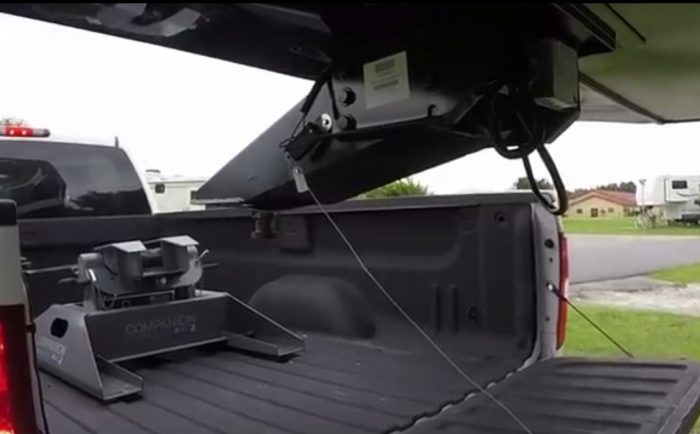 To make sure that your fifth wheel is high enough for your truck to go under, you have to lift up the fifth wheel's jack. In many fifth wheels, you can do this with the push of a button.
You want to make sure that you keep the cords up so that it doesn't get cut. There could be a loss of light or brakes if the cords get cut. After this, you back up the truck and then drop the fifth wheel down until the jaw hitch is almost at the tip of the hitch in your truck.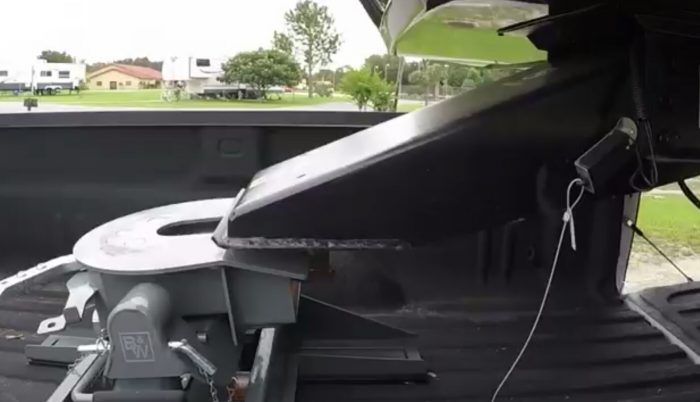 Then you back your truck up to lock in the jaw hitch. Once you do this, check your cables to see if they are in good condition. Once you're through with this, you can now tow your fifth wheel.
2. It has greater stability when towing
One of the common issues usually faced when towing a recreational vehicle is the ability to control it on the road. The fifth wheel is connected to the base of the truck towing it.
This connection makes the truck and the RV as close to a unit as they can be. The majority of the tongue weight or load weight is directly on the axle of your truck which is where it needs to be.
Your truck and RV unit are kept together as they travel. This gives the fifth wheel greater stability and makes it easier to tow.
For instance, if you're traveling on the highway where other big trucks overtake you, there's less effect on the fifth wheel as a result of the bow waves.
However, if you're towing the travel trailer, bow waves can displace it a bit which leads to a bit of difficulty while driving as you want to compensate for all the travel trailer's instability.
A travel trailer becomes more difficult to control as it becomes longer. The issue of stability becomes even more problematic if the wind speed is high. There's a greater risk of jackknifing with a travel trailer.
3. It's taller to provide more headspace for taller people
The fifth wheel is taller than the travel trailer. This means you can walk around the RV without having to bend if you're tall.
This is an important point to consider if you're tall and you'll be staying in your RV for a long time during your journey. It's even more vital if you're planning to live in your RV or go for a whole year.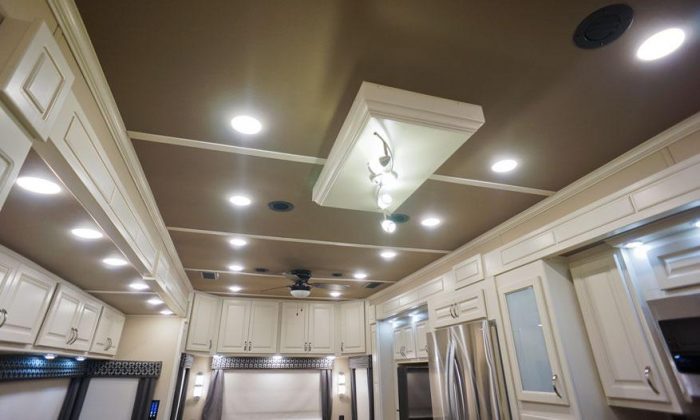 In some fifth wheels, there are even ceiling fans and you can still walk conveniently no matter how tall you are. This shows you how high the space inside the RV is.
4. Provides more storage
Being taller than the travel trailer also leads to other advantages apart from being able to walk through. You're probably not walking through all parts of the fifth wheel.
This leaves enough space for storage. In the bedrooms or living space, you can have space at the top for storage.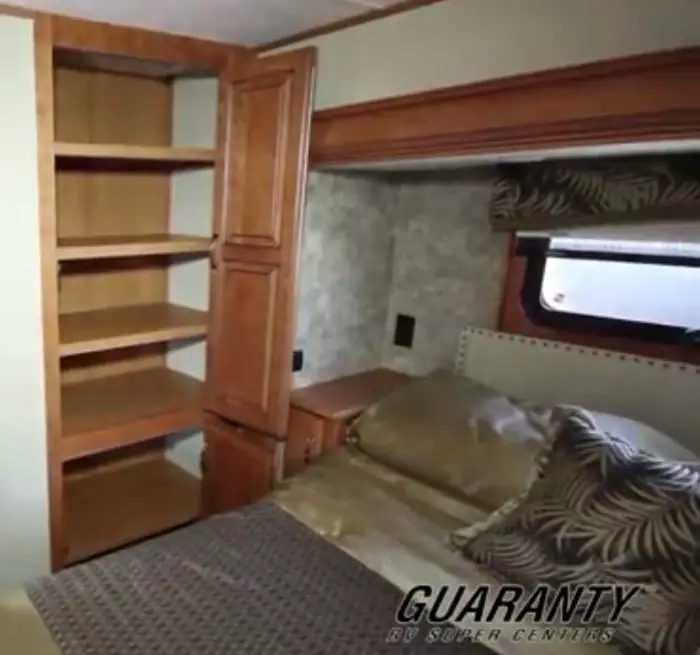 There are overhead cabinets where you can keep many things of various sizes during your journey. This is necessary when you're traveling with a big family and you'll spend a lot of time.
5. It has a bigger floor plan which makes it more suitable for larger families
The fifth wheel is generally bigger than a travel trailer. Most fifth wheels have bigger floor plans to provide more space for the occupants.
If you're taking your family of 5 or 6 along, the best choice you could make for convenience is to have a fifth wheel. The extensive floor plan gives enough space to customize the RV according to your family's needs.
Even if you're buying a ready-made fifth wheel, the bigger floor plan means the most needed features by your family are installed.
In the travel trailer, there is a smaller space which means fittings may be small while others are removed to manage the space.
6. It has better maneuverability when backing in
Due to the ease of control that a hitched fifth wheel gives you, it's easier to back in your RV and truck when you need to do so at a park or when you make a stop.
This reduces the time you spend while trying to park and also makes your life easier if you have to park your RV in a tight spot.
7. Master bedroom provides more space and privacy
The master bedroom gives you privacy as you have all the amenities you need. There's a bathroom that has a shower and a porcelain toilet. You also have a sink where you can wash your hand.
In the bedroom, you have big dresser drawers where you can keep your clothes. There is also an optional TV and an overhead entertainment area.
You also have a space for your washer and dryer when you need to do laundry. There is a walk-in closet and rack where you can keep your shoes. There's also a hang-up post where you can hang your clothes.
You have a big bed which is enough for a couple and there's a lot of space to get around the room without hitting your legs on fittings.
If you need an option of more bedrooms on your fifth wheel, this can be done. These bedrooms are also fitted with doors. This is useful if you have grown-up kids on board and you need extra rooms.
8. There are options for second bathrooms and king-sized bed
If you have children who are a bit grown up, especially girls, with you on your tour, a second bathroom may be a necessity rather than a luxury. The parents can have a bathroom while the children have another one.
With a fifth wheel, you can have this option. It eliminates all the awkward situations that may arise if you have to stay in the RV for a week or a year. This is one more reason why the fifth wheel suits a large family better than a small family or just a couple.
Due to space, you can also have a king-sized bed in your recreational vehicle. The only thing this means is that you can enjoy the night with your lover, like a king and a queen. If you ask me, this is a home away from home.
9. You can even have a full washer and dryer
For your laundry activities, you can have a washer and dryer in your vehicle. You can have your washer and dryer fitted in the compartment made for it in your master bedroom.
10. Electric fireplace
Camping during some seasons of the year requires a fireplace to keep you and your family warm. In a fifth wheel, you can have the electric fireplace as a source of heat during cold weather.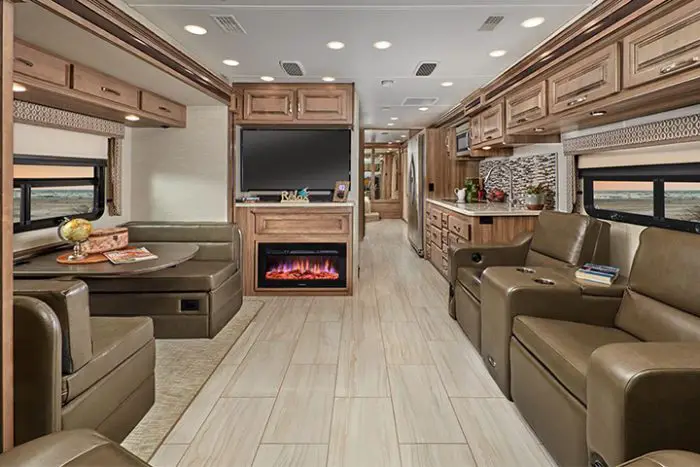 11. You can have your kitchen
The truth is that you may still have to cook. In fact, you'll need to if you're out in the country and want to spend a few days before you move on.
With a kitchen in your RV, this need is taken care of. You have the countertop area where you can work and you also have a three or more burner cooktop.
There are cabinets around the kitchen where you can keep the cooking utensils and even foodstuff. You also have the dishwasher which is good for cleaning up when you're through with meals.
You can also have the counter microwave which also helps with your meal preparations. You can have a microwave as big as what you have in your home or even bigger.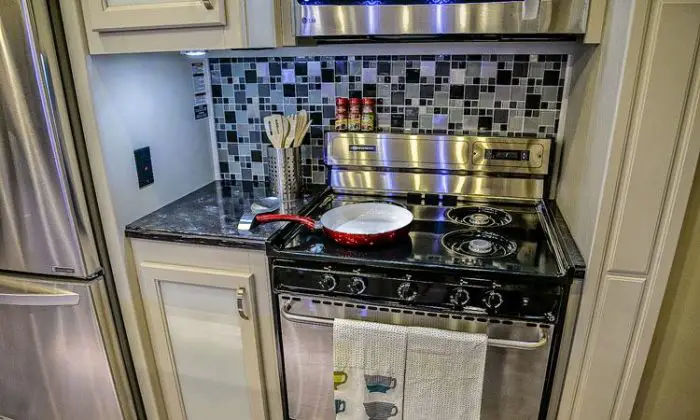 You can also have dinner in your kitchen. This means you can eat the food right there without having to move the food around.
A travel trailer doesn't afford you this much space and you may have to improvise or suffer from the small space if a kitchen is provided. Another option could be that there is no kitchen and you have to cook outside. Not very enjoyable.
12. Large waste and water tank
For the utmost convenience, you'll need to use a lot of water and make a lot of waste. A fifth-wheel RV provides a big tank for water and another for waste.
Apart from this, you can also have a filtration system for water. You can also have your docking station where you can turn on the water pump.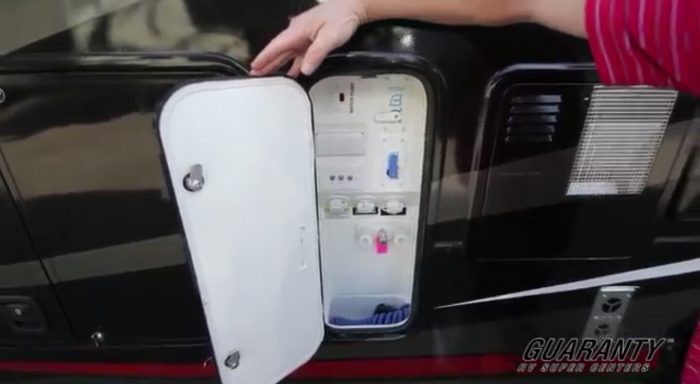 In some fifth-wheel RVs, you could have a 60-gallon tank for water and a 40-gallon tank for waste.
This is a bigger provision for everybody on board until you get to where you refill the water tank and dispose of the waste in the waste tank. This is more than you would get on a travel trailer which is most times smaller than the fifth wheel.
13. It's usually shorter than a trailer of a similar size
The fifth wheel usually ends up shorter than travel trailers of similar lengths. This is because part of the fifth wheel goes into the truck bed when they are combined. This makes the combination of the truck and RV shorter.
For a travel trailer, none of its parts overlaps with the truck. It's usually longer when you're using a van to pull the RV and even much longer if you're using a pickup truck to pull the travel trailer.
14. Has basement storage
Beneath the platform of the living space in your fifth wheel, there is a provision for even more storage space where you can store other things you'll need while on your journey.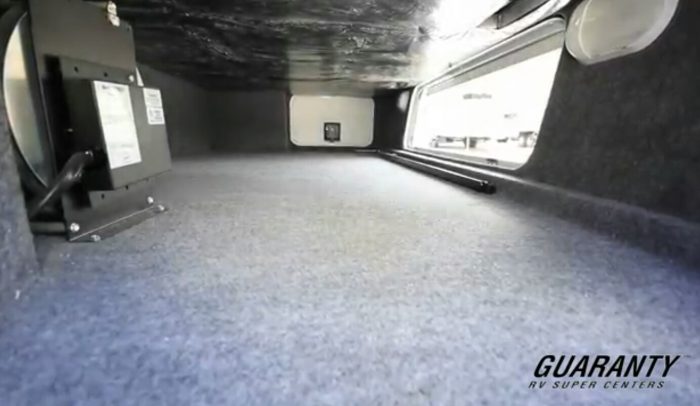 15. Some come with built-in generators
When you stop for the night or make any stops generally, you may need electricity to power many things in your RV. You may love to watch a TV program on your TV or even play music for a mini party in your RV.
You may also have to keep your drinks cold through the refrigerator. Having a built-in generator makes life much easier for everybody on board. This is one of the benefits you gain when you use the fifth wheel instead of a travel trailer.
Although, it must be said that not all fifth wheels come with built-in generators. One sure thing is that you'll find a fifth wheel with a generator if you need it.
16. Provision for a second tow
In some cases, you may need to add another tow behind your fifth wheel. This is allowed for only fifth wheels.
With a travel trailer, this is not allowed. In fact, you would not even want to try it as it would be too difficult to control when you consider that even the travel trailer alone can pose many problems with handling.
17. You can ride in the towed vehicle
Although this is not advisable, you're allowed to be in a towed fifth wheel while the vehicle is in motion.
According to regulation:
"(g) A person shall not drive a motor vehicle that is towing a trailer coach, camp trailer, or trailer carrying a vessel, containing a passenger, except when a trailer carrying or designed to carry a vessel is engaged in the launching or recovery of the vessel."     

"(i) Subdivision (g) does not apply to a trailer coach that is towed with a fifth-wheel device if the trailer coach is equipped with safety glazing materials wherever glazing materials are used in windows or doors, with an audible or visual signaling device that a passenger inside the trailer coach can use to gain the attention of the motor vehicle driver, and with at least one unobstructed exit capable of being opened from both the interior and exterior of the trailer coach."
18. More suitable for full-time RVing
If you have a plan of living full-time in a recreational vehicle, then the fifth wheel is your best choice. Personally, I don't see what you have access to in your home that is not in a well-equipped fifth wheel.
Maybe water is more limited than in your home, and you may also need to be careful with power usage. Maybe security is weaker than you would have in your home. But the fifth wheel offers you a better living space than a travel trailer.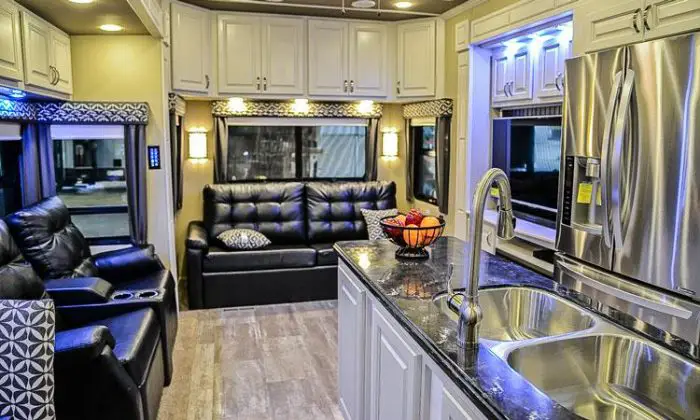 For instance, if you have a plan to go live in another city or work there for a year or two, a fifth wheel is an option you should explore.
It helps you to save a lot of money and you can still continue using your RV after the year. You also won't have any problems packing from one city to another as you already have most of the items you need in the RV. All you need to do is attach it to a truck and move your new home.
19. Access to plush furniture
On a fifth wheel, you have access to furniture as good as what you would have in your living room, and in some cases with even more features. For instance, you could have a seat that has a massage function and even a recliner.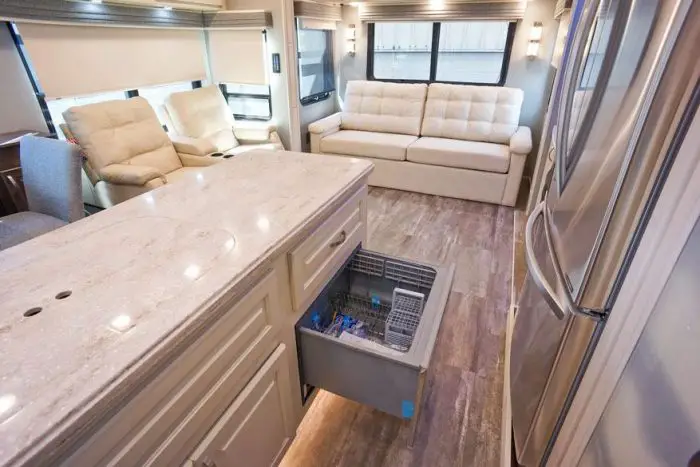 You also have lots of pantries and hang-ups for your clothes. This acts as storage space for your clothes while on the journey.
20. Central Vacuum systems
Over time, it's inevitable that dust will begin to gather in your RV. It may lead to your RV looking dirty. Apart from that, it may lead to a cough or catarrh if you're allergic to dust.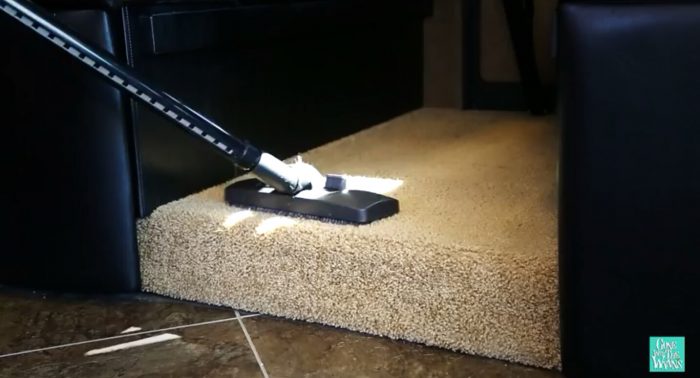 This is why you need a robust vacuum system in your RV to remove dust. This is exactly what most fifth wheels offer today. You get a more effective vacuum system on your fifth wheel compared to a similar travel trailer.
21. TV and sound system
On a fifth wheel, you could have access to your flat-screen LED TV and sound system. This is a good option for family entertainment during a stop.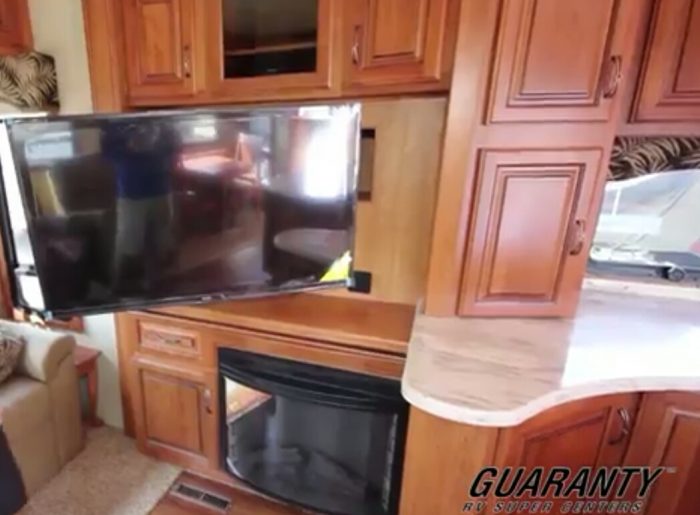 And if you're in the mood, you can have a mini party with your family. If your kids are still young, they'll definitely love the idea of having a TV to keep them occupied. Especially towards the evening when everyone is on the fifth wheel. This makes for a good experience for the kids.
22. Residential-style the refrigerator
When you're traveling, you may want to keep your groceries fresh. A residential-style refrigerator will provide for your needs in this situation. You can also keep other supplies in the refrigerator.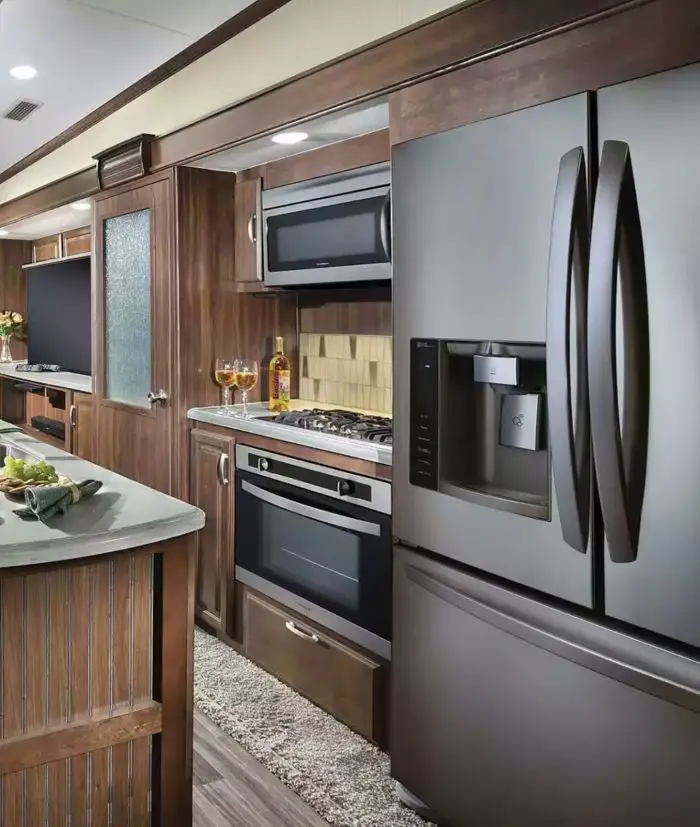 This refrigerator also has a freezer underneath it if you want to use it. The good thing about this refrigerator is that it's even bigger than the refrigerators some people use in their homes. So every cooling need you may have can be solved with this.
23. Bigger air conditioning systems
If you're going to stay in an RV for a length of time, one of the main considerations to make is the air conditioning system. Without an air conditioning system, it may be hot and uncomfortable in the RV, especially during the summer.
A fifth wheel comes with a bigger air conditioning system than you would get on a similarly sized travel trailer.
24. Bigger furnace systems
When traveling during winter, it's important that you have a furnace system that can heat your RV. You can have a bigger furnace on your fifth wheel that provides heat during the cold weather.
There are many types of furnaces you can have on your RV. Most fifth wheels will have a furnace system installed. But if none comes with yours, you can get a good one installed.
Whether it's a propane heater, or electric furnace system, or a radiant heater, you can have a big furnace system in your RV.
Due to many complaints about furnace systems about heat spaces in the RV where no heat is needed, you can have a heating system that only focuses heat on the needed spaces. This will reduce the energy consumption by the furnace system and consequently the cost.
25. More luxurious living conditions
If we're talking about luxury, the fifth wheel wins the luxury battle hands down. This RV is improving in design every year as every manufacturer seeks to gain an advantage in the market.
Today, there are many features in the fifth wheel that are even absent in people's homes. It brings a level of luxury that a travel trailer could only hope to attain at this time.
For instance, the 2017 Augusta Luxe features hardwood cabinetry in its kitchen and soft touch walls made of luxury vinyl.
Each unit of the RV comes with a provision made for solar installation if you want to do one. The 43-foot model also comes with a rapid recovery water heater.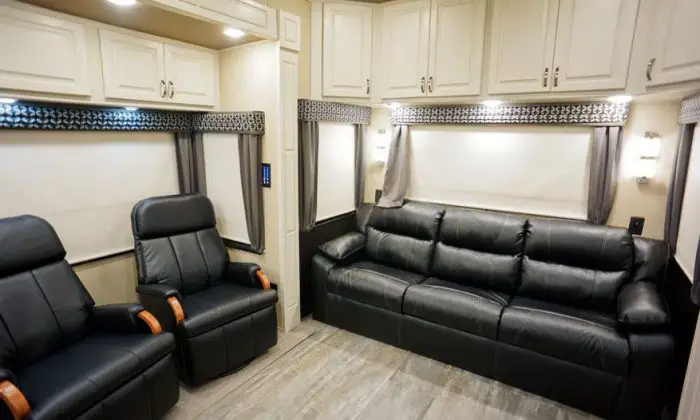 The Luxe also has a provision for the winter, with thermal pack insulation, heated underbelly, and heat pads for each tank. Luxe has made a recreational vehicle that is targeted at the section of buyers who want to live in it full time.
The 2017 Jayco designer also has cherry cabinetry in its kitchen and a residential-sized pantry. It has Sony Professional Theatre as its entertainment system and reclining leather theater seats. It also has a central command system where you can control the RV with the touch of a button.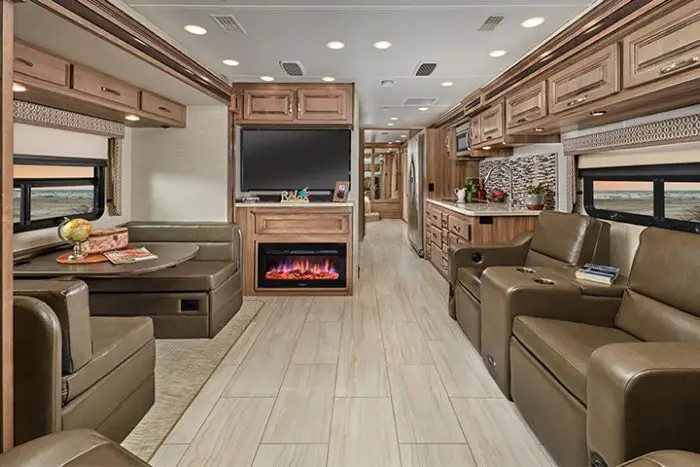 The 2017 Forest River Cardinal has multiple floor plans that make it fully customizable.
The bedroom features under-bed storage, cedar-lined closets and drawers, and a shoe caddy. It also has options for a residential-sized refrigerator, theater seating, and an exterior entertainment system.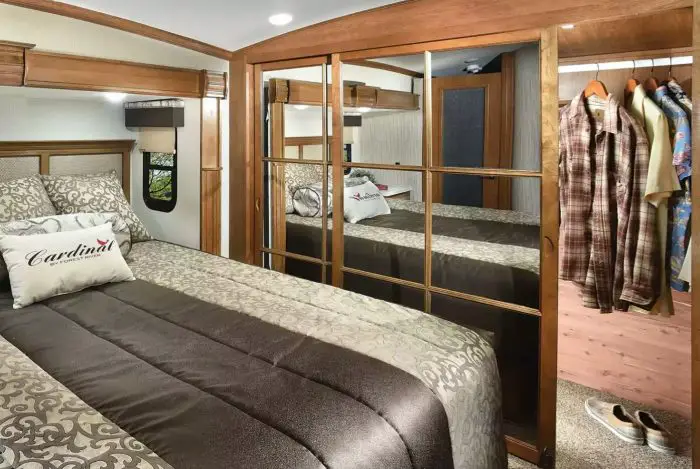 The 2017 Dutchmen Voltage has many options for its floor plans.
This includes floor plans that feature two convertible queen beds in the garage and those that feature 1.5 bathrooms and separate entries. It offers many choices because you can choose any of the 21-floor plans that suit your taste.
This is the level of luxury you get in the fifth wheel today and travel trailers don't offer the same level.
Take Away
Buying an RV requires a lot of consideration because it is a significant investment. Sometimes, picking between a fifth wheel and a travel trailer could be a straightforward decision.
If you have a big family, a fifth wheel would be the better choice. If you want more luxury in your RV, a fifth wheel would be the best choice too.
However, if you're just out with your partner to spend a few days, the travel trailer may be the straightforward choice.
In these cases, the decision is made for you based on some factors. However, in some cases, you have to consider more fine features to make a choice.
In these cases, you could have both a fifth wheel and travel trailer meet your needs. But you want to know everything about the two before making a choice.
This post has compiled most of the reasons a fifth-wheel RV would be a better fit than a travel trailer. If you find that you need most of the features outlined here, then you won't go wrong with going with a fifth wheel.