"This site contains affiliate links to products. We may receive a commission for purchases made through these links."
Apart from RVers (i.e., people traveling in an RV), pets (especially cats and dogs) also enjoy a recreational tour.
The alluring natural scenery, pleasant breeze, exotic freedom, and fluttering birds intrigue their feelings of a unique experience.
RV cat enclosures
Campers are happy if their cats are happy. Oftentimes, they get confused about whether to leave their cats free, roaming here and there, or to confine them in the RV.
Obviously, both are impracticable.
A good decision is to provide your cats with a recreational DIY enclosure.
A catio is a custom cat enclosure along the exterior of an RV that allows your feline to enjoy an outdoor opportunity while yet confined.
A cat patio or "catio" will give you peace of mind knowing that your cat is protected from predators, yet content.
Image source: Decorisme
Usually, prefabricated cat patios are available for purchase but it would be nearly impossible to find a patio that exactly fits into your RV's window trim or siding.
Another best option is building a patio by doing it yourself. You can choose a window perch design that mounts to the window trim typically with the size and shape of a window-mounted A/C unit.
You need to make sure that your patio allows for disassembly so it can be stored when you and your feline are on the go.
Alongside, the material should be lightweight and durable which can prevent a cat from escaping.
Chicken wire or mesh screens provide enough protection for your cats.
Build your cat enclosure in a way that the feline can enjoy maximum visibility and fresh air. PVC piping is a smart choice for RVers that is more durable and easy to handle.
Besides the walls of a patio, you are also required to put considerable attention to the roof of the sanctuary.
Enclose the patio with a solid board if placed directly into the sunlight otherwise, a chicken wire or bird netting can do the job.
Yet you have another great option for portable enclosures. You can place this portable enclosure on your deck or on the ground at the camping site.
This is usually a one-piece unit that sets up easily and requires no extra assembly.
It can be folded quickly and stored instantly when not in use.
Additionally, these portable feline enclosures are extremely durable and lightweight providing maximum airflow and visibility to the cats and the owner.
Rving with multiple cats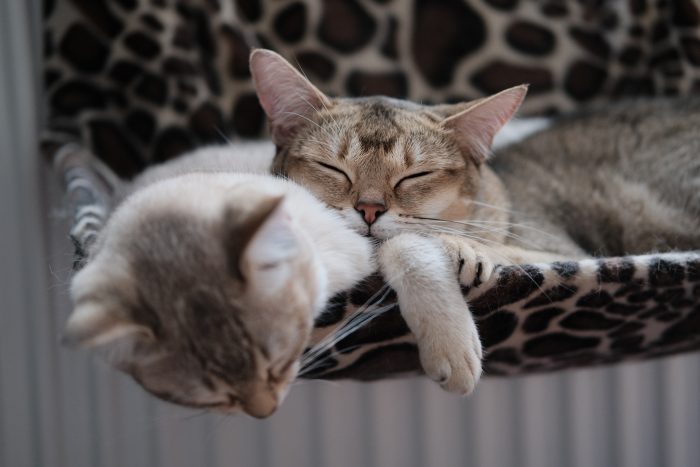 It would be better to train your cats when you intend to travel with them. Start taking them on the RV when you are not traveling.
After that have them on RV and start the engine so that the little creature gets used to the carrier.
Now, order your RV with some suitable custom working that is feasible for the cats' living. You can have some exercise or recreational activity like a cat tree or balls within the running vehicle.
Cats are little clever creatures and they discover every nook and corner of the space you will provide them. They also love a big window to watch their surrounding scenarios.
So, keep them busy with some tricky activity or engagement. Hey, the most important factor to remember is: to keep felines away from the front space.
They may get under your feet while you are driving. This may cause a great disaster. Traveling with multiple cats is itself an attentive job. If left unattended would create a big problem.
From litter boxes to their food and even medication, all matters are worth considering seriously.  
Using a portable enclosure would be a good choice before you hit the road with multiple cats.
Another important thing is the placement of litter boxes, kitty beds, scratch poles, and obviously food and water bowls.
So, before you hit the road with your cat(s), here are the 10 things you should keep in mind:
1. Get your Cat used to RV travel
Before hitting the road together with your cats, it would be a good idea to make them familiar with the actual venture.
For this purpose, you can load them into RV and take them to a small distance. You should note all their activities and expressions during this small distance tour.
Now, you are able to understand their reactions and sort out them individually based on their reaction.
You can practice this exercise for a week. Then, plan an actual RV trip to the nearest RV park. This tour should be focused primarily on the cats' training.
Prepare your cats with treats and toys and make them comfortable as much as you can.
Now, your cats are ready for a long time and far away from RV travel adventures.
They're well prepared for emergencies.
2. Ensuring your cats' health
When you are on a recreational trip with cats, it is much important to ensure they're in good health throughout the journey.
Traveling from south to north or from north to south not only changes temperature and climate conditions but also expose pets to new kinds of viruses, diseases, illness, etc.
Generally, cats face gastrointestinal issues such as diarrhea or an opposite situation, an inability to have bowel movements. They also face a loss of appetite during the journey.
You should assemble a pet health kit and a first aid kit. Your pet health kit must include some edible green clay, goat's milk, Benedryl, Muzzle, etc.
Edible green clay is a natural substance that prevents diarrhea and regulates the bowel movements of the pet.
Goat milk contains minerals and vitamins which are necessary to recover from decreased appetite. You can use this, particularly for those pets that have sensitive gastrointestinal systems.
Benedryl and muzzle are helpful in case of biting for your pet and yourself respectively.
Keep your cats' HIV certificate and other health records with you.
Establish an arrival routine
3. Consistency in behavior
A constant and consistent routine can help to build your pet's behavior toward traveling and all other recreational activities.
In order to achieve this behavior, you are required to follow this trick. When you reach your campsite, place your camp exactly, in the same manner, every single time.
It is better to put your cats' portable enclosure close to your working site and let them observe your routine.
When you're done with the camping process, then loose and set them free and present them with some delicious food as a reward for their patience.
This method will make them familiar with the whole process and they will get used to visiting campsites and RV traveling ventures.
On the other hand, when you are leaving the campsite again repeat this trick and let them observe the whole procedure.
Although it is tough to repeat exact same routine and procedure you can follow some common steps simply by recalling the previous routine.
That way, your cats will feel much more secure in their ventures.
4. Know Where to keep them while traveling  
When you are traveling, place your kitty in a safe and quieter space. As cats are not familiar with moving homes so they may get confused and even depressed.
Engine noise, vehicle jerks, and road bumps can cause an uninvited inconvenience for little creatures. They will express their distress simply by annoying you.
The situation will distract a driver's attention and even the comfort of other passengers will be compromised.
So, I think it would be a good idea to place them in a Kennel. Then, put this Kennel in the washroom on the floor as it is the most stable point in RV.
Additionally, you can put a blanket on the Kennel to keep their space darker and quieter. Also, make sure there is nothing that can fall into/on their container.
5. Let Them Scratch
Cats and other pets love to scratch. They would scratch your furniture and other wooden crafts for your kitchen if they did not find their own stuff.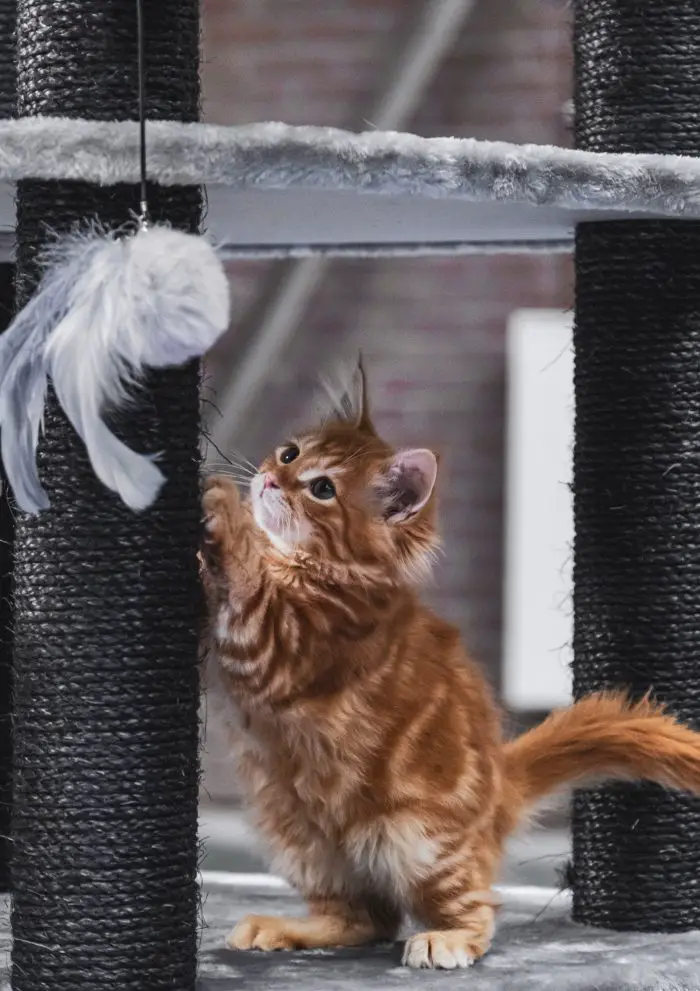 You cannot afford your furniture to get scratched or your cushions to get torn into pieces particularly when you are traveling.
Besides this, the furniture will not be presentable anymore. So, providing some scratching stuff to cats will prevent your wooden crafts from their skills. A scratch pole or a scratching pad would be a good idea. Place them
around the RV — somewhere out of the way.
6. Give them a Comfy Place to Sleep
Cats change sleeping spots a whole day. They may sleep on a chair, on upper stairs, in a gallery, or on a certain chair.
They seek a comfortable, cozy, and hidden space to sleep. This becomes more concerning when they are depressed due to their first RV trip.
Cats have different natures and they feel secure when they are up high. That's why they try to reach as higher as possible when in trouble.
Thus, providing a higher space for cats while traveling would be a better idea. You can choose your cabinet over your bed for this purpose.
7. Tagging your pet
Sometimes, your home address or phone number, written on the strap of your cat, does not prove helpful in case they wander off.
They may wander off during hiking where there is no one who can make a call to you to grab your pet.
So, tagging with an advanced device with geotagging and tracking ability is the best choice. And make sure that your animal tag is current with your mobile phone as well.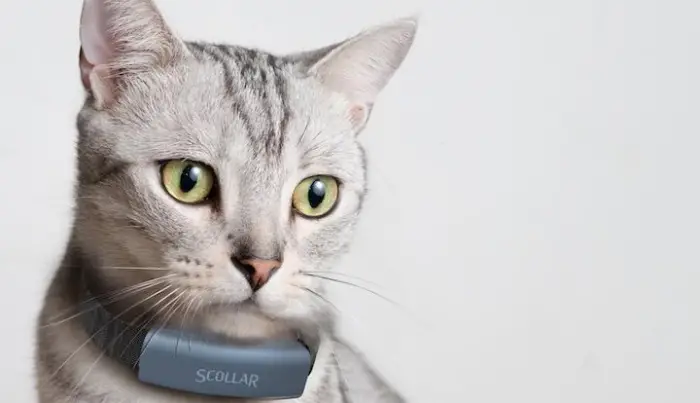 You can grab a device from the market or purchase it online. A little expense can save you from a giant loss.
8. Keep It Cool
An optimum temperature is required by the animal body to function properly. If a narrow range of optimum temperature is not provided to the pets, they will fall sick.
Usually, the campers leave their pets inside RV and go hiking or for an outdoor meal. Like other vehicles, RV also gets hot when exposed directly to the sunshine for a long time.
So, due to the external hot environment, the vehicle's internal space would get hotter. This may lead to serious health issues or even suffocation of the cats.
To avoid this disappointing situation, place some temperature sensors and other devices that can be set to turn the generator on or off when the vehicle reaches a preset temperature.
You can choose a temperature sensor with an extra power source that will keep it functioning in case the power fails.
So, keep the RV temperature moderate as per your pet's natural demand.
Additionally, you can grab a device that monitors the RV temperature and sends you alerts on your mobile phone if it gets too cold or too hot.
9. Letting your Cat outside
When you have parked, it would be better to ask the RV park manager all about the freedom limits for your cats.
Though it is a bitter reality, we do realize that many people do not like felines and cats. So, as soon as you lose your cat free, you will most likely hear someone yelling at you or your cat.
Other possible dangers are an accident of your beloved pet, getting caught by a predator, a big fine if your cat poses a threat to local wildlife, or giant complaints from dog owners.
So before you let your cat go outside, make sure that you are following the resort's rules and regulations.
10. Create a cat-friendly environment
Always build a pet-friendly environment. Cats are curious and clever by nature and they get into trouble easily.
An RV internal environment is more intriguing to get into everything for your cats.
When pets are scared or depressed, a crate is a safe haven for them.
Actually, animals are instinctively used to finding comfort in their den-like specific spots. This feels them like they are in their own home.
So, whenever you encounter any critical situation like a storm, an engine failure, or a bad road put them into their comfort zone that is their crate.
A crate is a comforting zone for your cats until life gets to normal.
Hence, crate training is crucial for your cats during the beginning period of their life. A trained cat can be a good companion when you are on a recreational trip.
However, if your cats are not trained, it is never too late to teach your cat how to behave in a crate while traveling.
All in all, traveling with a cat or multiple cats in a fifth-wheel RV can be fun if you follow the tips that I have shared with you here. And if you need some kits for your cat, you can look around our website for the exact kits we use.