"This site contains affiliate links to products. We may receive a commission for purchases made through these links."
Several owners of pickup trucks actually own bicycles which they enjoy riding off-road, or maybe just to ride for fun.
Some of them even take their bicycles for camping and then ride them around the site.
 But it is a different thing entirely to carry a bike.
You cannot merely tie it down using finger cords or just slide it into your truck.
 By doing this, you're damaging your bikes, and it is also very unsafe for the other drivers.
There are several parts of a bike, so just sliding it into your truck won't be enough, what you need is a DIY bike rack on your truck bed. These will also work for kids and toddler bikes if you take your 2-year-old along. 
I have compiled a list of the best DIY truck bed lists perfect for you. Here you go!
1. Wolf Bike Racks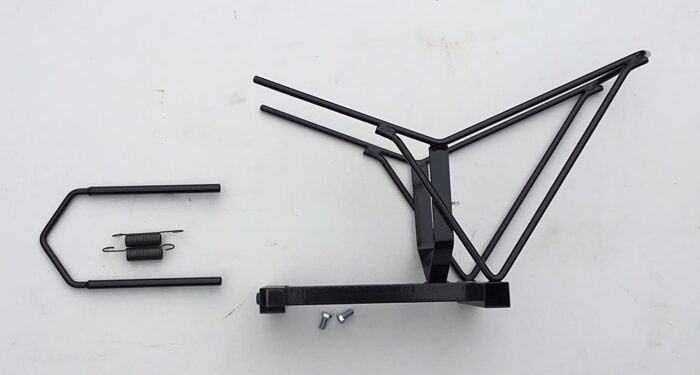 Wolf Bike Racks manufactures a number of the best bike racks you will ever find. 
The manufacturing company has crafted frames that have solved the issues and problems of other bike racks in the industry. It solves some problems like:
No straps, wheel, or clamps removal
Supports every bike size and types
Fast unloading and loading
Maintains your bike security in every road condition
Gives you the chance to tow a trailer
Maintains the accessibility of the tailgate
2. Thule Bed Rider 822XTR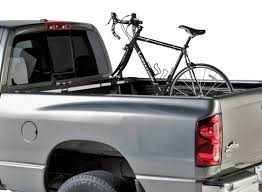 Thule is a bigwig in the bike rack industry, and one of the most popular products from this company is the XTR.
The XTR is a fork mount carrier, so you'll not have to take off the front wheel. 
It'll carry two bikes; nevertheless, more locking bed riders can be added to the bar.
The aluminum telescoping bar is used to make this rack, and the truck bedside rails have SoftGrip rubber feet.
Your bike stays firmly without causing damage to your truck bed and does not require to be drilled down the bed of the truck. 
Your bike will be secured in position with the locking skewer, thereby making it great for trips off-road.
3. Apex Truck Bed Bike Rack
This bike tack gives you the chance to carry four bikes at once. It installs in the bed of the truck and maintains its position on the bed's frontage backing the cab.
This also comes with foam bumpers that will guide your bike, and the front tires of your bike will be stabilized by the V-brackets. 
A truck of bed size 52-3/4″ to 73″ can fit well in the rack.
It can be installed on your truck, and there is no drilling required. The rack is kept stable and firm with the adjustable bolts which have plastic stoppers. 
Durable powder-coated steel is used in making the racks, thereby keeping it resistant to elements.
4. Heininger Automotive Advantage Sports Rack Bed Rack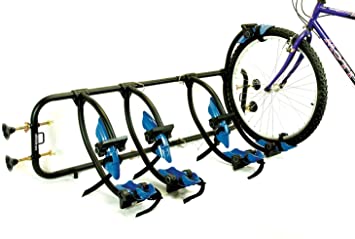 Heininger is the manufacturing company behind this wheel-mount truck bed rack for bikes, and it gives you the chance to carry four bikes at once.
You can assemble this rack in just minutes, and it doesn't need drilling to lock to the truck beds, and you don't even when need to make use of any tools.
Bikes whose wheel sizes are up to twenty-four inches can be used; just secure the bikes by making use of a cable, and use a securing bar to secure the back tire. 
In order to keep the tires from harm, this rack comes with soft padding fitted to it.
5. Thule Insta-Gater Truck Bed Bike Rack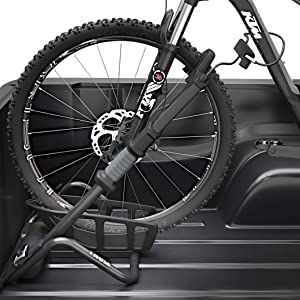 This rack is a single carrier that can carry bikes that have weighs up to fifty pounds, and can also accommodate sporting rims that have diameters of about 20-29 inches.
You do not need to remove your front wheel because this rack is a wheel mount one. Just load the bike then secure the bike using its Quick-Load system.
It is easy to install, and it does not need you to bolt or drill the bed of your truck. 
Just put the rack on the bed of the truck, keeping the rubber tabs between the bed and the tailgate — then just close the tailgate. For anti-theft, the rack has a lock that keeps the bike's security in place.
6. Pipeline Racks Truck Bed Bike Rack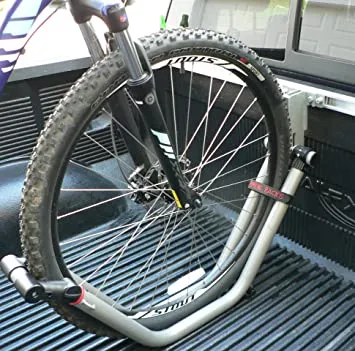 The manufacturing company of this track is one of the bigwigs in the production of bike racks. 
This company has been making products of high quality since it was established, and several bike owners love them. This one isn't different!
It's an amazing option for people who own a pickup with a truck bed size with a minimum width of 58.4 inches at the cab.
It is easy to install, and it does not need bolting or drilling to secure. You can just make use of straps and then tighten them tightly to secure them.
Some assembly will likely be required before installation, and normally takes about an hour to complete the job. 
This rack gives stability and a great grip on the bikes.
7. InnoVelo Gripper Truck Bed Bike Rack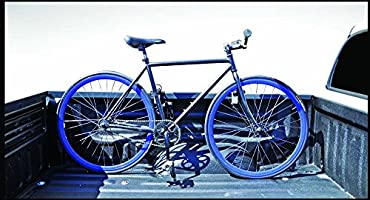 Anytime you require a bike rack cargo system, and you don't want to sacrifice your cargo space, this is your best bet. You don't need to drill any holes to mount it at the bedside of the truck.
The kit arrives with two mounts that connect to the truck using a ratcheting holder, and a D-ring on every mount.
 You can make use of the mount to connect tie-down straps in order to secure the bike from wobbling around anytime you ride.
This is just a pair of flippers that make you secure your bike without the need to get inside your truck. 
Nevertheless, continuously check the bolts that might loosen up because of vibrations.
8. Hollywood Racks T970 Fork Block 1 Bicycle Fork Mount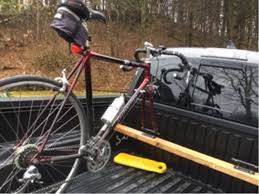 This rack can be doubled as a wall mount, truck bed mounts inside a car rack; just name it! It can be installed easily, and it comes pre-assembled.
You just need to put it on a particular surface and hold it down with the bolts. It is lightweight and also durable.
 It weighs just twelve ounces due to the fact that it is made using aluminum.
It'll hold just one bike, but its price is budget-friendly. Your bike fork is grabbed by the mount using a nine-millimeters skewer that gives rigid stability even on roads that are rough.
9. Top Line UG2500-2 Uni-Grip Truck Bed Bike Rack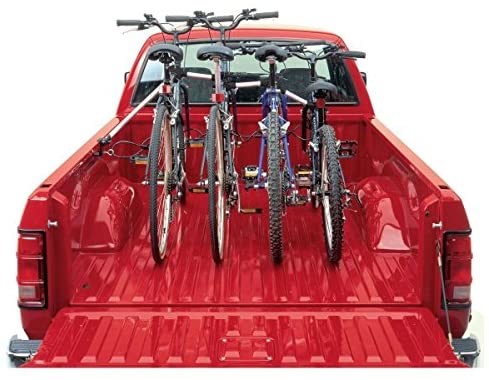 The design of this bike rack is one of the simplest, and it fits perfectly in the bed of the trick in just a few minutes. 
It fits well in almost every truck without or with bed liners.
Nevertheless, you'll have some issues if you possess a track system. It'll hold two bikes but is kind of compact, thereby giving you more capacity for bike hauling with another bike rack.
The weight of this is just four pounds and can accommodate any wheel size. Most importantly, you do not need to remove your front wheels.
It is pretty easy to install, and it does not need to be drilled into the bed of the truck. It has simple clamps which keep it secure on the rails of the bed.
 Nevertheless, you'll have some issues if you possess a track system.
10. Swagman Adjustable Truck Bed Bike Rack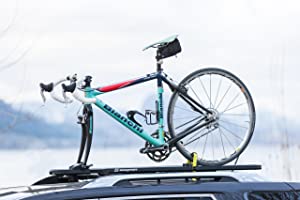 The manufacturing company is a pretty famous one in the industry of bike racks. This truck bed bike rack has a design that is simple. 
It has two dock locks on a bar, which is adjustable that fits truck beds whose width varies. 
Installation and taking off of the tack only takes one or two minutes, so anytime you need immediate truck bed access, you get it. 
The bar has rubber-mounted ends that have a rapid-release handle to adjust the amount of the rack.
The rack is made using steel, which makes it resistant to any weather, and there is a lifetime warranty given by the company. 
The weight of this rank is just twelve pounds and fits any truck bed, no matter the bed liner.
Conclusion
If bikes are carried in your trucks, it's way more efficient if you carry them on a bike rack. 
There are multiple moving parts on a bike which makes it not easy to stabilize it on a truck that is moving.
Additionally, the wheel can literally make the bike rollout of the truck if you do not secure it properly.
Instead of making use of your own homemade equipment, or maybe fixing it with only ratches, a DIY bike rack gives an extremely secure and better option.