"This site contains affiliate links to products. We may receive a commission for purchases made through these links."
Can you tip a truck driver who tows your vehicle?
Yes, you can tip a tow truck driver who has delivered good service and offered more value to you. The standard tip is $5, which you can gift the driver in appreciation for what they have done.
A lot of vehicle owners want to know if it's ideal to tip a truck driver that towed their vehicle.
The truth is that it's not generally accepted as a norm or standard of living by most people. The decision to tip or not is personal — it's a matter of choice.
People who tip tow truck drivers see it as a way to appreciate them — that is why they do it. Other people think they're not supposed to tip truck drivers.
To these groups of people, giving extra money to truck drivers whenever they render their services simply means they will be paid for one service twice — since their companies would pay them as well.
Personally, I usually tip a kind truck driver who tows my vehicle because I see it as an appreciation but not double payment as others assume.
The disappointment from a car that breaks down is horrible — especially when driving during odd hours or on a lonely road.
Likewise, the discomfort from your car when it develops fault is usually terrible. Mostly, for people who find driving stressful — what will their experience be when the car gets stuck on the way?
These folks will not waste time appreciating whoever comes to their rescue.
Imagine, you are heading home from an event at odd hours, and your car breaks down in a lonely environment. At this point, you are stranded.
Hence, you will call for a tow truck driver's assistance, and they will drive in your direction to rescue you.
Firstly,  the driver's life is at risk at that time.
Secondly, they came to help you to tow your car to any safe place. Would you appreciate them or not? I think you will if the means are there.
However, remember is a matter of choice. Because there are people who don't tip servicemen.
This set of people say, "why tip drivers after towing your vehicle? Isn't their job? Do I owe them anything? Am I obligated to give them bonus money for doing their job?"
These and many other questions that this article seems to provide answers to.
Therefore, read on to discover if you should tip a tow truck driver or not.   
Should I Tip a Towing Truck Driver?
The question of whether or not to tip roadside assistance after their service is a personal opinion. Sometimes, people do it because of how kind the drivers were to them.
However, it's not a compulsory tax that you must pay. Though, many still tip tow truck drivers.
The truth is, truck drivers don't usually expect it from the vehicles' owners — but these servicemen will be glad when you eventually tip them.
Nevertheless, there are still car owners who have different opinions on this subject. Some people say tips are right while others say it's wrong.
Though, those who accepted it to be right, tip with conditions and one of these conditions is, coming to their rescue late at night.
Apparently, we have established so far that tipping tow drivers is not bad or double payment for one service — but is an act of reciprocating their good gesture toward you.
Take for instance,
Your car breaks down on a dangerous highway, and a tow van comes to tow your vehicle to a safe place. They didn't just tow your car but offered to fix it, and your car gets back on the road.
Don't you think they deserve some rewards? Yes, they do. Personally, I will show appreciation.
Although most companies advise their clients not to tip drivers. The question is, will you allow companies to change your act of kindness?
I think companies are not right here. You know what is right, do it.
This advice doesn't suffice here, because the drivers went out of their way to help you fix your car which would have ordinarily cost you.
Encourage them with tips, so that they will also be kind to other motorists.
Let me show you another reason why a tip for roadside assistance is not a bad idea. Most of these drivers work based on commission. They don't have fixed salaries.
They only earn their commission when they successfully complete one job.
In this scenario, you can reward them with money.
You may be asking, "what if I don't have a bill with me at that moment?" Well, it's not mandatory that you must tip, just say thanks; that settles it.
What Is The Level of Your Car's Issue?
Do you know being stuck on a bright summer day or during a snow-covered night requires two different types of labor? Snow-covered nights will be more labor-intensive than the formal.
Dialing a tow truck driver's number to start coming to your driveway on a snowy night to pull your car out of a ditch is not quite easy for the drivers.
It's not just a difficult job for the drivers; they are also putting their own safety at risk in order to help stranded motorists. In this case, tow drivers deserve some reward from the vehicle owners.
Was The Truck Driver Helpful To You?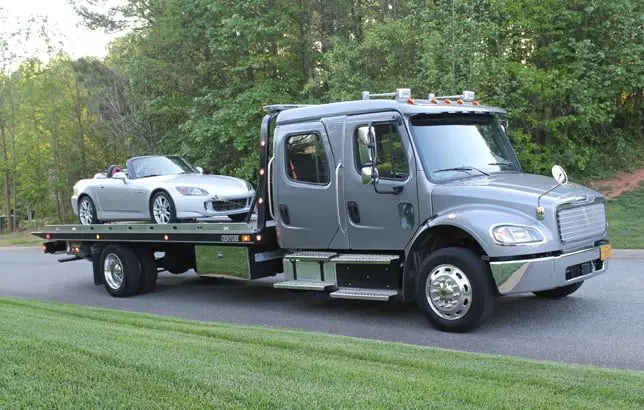 How helpful was the roadside assistance to you? If you were to rate them, will you give the truck driver 3 or 5 Stars? Their personality will determine how many stars you will rate them.
Here is another factor to consider when it comes to rewarding truck drivers, their personality. How kind were they? Are they polite? Courteous, grumbling and grunting under their breath while working for you?
Do they have any winning personalities? These are some of the characters you look out for when thinking of being kind to drivers.
The positivity of all these characters listed above has a way of easing someone's bad day. One good turn deserves a return!
No matter how bad your day has been, going out of your way to tip the driver who towed your car will brighten your day.
How Much Is Good Enough to Tip a Truck Driver?
Many motorists ask the same question, and the answer is, that there is no fixed price when it comes to tipping. Ordinarily, people show appreciation based on how they feel.
Some people are of the opinion that tipping roadside assistance is subject to how helpful they are.
It's not compulsory but is often good that you reward people who go out of their way to provide you service. The amount isn't constant. Is based on personal discretion.
For example, if what you need was a jump start for your car and the roadside assistance worker got to you very quickly and did the job with some kindness, wouldn't you reward the drivers with 10% to 20% of the amount you paid. (data by Costhelper Car) if you have the means? This is practically going to be up to you.
What is The Cost of Towing a Car?
The price of towing a stuck vehicle varies among towing companies.
According to the research by Costhelper Car, to tow a  disabled vehicle to a repair shop, residence, or other destination typically means paying a base rate (also called a hook-up fee) of $35-$100, per mile; the first five to seven miles may be included in the base fee.
For trucks or heavy-duty vehicles, owners pay additional costs up to 20% to 25% for a tow.
However, those who have roadside assistance and towing coverage insurance policy up to $100 per towing or up to 25 miles per towing incidence have some discount.
This amount of distance on your roadside assistance and towing coverage varies based on the insurance company and categories of coverage.
For example, If you have a AAA roadside assistance membership, towing is included in your membership fee, but the distance covered depends on your membership type.
Below is a table of AAA roadside assistance membership types.
| | | |
| --- | --- | --- |
| Membership Level | Average Cost | Service Type |
|   AAA Plus Membership | $92 a year, $57 per additional member | Up to 100 miles of towing, car lockout services up to $100, fuel services, dead battery services |
|   AAA Classic Membership |   $56 a year, $36.50 per additional member | Up to 3-7 miles of towing, car lockout services up to $50, fuel services, dead battery services |
|     AAA Premier Membership |     $120.50 a year, $77 per additional member | Up to 500 miles of towing, car and home lockout services up to $150, fuel services, dead battery services, trip disruption coverage, one free day of a rental car |
If you need your car to tow further than the distance in your membership coverage, then you have to pay extra money.
Remember whatever you paid as fees go to the company straight. The driver only gets a commission for each successful tow.
This is not peculiar to all companies, some place their employees on a basic salary. This doesn't take the place of the tip if the driver deserves it and you have the capacity to do it.
Conclusion
What do you decide? Tip tow truck drivers is not a rule but is a way of being kind to anyone who serves well.
There is nothing as comforting when your car suddenly breaks down in a lonely area, and the tow driver came for your help.
The arrival of the driver will brighten your mood.
They convey you to a safe place. This art deserved rewards.  Don't you think a small act of kindness is good enough to show appreciation?
Then, to tip, someone who has helped you is not wrong. You can go ahead and do it when the need arises.
We have established here that it is a matter of choice. You can decide to do it or not, but it is better when you do.