"This site contains affiliate links to products. We may receive a commission for purchases made through these links."
Mostly, people like going camping during the summer season. Camping when it's raining or chilly can be tricky.
Unfortunately, during the hot summer, engaging in some outdoor activities becomes risky. There's always a need to search for shelter.
Since you still want to enjoy your fresh air under a shade, that's where an RV awning comes in handy.
Many people keep on asking, just how high wind can an RV awning withstand?
The question can be tricky since the control of wind is beyond human's ability. At one moment there is lesser wind, the next minute the wind is high. After making the RV awning, the manufacturer tests it against a wind of 20-25miles/hour.
Having an awning out in a variable wind can be quite risky.
Since awnings are vulnerable to wind, you require an electric awning that has a wind sensor. It can also have a motion center. The best time to use the Awning is when the day is calm and sunny.
Benefits of RV awnings
1. Freshness: You will not feel uncomfortable during the summer seasons since it will keep you fresh.
2.  Safety: When the sun is hot, you will be safe from ultraviolet rays that have harmful effects.
3. Cool Temperature: Your RV requires a cool temperature. When the sun is hot, the rays shine on it and make the air hot. It also makes the carpet and the furniture fade.
You can avoid all these effects using an awning. There will be no sunshine inside. Your furniture and carpets remain safe.
4. Extra Space: The extension of the Awning adds an extra room. That room is virtually bug-free.
5. Shield: Suppose it rains; you can comfortably sit outside since it will protect you from the rain.
Types of RV Awning
Before buying an awning, you should have some background information about the variety in the market.
Seek to know the drawback and advantages of each Awning.
Find out about the materials each have and their functionality.
Then decide on the one you want. 
If you intend to buy and you have no idea what to check, read below.
Here is a list of 6 awnings:
1. Acrylic Awning
This awning is manufactured using acrylic materials.
Advantages of Acrylic Awning:
In case it rains, the Awning dries faster.
It usually repels the water to the surface
You will not worry in case of snow, rain, ice, sun, or even dust. It can handle them. It will protect you from pesky bugs, wind, and dirt.
Excellent breathability and good air circulation.
Disadvantages of Acrylic Awning:
In case there is a strong wind, your Awning can get overstretched. The effect causes whipping.
Not waterproof – Though in the advantages we noted that it could handle water, that doesn't mean that it is waterproof. Water can still seep through.
2. Fixed Awning
If you check above your RV doors and windows, you will notice some awning
permanently installed there.
It's called fixed Awning. With it, it will protect you against hot sun and rain.
Unfortunately, it has some drawbacks which include;
When driving, a fixed Awning can easily fall off.
It's not very flexible if you decide to change its position.
3. Vinyl Awning
It is made of vinyl material. Some of its significant benefits include;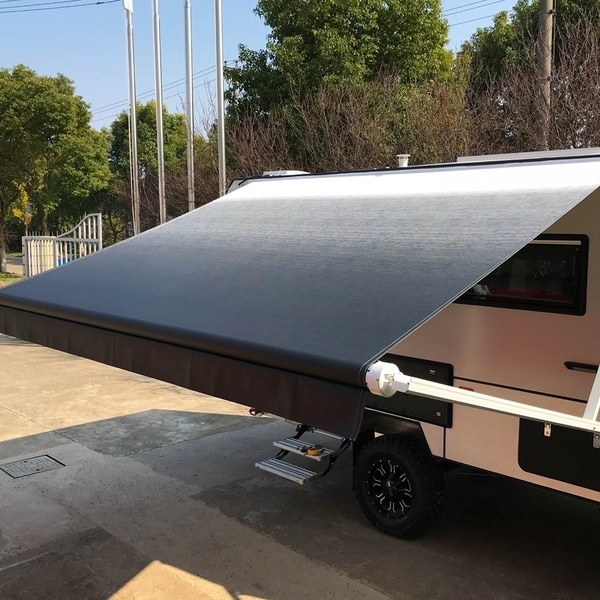 1. It's resistant to both scratching and fading.
2. It's waterproof.
3. The material is resistant to UV rays, pollution, and road grime. None of it can penetrate it.
Disadvantages include:
It attracts dirt and dust.
It is prone to both mildew and mold.
4. Automatic RV Awning
Automatic Awnings are one of the most convenient awnings in a given RV. Just by
the touch of a single button, the Awning deploys.
If you want it to retract, touch the same button.
Unfortunately, it has some disadvantages. They include;
It's costly.
Installing the automatic RV awning requires an expert since it can be tricky.
Repairing it is quite expensive in case it gets damaged.
5. Patio Awning
Patio Awning is made of extra fabric, and it is also known as sheltered Awning.
It provides an extra room outside. Are you wondering how?
That extra room has a doorway, roof, and even a wall. Apart from giving a shade, you can sleep in it, an
d also act as storage. In case there is a rainstorm, you will be safe from the splashes thanks to the wall.
Some of the significant disadvantages include:
Unless the patio has a window, the ventilation is inadequate.
Tying the automatic RV awning is tricky since it has numerous parts.
6. Slide-out Awning
It's the most pocket-friendly RV Awning on the market.
You will roll out slide-out awnings whenever you require a shade.
They are made of canvas and are easy to maintain.
Their major disadvantage is that when it rains, the top part holds a pool of water.
Factors to Consider Before Purchasing An Awning
1. The Size: Before buying an awning checks your RV specifications. You will have the clue of the right dimension regarding the Awning you intend to purchase. You can also consider the amount of space; you wish to cover.
2. Material: Durability is vital. Repairing or replacing is costly. If you get an awning with a material that will last for a long, it will be much better.
3. Easy To Use: Thanks to technology, you can easily Google and see a YouTube video on how to set up an awning. Nevertheless, it should be an easy set on your own.
4. Care and Maintenance: You don't want an awning that will stress you up when it comes to maintenance. Choose the one that will look okay even after years of use, with minimal cost of putting it in the right condition.
5. Warranty: Repairing some awnings can be very expensive. If you get an awning with a more extensive warranty, is much more advantageous. In case the
The awning requires repair, you will continue having it for free from the manufacturer until the warranty expires.
6. Style: You would never want to get stuck with an awning that has a disgusting color. When selecting an awning, consider the general outlook.
Go for the design and the color that you like. Choose the one that will always please your eyes.
Get the right awning
Before buying an awning, you have to get some background information to help you make informed decisions.
You need to know different types of Awning, the advantages and the disadvantages of choosing a particular model.
You also have to check the material, style, warranty, and how easy it is to use. You can also consider if it is easy to maintain.