"This site contains affiliate links to products. We may receive a commission for purchases made through these links."
Many people want to know if hanging a bike upside down is bad for it. 
Hanging a bike upside down is neither bad nor good for it. Though, this depends on the type of bike you're running.
For example, avoid hanging your bike if you're running a hydraulic brake bike such as Shimano XT, SRAM Guide, etc. 
Hanging a hydraulic brake bike upside-down affects the brake. And stop the brake from functioning because of the presence of air inside the caliper.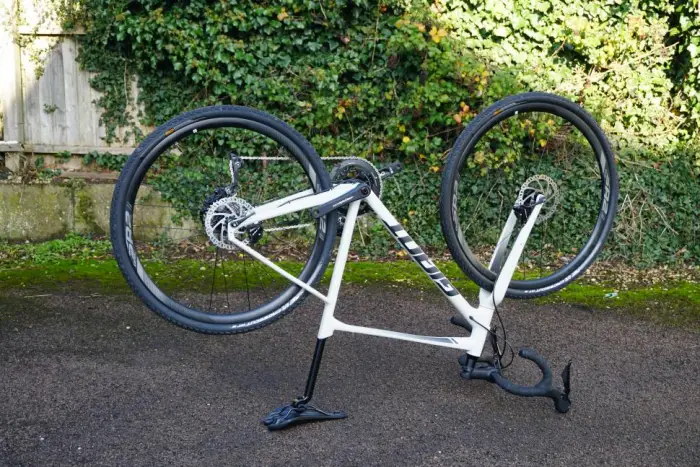 This continues until the air leaves the caliper and goes back to the air reservoir. This action sometimes requires a brake bleed to correct.
However, you can hang your bike upside down if you're running a bike with rim brakes. A rim brake bike doesn't require hydraulic oil to function. Therefore, turning it upside down doesn't have any effect on it.
In this article, I will take you through everything you need to know about hanging a bike.
Why You Should Hang Your Bike With Hook
There are several reasons why you should hang your bike. A bike hanger helps you to free up space. 
Bike hangers help you to keep your bike from being a safety hazard. Prevent it from being knocked over. Hangers are resourceful because they create more space.
A bike that is hung indoors saves the bike from unauthorized riders. 
Also, the bike hook is coated with vinyl or another protective coating to help prevent the entire bike from scratching when it hangs.
The installation of a bike hook is quite easy. Most times, you don't need assistance with the installation.
Here are the tools you need when fixing your bike hook on the wall or ceiling: 
Drilling is what you'll use to create holes while screws are what you will use to fix the hang into the wall or ceiling.
Let us quickly look at the reason why you should hang your bike.
It Helps to Manage Space
The bike hanger is the best way to manage storage for your bike. Everyone needs to pack their bike when it's off-duty. Therefore, you can't properly park your bike without a hanger.
A hanger helps you to manage the available space in your apartment. A hanger becomes more useful to those who lack space in their apartment. 
Bikes hooks are designed in a way to position the bike in an organized manner — efficiently economizing space in your apartment.
Hanger Make Bike's Storage Look Tidy 
Bike sellers are those who mainly understand what I mean by storage neat. Because that's the place you'll get many bikes in storage.
Hanger is what makes bikes look tidy without not being over-packed at the display or showroom in the seller's store.
Do you need your bike packing store to be tidy then go for a hanger? The hanger will give you the neat environment you require in your packing space. 
Without the hangers, bike sellers will find it difficult to arrange their bikes in a way that attracts customers.
It makes the bike have a resting position while they're off-duty. Instead of blocking your entrance or posing as a disturbance at your apartment, it can sit tidily against the wall. By this, you have more space in your apartment.
A bike hook also helps to stabilize a bike and reduce the chance of it getting scuffed while it's unused.
Bike Hanger Serve as a Security
A bike hanger protects your back from unauthorized riders whenever you pack it.
Most riders are confident about taking their bike to outdoor exercise because of the hook. Because hooks make their bike to be safe whenever they're not using it.
Even though some bike hangers safeguard your bike, this doesn't mean you should hang your bike anywhere you see.
Always ensure your bike is safe at the place you hang it rather than be careless about it.
Even with a maximum bike hook, sometimes, parts of the bike can disappear. therefore be mindful of your bike irrespective of the hanger.
Though, Bike hangers help to ensure bikes are safe for riders. It safe the bike but total security to the bike.
Some Bike Hook Raise The Wheels Off of The Ground 
When you wash your bike, waiting for it to dry the bike hook will help you raise the tires from the ground floor.
This reduces the amount of dirt and grime it might bring into the apartment. Bike repairers use the hook when service. It's a good way for them to hang it and work on the tires. 
Ways to Hang Bike
There are three ways you can conveniently hang your bike. Without not being bothered about the weight on one side.
When your bike is not properly hanging, the weight will definitely be on one side. This is not usually good for the hanger. Therefore, the knowledge of how you can hang yours is very important. 
This will prevent the weight from going to go one side. That could damage the hanger in time.
Let's dive into the ways:
1. Vertical Hang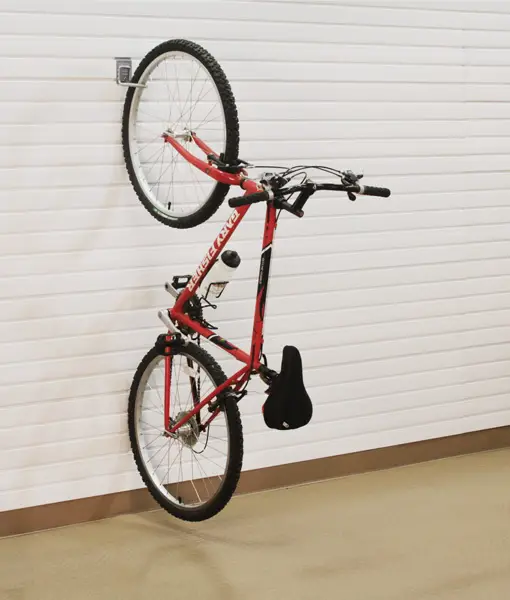 You can conveniently hang your bike vertically on the wall — with the aid of a hook.
The hook is suspended from the ceiling and hangs on the bicycle's wheel. The bike will then be vertically alongside the wall. You can use a stud to secure the hook on a ceiling or wall.
2. Hang Horizontally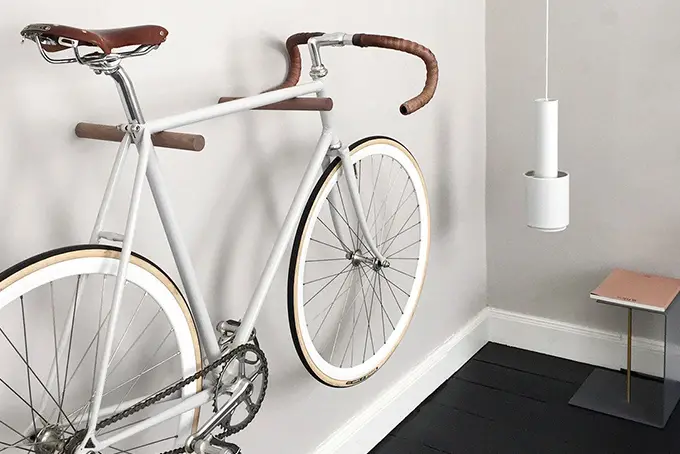 Horizontal hanging in the process of making use of a wall to hang your bike instead of the ceiling.
You don't need to hang your bike from the ceiling when you have space in your wall. 
Most riders don't like making use of the ceiling to hang their bike because they can easily fall off. Safety-wise it is not encouraging. That's why they prefer horizontal hanging.
This is done by putting two hooks on your wall to hang your bike horizontally. Horizontal hanging allows you to hook the bike's frame instead of the wheel.
Horizontal hanging balances the weight of your bike, unlike vertical hanging. You're sure that the weight is not on one inside.
3. Double Hook Hang 
The turning of the bike upside down is called a double hook. This process allows the distribution of the bike weights evenly.
Though, this isn't advisable for those that ride hydraulic brake bikes. Those that have rim brakes can double hang their bike.
How to Hang Bike That Makes it Last Long 
Clean the Wheels – Ensure you clean the wheel after each ride before you hang. You wouldn't like to hang a bike that isn't clean. 
When you leave the dirt on your bike wheel, you could get your bike scratched by the sand. To prevent scratch or rust, carefully clean your bike before you pack it. 
Whenever you discover any strange noise when riding, kindly take it to the repairman to figure out the fault and fix it. Sometimes, it could be a lack of oil on the brake or on the engine.
Most people don't like the vertical hanging off their bikes because it is quite difficult to bring it. Some had got their bike damaged because of it.
To avoid damaging your bike, always carefully bring it down in whatever position it could be. Hence you might end up destroying your bike when you rush. Kindly be gentle with your bike, this will save you from unplanned expenses.
Don't just leave your bike bare open when you pack it or hang out. Get a bike cover to properly cover it.
Cover will prevent your bike from corrosion and gradually deteriorating, which you may not like.
If you are adventurous you don't have space indoors to hang your bicycle. You can hang it outside. So, when you hang it outside protect it from direct rain and sun. if not, your bike may not last long.
Another reason why I don't recommend you hang your bike outdoor, it's because it might get stolen. Indoor is preferable to hang your bike.
Don't install your bike hook directly on drywall. This will not make it strong enough to carry your bike's weight. One of the best places to place your hook is into the stud before the wall.
Classes of Bike Cover
There are different types of bike covers that perform different functions. These covers are important to keep your bike from dust, debris, scratch, dirt, etc. 
Here are some of the types of bike covers.
1. Vehicle Bike Covers 
This is called a vehicle bike cover because it has a special function for bicycles. These are designed to keep your bike from bugs and other debris that could dirty your bike frame while it's on a vehicle roof rack. 
The handlebar, front fork, top tube, and seat are the parts the vehicle bike cover protects from dirt. Once these areas are covered the whole bike is protected.
2. Waterproof Seat Covers 
Waterproof seat covers are used to protect bike seats from easy damage as a result of constant use. This keeps your handlebar dry and from other strange elements.
Waterproof seat covers are used to extend the lifespan of your bike seat. 
Waterproof seat covers are mainly important when your bike seat is made up of leather, nylon, and plastic — these materials can get damaged as a result of hot weather.
Waterproof seat covers are mainly oversized seat covers but have an elastic or drawstring that you can easily use to secure the seat cover onto your bicycle.
3. Full Bike Covers 
Do you want your bike frame to look new for a long time? then go for a full bicycle cover. These are designs to give your bicycle complete protection from outside stains.
An improved full cover doesn't require you to disassemble your bike before you make use of it. 
The idea behind a full bike cover is to keep your bike dust-and grime-free. They also serve as water and UV-proof. 
The full cover gives your bike complete protection from scratch and debris when you pack it outside. This protects your bike from accidental scratch or scrapping.
Conclusion 
Hanging your bike upside down is bad for it when you are running a hydraulic oil brake bike.
Once you turn it upside down air prevents the hydraulic oil from giving complete lubrication that will make the brake function very well.
So, it's recommended not to turn your bike upside down when you have a hydraulic oil brake bike.
If you are running a hydraulic oil-less bike, then it upside down is not a problem. You have nothing to worry about. You can turn it upside down.