"This site contains affiliate links to products. We may receive a commission for purchases made through these links."
In this article, you'll discover how to convert a road bike to a hybrid, mountain, or commuter bike.
A new bike is of course fun. But keeping your existing bike and possibly changing something does not have to be a weird action either.
Because what was a good bike 5, 10, or 20 years ago will still be a great holiday bike, provided it is well-maintained.
Essential Kits You Need to Get for Your Bike Conversion
BrightRoad Rechargeable 800 Lumens Bike Light Front and Back Bicycle Light Set
visnfa Bike Phone Mount Anti Shake and Stable Cradle Clamp with 360° Rotation Bicycle Phone Mount
Fito Made in Taiwan GSC Black Synthetic Caviar Leather Saddle Seat with Spring Suspension for Beach Cruiser Comfort Bike Bicycle (Black)
---
Converting your Road Bike to a Modern Design
Admittedly, the modern trend of extra-wide tires, suspension, or 26″ wheels you have to pass you by, but you also avoid the less suitable for the holiday bike such as carbon, wide building cranks or strange spoke patterns.
Are you going to replace parts then you come for the choice: I try to leave the bike as it was or want to modernize the lot.
That choice is not always voluntary, because a lot of old stuff is no longer available.
Just do not believe the bicycle mechanic, because they often confuse with what they have bought themselves!
Modern racing bicycles now have to do with ten wreaths next to each other, but that does not mean that you can not buy cassettes with 7, 8, or 9 wreaths at a cheaper rate.
And cheap cassettes can be separated, so if you only need 6 wreaths you can also fit a sleeve.
Freewheels can also be achieved, although the quality and choice have become less. You will only have to search.
Frames are pretty standardized, meaning that you can still purchase parts to hang on.
But if you buy a different frame then that does not mean that you can transfer all your parts, because there are of course many different standard options!
Going to replace parts in the drive can have quite a lot of consequences because it has to work together.
Imagine replacing the crankset with a modern compact crankset with smaller blades.
In most cases, you have to replace the bottom bracket with one with the right length and the right shape.
The smaller blades do not fit well with the shape of the front derailleur cage, so there must also be another one.
If the new crankset has a larger difference between the largest/smallest sprockets, it can then prevent the old rear derailleur from keeping the chain tensioner.
So you have to look for a derailleur with a longer cage. You also install a triple instead of a double front sheet,
In short, there is a lot, but you can also encounter unexpected difficulties.
So do your homework in advance so that your project can not be stranded halfway.
1. Rear hub and Derailleur
Modern hubs are often 135 (MTB) or 130mm wide (race). Older bikes do it with less.
Sometimes, you can bend the frame.
Some hubs can also be made slightly narrower by removing a ring, but then the wheel needs to be repacked.
2. Ahead system
If you want to convert a bicycle to ahead steering bearings (modern, but otherwise quite pointless), you also need a new front fork and a new steering column.
3. Steering bearings
A conventional headset with loose pressed-in cups is easy to replace, provided you pay attention to the correct dimensions.
4. Tires
Whether fitting wider (and higher) tires is due to the space in the frame and between the brake hooves. Do not put folding tires on old rims that lack the necessary groove on the inside.
5. Crankset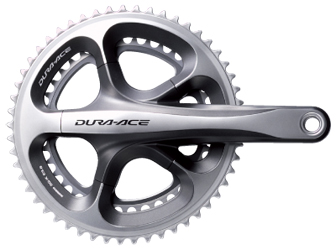 A new crankset usually also includes a new axle. Another diameter of the sprocket can have a different front derailleur. When changing to a triple, the shifter must also be compatible.
The thread in the frame for the bottom bracket is usually BSC, but there are exceptions. With modern cranksets with external bearings, you must first flatten the bracket.
With some classic cranksets, there are hardly any new chain rings to be found. Moreover, they often combine badly with index gears.
6. Derailleurs
Shimano rear derailleurs (except for the 10 sp MTB versions) are pretty standardized and can be used freely randomly.
You can also use them well with non-indexed systems. Sram has an idiosyncratic own line that is not compatible.
Recommended derailleur:
Stable Shifting Performance
Shimano Shadow Construction
Low profile rear design
Uses an 11-30T cassette
7. Ergopower
Depending on the date and type, it is possible to convert these shifters from 8 to 9 or from 9 to 10 gears.
8. Frame
Check the installation width of the wheels, the diameter of the seat-post, fits the front derailleur, fits the brakes, the front fork, and the same thread in the bracket?
To add more beauty to your frame, you might want to add a front frame bag.
9. Hydraulic Brakes
TRP HY/RD Cable-Actuated Hydraulic Disc Brake
You can install hydraulic brakes on a bicycle with a flat handlebar and cams for v-brakes.
The steering for the rear brake does not want to go through the cable stops of the rear brake, but there are separate mounting kits for this.
10. Index accelerations
If you want index acceleration while you do not have it now, assume that you have to replace everything. Minimal hub, rear sprockets, crankset, shifters, chain & derailleurs!
11. More gears
8, 9 and 10 v (Shimano norm) cassettes fit on the same hub (6 and 7v are narrower) When upgrading, you also need at least one other shifter and chain. The crankset and derailleurs are often still usable.
12. Hub dynamo
A hub dynamo is a front hub with a slightly larger flange than a standard hub. So you need shorter spokes. There are also hub dynamos for tandems, bicycles with disc brakes or roller brakes
13. Pedals
Always fits, but shoes and the plates for click pedals can sometimes be a surprise. That's why the right pedals are important.
14. Braking
Cantilevers and V-brakes fit on the same frame socks, but canti's need extra cable stoppers (can often be purchased separately).
V-brakes and cantilevers require a different brake handle: a V-brake brake lever pulls much more brake cable Caution at side/center pull brakes at the built-in height Disc brakes can only be mounted on a frame which has all the necessary cams, and also the hubs must have a disc brake flange.
15. Enhanced Rims
CDHPOWER 26″ Aluminum Mag Wheels/Black/Bicycle Wheel/Rim – 66cc/80CC 2 Stroke Gas Motorized Bicycle
To fit the hub, the rim must have the same number of spoke holes. Also, pay attention to the width, some old bikes have brakes that can not handle a wide rim.
Some conversions (e.g., from 27 "to 28" rims) are often possible without getting problems with the brakes, with others it can be a lot more complicated.
16. Paint
Recommended accessory:
NPW Bicycle Paint Job Dots Bicycle Decoration Stickers (50 Sticker)
Create your own paint job.
Stickers dots are fun and graphic.
Create your own unique pattern with 50 stickers.
You can overcoat an old frame. Check-in advance if the frame is not torn or rusted through. And keep in mind that after the painting all threads, etc., must be cut clean.
17. Suspension
DNM Preload MTB Mountain Wheel Chair Bike Rear Suspension Shock Absorber with Extra Bushing
For a sprung seat post, you need sufficient protrusion length/installation height.
A suspension fork is only possible with frames that normally already had an extra-long fork.
If you want to replace a suspension fork with a rigid one, you also have to pay attention to the correct length.
18. Front hub
The attachment of the front hub in the fork is the same for all regular holiday bikes. New MTBs can now have different thru-axles.
19. Front fork
Important for a front fork are length, jump, diameter, and the length of the inner ball head tube, with or without thread and the brake cams.
Resilient front forks are much longer than non-sprung, not providing a suspension with a fork that is not prepared for suspension is not a good idea.
20. Wheel size
With some frames, it is useful to mount another wheel size in connection with the better availability of rims and tires.
From 27 "to 28" is usually possible without problems with the brakes.
On MTBs with disc brakes, you can mount fast 28 "wheels with narrow tires.
21. Saddle
Fito Made in Taiwan GSC Black Synthetic Caviar Leather Saddle Seat with Spring Suspension for Beach Cruiser Comfort Bike Bicycle
Except for exotic systems and very cheap dredging, almost all saddles have an attachment system with two round 8mm rods that fit on every seat post.
Exception: some suspended leather saddles with a double saddle bridge, you need an adapter block.
22. Seatpost
Bicycle Suspension Seatpost for MTB Mountain & Road Bike
Made of aluminum alloy, lightweight and not easy to rust.
Spring suspension seat tube, the use of internal shock model.
Screws underneath the seat tube can be micro-adjusted stroke rebound velocity.
Make riding a more comfortable seat tube.
Seatposts come in many different diameters, depending on the frame. The length can vary from 150 to 420mm.
A too-thin pen can often only be made with a filling sleeve, which is very common with suspension seat posts.
Make sure you buy a suspension seat post so that you have enough space above your frame for the mechanism.
How to lighten the road bike without ruining yourself
A lighter bike will always give you more satisfaction than an iron with which you can barely follow the wheel of your companion on the first slope that is presented.
But let's be honest, lowering grams on the bike costs money, and there comes a point at which if we have already shaved weight to our bike, getting off more can cost us a lot of money.
That is not the case that concerns us, in this article we want to present 6 ways to lighten your bike without having to make a large outlay of money.
1. Wheels
This is the largest outlay you will have to face when it comes to losing weight.
The wheels are the component in which more grams can be downloaded from the entire bicycle, taking into account that, usually, when buying a new bike the wheels are the piece in which brands save to maintain a competitive price of the whole.
And the problem is not only the weight.
If you are going to give the bike a reed, these wheels are going to need you to be on top of them to perform proper maintenance.
It's well-known that the cheap road wheels are mismatched cones bushing easily, apart from splitting radios periodically.
Normal road wheels come to weigh around 1,900 grams, a very improvable figure on which we have a wide margin to reduce the weight of the bicycle.
It is not necessary to go to carbon wheels and tubular to significantly lower the weight.
In the market, there are aluminum wheels that are less than a kilo and a half weight and whose price is very competitive.
With a weight of 1377 grams the couple, represent 523 grams of savings, more than half a kilo that you will notice at the time of starting, up, and keep the pace.
2. Covers
In the same way that brands save on new road bike wheels, they do it with tires.
Gums that are not necessarily unsafe, but how much durability and the weight you do not have an account for given their low production and marketing price.
The difference between some road covers of this type and some light can reach 150 grams per rubber so that together we can save 300 grams in total by changing the couple.
One thing is certain, good covers are not exactly cheap, but if weight reduction is added to the durability and resistance to punctures, they are an investment that will eventually come to mind.
205 grams per cover, although they are not the lightest on the market, their performance is similar to more "aggressive" models, their puncture protection is superior and their price is significantly lower.
3. Cassette and chain
In relation to size-weight, the cassette is one of the components of the road bike that weighs more, and it is not for less, look at all the metal that is in the crowns and in the core.
Probably when you bought your bike you noticed the group that was wearing it, looking for the deviated backside to be (at least) a Shimano 105 group up.
The deviant is the component that uses most of the bike and therefore in which you must look, usually carries a sticker on which sets which group belongs, but what about the cassette?
This is another trick of brands to lower the price, you have a quality change but the cassette is a lower group, compatible yes, but heavier.
Is it worth changing just to save weight?
Probably not, but if the chain and the cassette have been around for some time now, maybe you want to renew your transmission to gain fluency, and why not save a few grams?
Why choose a hybrid bike?
Hybrid is the perfect bike to ride with your family, go to work, and even get in shape.
Due to the utility nature of hybrid bicycles, a variety of accessories can be installed, such as a kickstand, luggage rack, fenders, or even a child seat.
Categories of hybrid bicycles:
1. Hybrid Performance/Sporty
CCSMT 24 Disc Brake / 27 Oil Brake Speed Down Mountain Bike, Off-Road Variable Speed Soft Tail Bicycle, Double Oil Disc Brake, Shock Absorption, Red,24 Speed
Commonly called sport hybrid, the hybrid performance is a bike to do everything, capable of great versatility.
It offers a slightly sloping position that promotes comfort and efficiency and has tires capable of rolling on gravel like asphalt.
It's rather lightweight and its mountain bike speeds make it efficient in the ribs as well as on the flat.
On the other hand, some performance hybrids feature thinner tires, higher road-speed ratios, and a sportier stance to make them more fit for training.
Cyclist type: You want to ride with your family, get in shape, or simply move with an efficient bike.
2. Hybrid comfort bike
With its wider tires, its high handlebars, and its well-padded saddle, the comfort hybrid is suitable for recreational use.
It has a suspension seat-post and sometimes a suspension fork to isolate the cyclist from the discomfort of the road.
We appreciate his straight driving position and his comfortable saddle.
Not to be overlooked, the comfort hybrid is usually heavier than a performance hybrid.
Cyclist type: Comfort is your priority, your outings are rather short and you are not looking for performance.
3. Cruiser bike
IDS Home unYOUsual U Transformer 20″ Folding City Bike Bicycle 6 Speed Shimano Gear Steel Frame Mudguard Rear Carrier Front Rear Wheel Reflectors
The cruiser is a city bike that you choose for its look and comfort.
It's a bike with simple and reliable mechanics, which offers a driving position similar to that of a hybrid comfort.
The cruiser usually has balloon tires, a well-padded saddle, and high handlebars.
Cyclist type: You travel short distances, you ride in rather flat places, and you like the aesthetics of a cruiser.
4. Bike all-way
True chameleon, the all-mountain bike is a hybrid-derived bike with mountain bike accessories to offer more versatility.
Its suspension forks, disc brakes, and slightly cramped tires make it an excellent choice for driving on unpaved roads or in the city's hilly streets.
Cyclist type: You drive in town to work, ride on a rock dust trail and enjoy the strength of mountain bike components.
5. Urban bike
The city bicycles have a simple style and a simple mechanism to increase reliability and durability.
These bikes are often equipped with accessories adapted to urban use, such as a basket, a chain guard or mudguards.
Geometry is similar to that of a regular sports hybrid. The urban bike looks a lot like a sports hybrid.
You ride mainly in town, your trips are short, and your bike is utility.  
Over to You!
There you have it. The extensive list of upgrades you can implement to your road bike to transform it today.
All of the recommended gear, kits, and essentials will help you to achieve your goals.
Let me know if you have any questions.
In the end, it all boils down to implementing different styles as well as getting insights from other brands.