"This site contains affiliate links to products. We may receive a commission for purchases made through these links."
Cycling is one of the simplest and most enjoyable things you can do to lose weight. This is because while cycling you have the opportunity to enjoy the fine outdoor weather and at the same time exercise different parts of your body.
Because of this most health professionals recommend cycling to people who have weight issues and also those who would like to maintain their good health.
Personally, I started cycling when I was a kid after I got my first bike. Currently, cycling is my favorite way of relaxing, and a cycle every time I get a chance. Cycling shoes that are most suited for flat pedals come in a variety of shapes, colors, and brands. You need to choose the right one for you.
Over time, I have come to know a lot about cycling including the best cycling practices that can produce better results. Some of the things I have come to understand Include that bikes come with different kinds of pedals.
The most popular types of pedals are the flat pedals because they have several benefits which include:
They support the feet properly
They do not require a lot of effort compared to most other types
They are readily available in case you need to replace them
They are more comfortable and as a result, they are ideal for long hours of cycling
There are certain cycling shoes that are purposely meant for flat pedals. These cycling shoes for flat pedals have certain qualities which will ensure that you are optimally comfortable whenever you are cycling.
The different features of these shoes have been improving as time progresses with more advanced features being incorporated.
This year 2018, there are modern cycling shoes that are meant for flat pedals. This makes it important to know the top flat pedals cycling shoes so that you can easily choose the ones that suit your needs perfectly.
Fiveten Freerider Pro
If you are a cycling lover then this is a shoe that can give you a lot of services and ensure that you enjoy cycling optimally.
This is mainly because this shoe has been designed in a way that it can peddle for long hours on a flat pedal bike. The main quality that makes this particular cycling shoe stand out is that it is weather resistant.
This is an important feature because you can be cycling both when it is sunny and when it is wet. If the temperatures are high the materials used to make the shoe will allow your feet to breathe.
On the other hand, when it is wet the shoe will keep your feet protected. This is further complemented by the fact that the shoe is quick to dry and therefore can be washed at almost any time.
The Fiveten Freerider Pro is designed to be worn by both men and women. It is also made using an S1 rubber sole which helps in gripping the pedal perfectly.
You will know that your feet cannot slip from the pedal even when the pedal is wet. The shoe comes in an assortment of colors and as a result, you can choose the colors you prefer most.
Giro Jacket shoe
I have always enjoyed cycling wearing this shoe mainly because it has a perfectly flat sole. Because of this, my feet are always comfortable and I do not have to struggle while cycling.
This shoe is skating-inspired and as a result, it has been designed in a way that it can fit perfectly on a flat surface. On the inside, the Giro Jacket MTB shoe has a lot of cushions which provides a lot of comfort. It also has a sleek design which makes it elegant.
Consequently, you can wear this shoe while cycling and then to another informal occasion and still look stylish.
Another important feature you will enjoy about this shoe is that it is very light. The importance of this is that you do not want to have an extra burden on your feet while you are cycling.
But despite the many positive features of this shoe you need to ensure that it does not get a lot of dirt. This is because the stains are hard to come out and they might leave the shoe looking old despite being new.
Bontrager Flatline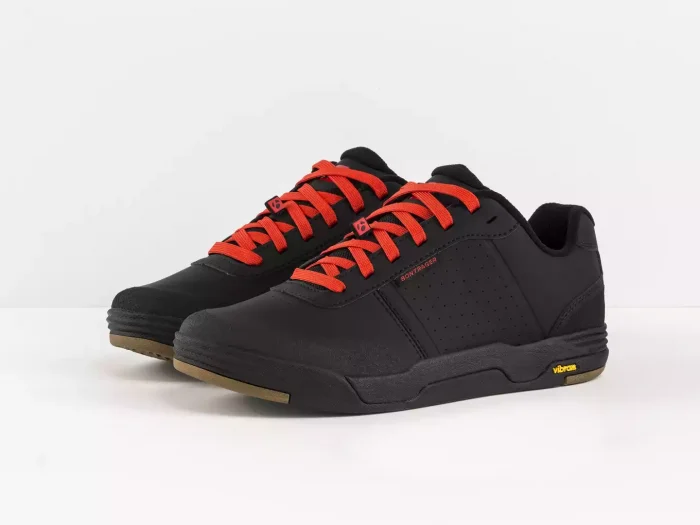 This particular shoe has been rated among the top cycling shoes for flat pedals mainly because of its outstanding qualities. The first thing you will notice about this shoe is that it has a unique design that makes it look sharp. This is helpful especially if you like wearing stylish shoes while cycling.
This cycling shoe for flat pedals is made using synthetic leather on the upper part and the sole is made of rubber.
This is helpful because statistics show that the shoes made using synthetic leather are the most comfortable regardless of the weather.
This particular shoe is available for both genders which means that you can get the right cycling shoe regardless of whether you are a man or a woman.
It also has a wide lower area which ensures that you will have a firm grip on the pedals. But you will need to keep on cleaning the shoes regularly. This is mainly because the synthetic leather used to make it catches dirt quickly and this makes the shoe look untidy.
DZR Sense Gray
This particular flat pedal cycling shoe comes from a line of DZR's cycling shoes. Because of this, you can expect that it has been carefully designed and a lot of improvements have been made from the previous models.
On the front area of this shoe, there are more soft materials to make sure that your feet are properly protected.
This particular shoe even has a reflective heel badge which is meant to catch the attention of the driver behind you in case you venture onto the pavement in low light. Other outstanding features of this modern flat pedal cycling shoe include;
A full shank which is meant to make pedaling more efficient
A heel cup to keep your feet secure at all times
Soles that can maintain traction in all weather
Materials that allow the feet to breathe, especially while it is hot
Available in different sizes to let you choose the size that fits you perfectly
Specialized 2FO 1.0
If you love cycling for long hours then this is the right flat pedal shoe for you. This is mainly because the shoe has a soft rubber sole that plays an important role in enhancing the connection between the flat sole and the pedals.
The shoe is also very light where you will not feel any additional weight. The first time I used this particular shoe I almost thought I was cycling bare feet because I did not feel any weight on my feet.
This shoe is also outstanding because it comes with an internal bootie that offers a seamless and enhanced control. You will be able to increase or reduce pressure on the pedals perfectly while wearing this shoe.
The shoe also has a padded toe box which plays an important role in ensuring that your toes are properly protected from any external force.
But you need to know that this particular shoe is meant to just provide optimum comfort and not optimum performance. You will need to get a new pair after using this shoe for several months since it wears out quite easily.
Chrome Truk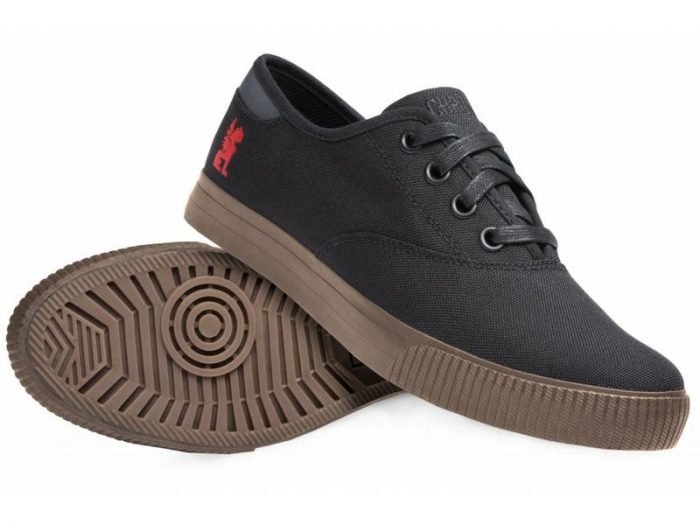 This shoe is one of the most stylish informal shoes where it can be worn even when not cycling. The main feature that makes it ideal for flat pedal cycling is that it has a flat and soft sole.
The sole is board-lasted and has been made using plate technology which includes a fiberglass plate on the mid foot.
This means that your feet will be optimally comfortable whenever you are wearing this particular shoe. If you like to cycle for long hours this particular shoe can suit your needs properly because the sole will keep your feet balanced at all times.
On the upper area, the shoe is made using ultra-tough nylon that is combined with soft materials on the inside. This will give your feet the freedom to breathe and also allow the sweat to dry out in a convenient manner.
The material used to make this shoe is also clean where you can simply wipe the shoe to make it look as good as new.
When you are not cycling, you can wear the shoe for other informal occasions because it looks nice when worn with jeans. But you will some weight while wearing this particular shoe because it is relatively heavier compared to other modern running shoes.
Shimano GR9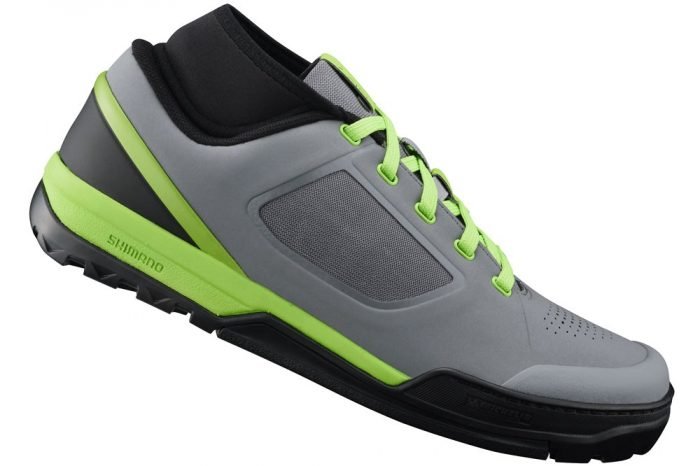 When strength and durability are the qualities, when looking for the right flat pedal cycling shoe then this is the ideal shoe for you.
This is especially because of its tough sole that provides a firmer grip while at the same time ensuring it does not wear out easily. This particular sole is gravity oriented which means that your foot will be perfectly balanced whenever you are wearing this particular shoe.
To ensure that you are optimally stable while wearing this shoe it comes with a wider profile at the arch. It is also fitted with a quick dry upper area which allows it to shed water within a short time and therefore you can wash it and use it after a few hours.
This upper area comes in different outstanding colors which give you the freedom to choose the colors that suit your preferences perfectly.
Personally, I like the combination of blue and other colors because my bike is blue in color. But you should consider the weight because the tough sole adds significant weight to the shoe.
FiveTen MacAskill
These cycling shoes for flat pedals come from a line of well-known cycling shoes. As a result, you can expect that it has high-quality features which are meant to protect the reputation of this line of flat pedals cycling shoes.
One of the most important things you should know about this particular shoe is that it has a health-oriented rubber sole.
The importance of this sole is that it keeps your feet well-balanced while at the same time reducing the pressure on your feet as you peddle.
This is a unique feature that is meant to make sure that you do not feel any discomfort even after cycling for long hours.
The importance of this is that statistics show that most people get discomforted because of using shoes that are not comfortable. This particular sole is even recommended for walking because of its properties which make sure that your feet are properly protected.
When wearing this particular shoe, you can expect to be the center of attention because it looks elegant and cool.
Once I bought a pair of these shoes my five years old son always wanted to play with them because of how cool the shoes looked.
The shoe also has a modern design that makes covers the feet properly whether you are cycling or not. Other additional features of this shoe include:
The shoe is very light which gives you at most comfort.
The material used to make the upper area is weatherproof which means can be used in almost any weather.
The race ensures that the shoe remains in place at all times. The sole despite being light has a firm grip on the pedals.
Pearl Izumi X-Alp Launch
This is a new shoe from this company where the company has decided to make the first flat pedal cycling shoes.
Many people thought that the shoe would come with experimental features but it has come with high-quality features that make the shoe outstanding.
I first learned about it from my cycling partner and I decided to try it out. The truth is that it is one of the most comfortable shoes I have worn while cycling.
Some of the outstanding features of this particular shoe include that it is super lightweight which makes it ideal for long hours of cycling. The sole is also soft and can even twist consequently giving you the freedom to position your foot the way you want.
The shoe is available for both men and women in different sizes. It also has a wide base which is paramount in making sure that you are stable at all times. Your feet will also breathe because of the spaces on the upper area of the shoe.
Conclusion
In 2018, a lot of improvements have been done to flat pedal cycling shoes. These improvements have provided all cycling lovers with options to choose from.
You might need to go through the top shoes so as to know the ones with the features that will suit your needs perfectly. You just need to do a comparison and identify the shoes with the needs that you want.
From the shoes I have listed, you can choose the ones with the qualities you feel are ideal for you. When you know the qualities you want, you can get cycling shoes with flat pedals that will allow you to enjoy cycling even more.