"This site contains affiliate links to products. We may receive a commission for purchases made through these links."
Camping becomes more thrilling with a real feeling of adventure while having an E-bike with you. As an e-bike relies on a recharged battery, it will be best to make a proper plan to keep your journey more dynamic.
No matter how much you know about its charging system if you are worried about charging while camping, this is the right place for you to clear your confusion about whether you can charge your E-bike while camping and how.
Can I Charge My E-Bike While Camping?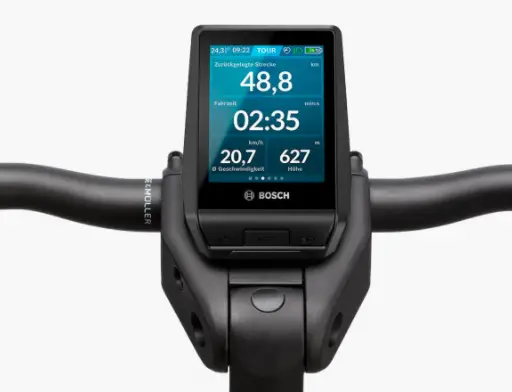 Most bike riders seem worried while they are planning to take an eBike with them camping. Whether they can charge their eBike or not. Yes, you can charge your Ebike while camping, but it's not always available on all campsites. However, you can take some portable charging equipment with you for emergency charging. 
Charging equipment can be a solar panel with charging equipment, a motorhome battery charger or RV, and a car battery inverter. You can charge your eBike while camping anywhere if there is a well-equipped charging system.
It's a good idea to carry charging extensions with you in case you find libraries, restaurants, offices, or other public places with electrical outlets for plugins. 
A power bank can also charge eBike if the current is larger than the eBike battery's wattage putt. For example, if the e-bike battery requires 750 W; you can use a 1000 W power bank.
(25 Basic Mountain Bike Skills You Need to know Today)
Is it a Good Idea to Take E-Bike Camping?
Your camping can be more appealing if you bring your electric bike for camping rides. You can leave your car behind to save parking fees and save fuel for your vehicle. 
If it is a foldable bike, you can manage space while camping. You won't have to worry much if you know how to maintain your bike, battery, and charging methods.
How Can I Charge My E-Bike in Camping?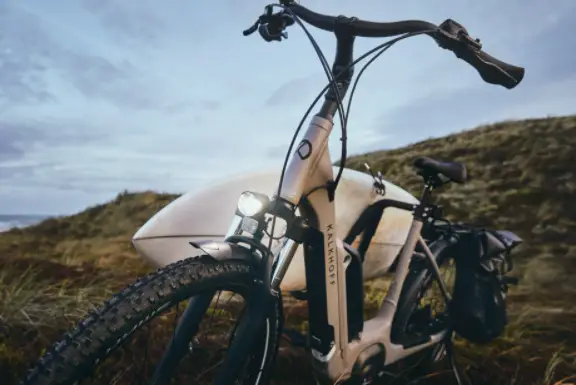 If you already have an E-bike, you can opt for a smooth ride with a good quality battery. It will be a good idea to carry an electric hookup with you to charge your battery. 
You can keep your Motorhome and RV with you for a good battery power backup. Note that you should not charge a completely dead battery cell while camping with alternative charging systems. Here you can have a look to find a suitable option.
Power Outlet
This is the most common way RVers charge their e-bikes while camping. If you are charging your RV to a power pedestal, you won't need to worry about the source of power. 
You can enjoy an unlimited power supply while charging your vehicle.  You can find out if you will have enough power outlets or not before going to the camping site. 
Use a Portable Solar Panel 
Though a solar panel is a time-consuming source of power supply, you won't have to worry much while you are camping on a sunny day. The RVers find it the cooler option to charge by using a solar panel. 
You will need a Solar panel, RV battery bank, inverter, a charge controller, and obviously an E-bike battery. This charging method is really excellent when you are at your campsite while having a suitable rest time.
Car Battery Inverter
You can use your car battery inverter for charging your eBike. The inverter helps to change the battery's DC to an AC that an Ebike can easily accept. Now, most new vehicles have 110 V electric plugs for users to charge their laptops, smartphones, and other electronic devices.
If you are not getting any suitable power source supply at your campsite, you can use your car battery with an inverter to charge your e-bike. You also have to be careful while charging your e-bike from your vehicle. You have to keep it running, otherwise, it will cause battery drainage while charging.
Generator
Using a generator is one of the loudest options to charge your bicycle. If you are not finding any other suitable option nearby a campsite, it can be a good option for charging. 
It would be good advice for you to check for the safety buffer- at least 20% more than you needed. Some inverter generators provide some electrical outlines which will allow you to charge your bike fast. Most generators depend on gasoline,  and some others are used diesel and propane. That probably wouldn't be much difference while charging on it.
Off-Grid Charging 
As usual, When we hear the word -off-grid, a concept comes to our mind that is a place with no Wi-fi, and no source of electric supply. We think you can use your motorhome battery bank for your eBike charging when off the grid. You will need an RV battery inverter to convert 12V power to 110V AC, which your eBike requires to be charged.
(How My Family Uses RV Electrical Power for Dry Camping Without a Generator)
Plan Orderly Before Going Camping
To keep your journey enjoyable, please plan wisely before you are opt-in for camping. You should carry some emergency equipment that you can use to charge when required.
How to Maintain Ebike Battery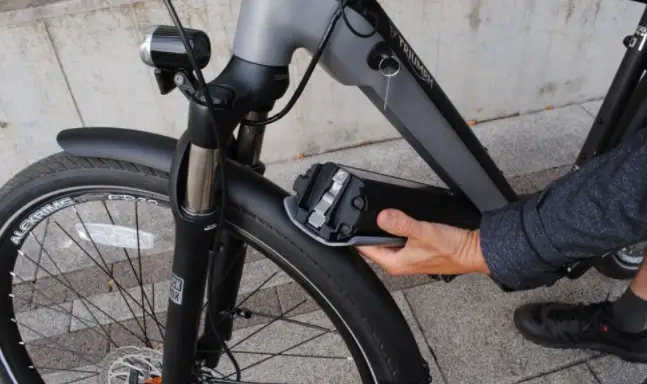 The battery is the most expensive component of an eBike. So you should know how to maintain a longer lifespan of your battery. A lithium-ion battery can charge incredibly, very fast. This battery requires 500-800 watt-hour for a full charge, and it takes almost 3.5 to 6 hours. 
If you are using a lithium-ion battery for your eBike, you do not need to wait for the battery to be fully charged. It goes to 90 percent capacity very fast and the remaining 10% takes much longer because it uses a lower wattage. 
You can get a much better ride with the 90% recharged the battery and maintaining it can let you have a good battery lifespan rather than always having 100% recharge.
Frequently Asked Question About E-Bike Battery
You might have further questions about the E-bike battery. Here, we try to answer a few.
How Often Should I Charge My E-Bike Battery?
Charging your bike's battery after certain times is a good habit. Lithium-ion batteries are susceptible to damage. If you keep your battery out of charge, it will cause damage to the battery. 
You should make a habit of charging your battery when it depletes to 30% capacity. It encourages the users to charge their battery by showing the signal rotation between 30 % to 60%.
Is it Worth it to Keep a Spare Charged Battery for Ebike While Camping?
If your e-bike has a feature that you can charge the battery while your battery is out of charge, then you should keep an alternative battery for backup. Keeping spare batteries will be a wise idea if you are planning to go for a short-distance tour without any electronic hookups. It will probably be difficult for you to get a suitable charging option during a rainy day, so you can easily use your spare batteries.
What Temperature is Optimal for e-bike Batteries
Your electric vehicles or e-bike are mostly equipped with a small motor to make your paddling easy while riding on hilly tracks or thatched roads. The connection of your charged battery powers these small motors. You should only leave your battery at a mild temperature of 60-70 degrees Fahrenheit. 
What Happens If I Overcharge My E-Bike?
Most e-bikes use a lithium-ion battery and if it gets heated while you overcharge your battery. It can cause serious damage to the battery.
How Long Can I Store My Batteries With Full Charge?
It's really not advised to store e-bike batteries for longer periods of time. If you want to store your batteries, keep them below 70% and above 30% recharged to avoid battery sweating. You have to keep in mind that the charge will decrease by 1% every month while not using it.
What Is the Best Time to Charge My E-Bike?
Actually, you can charge your Ebike anytime you are in need. There is no fixed time that's best for charging your battery, but it is suggested not to charge your bike at night even if you are at home or on camp side. If you leave the battery charging overnight, it can cause severe battery damage.
(How to Prevent or Treat Road Bike Neck Pain and Get Back on Track)
Final Word
E-bikes are a significant value while camping. For the best power supply, you can choose any of the methods outlined in the article for charging the batteries of your eBike. If you want a stress-free ride during camping, try your best to follow the recommended power source to get the best result while charging an E-Bike.