"This site contains affiliate links to products. We may receive a commission for purchases made through these links."
Do you plan on having an outdoor activity with your jeep wrangler anytime soon?
If yes, then this article is right for you. If you intend to go camping, you require a tent. Since most rooftop tents (RTT) are designed to fit vehicles or all types, your jeep will not be exceptional.
Regardless of the hard shell roof top tents or even soft shell RTT, whichever you choose will be suitable for your jeep.
Here are the top 6 Jeep Wrangler Unlimited Roof Tents:
1. Overlander Roof Top Tent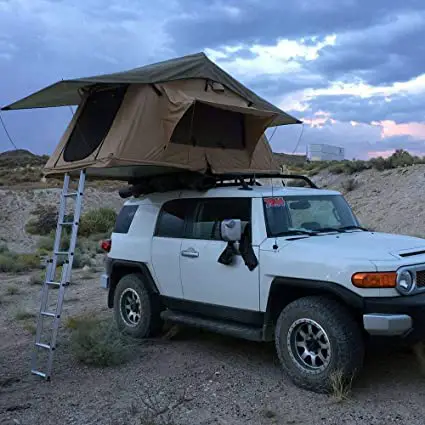 The Overland Roof Top Tent is perfect for your jeep. It comes with a 2″ form mattress, a traveling bag, and an aluminum sliding ladder. You will not fear mosquitoes since it has a mosquito net.
Overlander has a rainfly, a shoe bag, and an interior LED. If you smoke, you will find a cigarette lighter adapter in your tent.
It has a heavy-duty rip-stop poly of 600D. You will not fear it when it rains since it is waterproof.
Whenever the sun is hot, you can cover the tent with sunproof. You can uncover later when the condition is favorable.
You might be wondering how much you will have to budget for this tent.
We got news for you; the tent has the most reasonable price out there. You can use it in any weather. Whether it is rainy, windy, or sunny, it will serve you well.
If you are not yet convinced, here are its features. When you open the RTT, the length is 56″, the width is 95″ and the height is 51″.
If you close the tent and take the measurement, the height is 56″, the width is 47″, and the height is 11″. The Overlander Roof Top has a total weight of 132 lbs.
And it can comfortably accommodate 3 persons.
2. Simpson Iii Series-ARB
Have you ever heard of an Australian company called ARB? They are some of the world-renown car parts manufacturers.
Since they are known for quality, you can't underestimate the rooftop tents called the Simpson III series.
Here's how to install it:
When you purchase this Roof Top Tent, you will get an annex, a mattress with a cover, and an aluminum ladder. It will also come with a rainfly and PVC travel cover.
Changing clothes is more comfortable because of an annex if you are more than one.
The quality of the poly-cotton stop canvas is high, and it is waterproof. It is resistant to harsh weather conditions, and it fits well in any jeep.
You don't have to worry about the price since it is pocket-friendly. You might be wondering how big the tent is. Three people can sleep in soundly. You will not struggle setting it since it is easy to fix. 
When opened, the length is 55″ width 94.5″ and a height of 51″. When closed, the length is 55″, width 47″ and the height of 11″.
3. Ruggedized Series Kukenam 3
Do you intend to go with your partner to any our door activity or even your small family?
Here is the tent for you. It comes with a thick form mattress of 2.5″.
Ruggedized Series Kukenam 3 Roof Top Tent could be the tent for you. It comes with a thick form mattress of 2.5″.
You can easily remove the mattress cover if you wish. It also has a travel cover for your tent. This RTT has an aluminum ladder and a rainfly.
The three of you can fit in comfortably. If you travel with your pet, it will have space to sleep. It has strong and durable materials.
It can withstand the four seasons. The tent is reliable, and you can choose between the three colors; it can either be expedition orange, gray, or olive green.
It's designed to fit your Jeep or any other out there. It is a bit more expensive than the first two, but the price is worth it.
4. Skycamp 2.0-Camper
It's a new model with a hybrid of both hard and soft shells. Its popularity is increasing, though you can't buy it blindly. It has a bigger size, so it might not fit in well on your jeep.
You have to test it before buying.
When opened, it has a length of 85.8 and a width of 82.6. It also has a height of 43.3 which changes to 12.5 when closed. This RTT has a hard-shell lock.
Since it has ample space, four to five people can fit and sleep comfortably. So you don't have to worry about traveling with your pets or kids.
It's an aluminum ladder and a rainfly.
There is no doubt concerning its high quality and durability. It can withstand any weather.
You don't require engineering skills to set it. Is it just a matter of seconds before you will be ready to crawl in?
5. Adventure Series M55 Jeep Edition
If you are three, you can fit in well. Just like the other four, it has an aluminum ladder. It has a two-hanging shoe and a 3″ thick mattress.
Its PV cover is 100% waterproof. You will also find a rainfly in it and a mattress cover.
It weighs 118 pounds. It's comfortable to sleep in it, due to its thick mattress. You will not struggle either opening it or closing it.
You can't ignore the quality and durability since it is fit for any season. If you intend to go outdoors in a hot summer, this is the tent for you.
The length of this RTT when opened is 85″, and the width is 58″ with a height of 48″.
When closed, the height and the width remain the same, but the height reduces to 9″. With this tent, you have no reason for failing to go camping.
6. Wanaka Roof Top Tent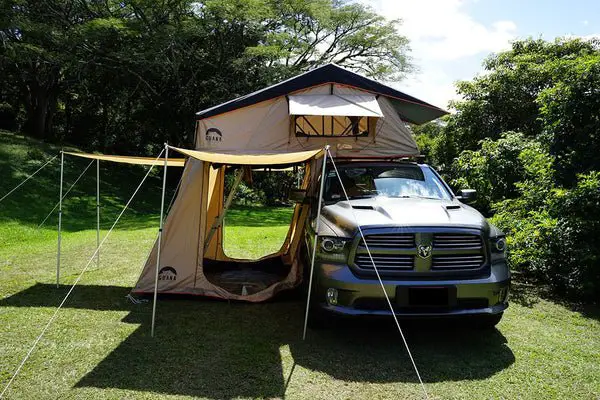 Wanaka is an incredible design that comes with a well-spaced annex. It is handy and well built. If you intend to camp with two more people, then the three of you will sleep soundly in the tent.
The annex has a space of 100″ by 100″ footprints. That means that two adults can sleep in it.
It usually comes with an aluminum sliding ladder and two boot bags. You will find two Led light strips and a hanging net.
Don't be surprised to find an anti-condensing mat inside the RTT. With the big space, you can comfortably cook and eat inside the tent. You will not struggle to find a space for your pets and kids to sleep.
The measurements when opened are; length 122″, width 56″ and height of 49.5″. It has a closed size of 56 "w, 48 "L and 12 "H. You can hardly get a tent of this size in the market. It's durable, reliable, and rugged.
Conclusion
Camping can offer an unforgettable adventure for you and your family. You don't have to be restricted by the RTT. There is a variety of RTTs in the market to choose from.
The choice depends on the number of people and the features you are looking for.
Once you select the right tent, you can have enjoyable and memorable camping.