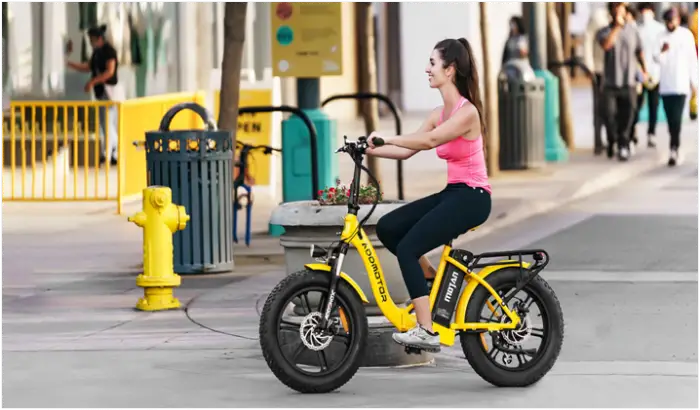 "This site contains affiliate links to products. We may receive a commission for purchases made through these links."
Folding e-bikes are easily seen on streets, buses, and trains. People carry them through the hallways and office buildings for the main factor, which is its convenience. It is pocket-friendly and a source of fast commute at the same time which enables folding e-bikes to be one of the most highly purchased bicycles these days.
We have highlighted the best folding commuter electric bicycles manufactured by ADDMOTOR.
M-150 R7 Folding E-Bike Fat Tire
Electronic bike lovers who look forward to a stylish yet fun-filled ride, M- R7 is just your choice. It is a space-saving, easy-to-fold e-bike. The main features that make this product by ADDMOTOR a must-buy are a foldable main frame, folding top tube, and folding pedals.
The best part is that the folding session just takes 10 seconds, and your e-bike can be folded without any difficulty. The compact design and size enable you to keep it under your desk.
Its compactness and portability allow you to carry it on a long-distance holiday spot. Its other beneficial features include a rechargeable and removable long-lasting battery, a 750W integrated wheel motor, powerful integrated headlights, twist grip throttle with a power-cut switch, foldable telescoping handlebar stem, and powerful integrated brake light.
M-150 P7 Folding E-Bike
M-150 P7 is a powerhouse of fun lifestyle with ease to fast commute and compactness. It is a fat tire ebike with a powerful 750W rear-mounted hub motor which makes your commuter electric bicycles the symbol of speed and fast commuting.
This e-bike is specially designed for commuting on difficult roadways where a traditional bicycle cannot be proven user-friendly. It comes with a powerful rechargeable and removable battery, integrated brake and headlights, twist grip throttle and power-cut switch, and foldable telescoping handlebar stem.
Whether you want to reach your workplace in minimum time or you want to win a race with a friend, this fast commuting e-bike is helpful in every scenario.
M-140 R7 Folding E-Bike
M-140 R7 is a fat folding electric bike for adventurous people who love to travel through sandy beaches, snowy paths, and workplaces or just for the everyday commute. It is one of the most comfortable folding e-bikes manufactured by ADDMOTOR.
It is reasonable, powerful, compact, and easy to handle. Its fat tires are puncture-resistant, assisted by the integrated tire lining, which provides it double safety from getting punctured against glass pieces, spikes, and other harmful materials.
It comes with a strong rechargeable and removable battery, a 750W rear-mounted hub motor, and a removable back rack. The foldable top tube, frame, and pedal make it portable and compact.
M-140 P7 Folding Electric Bike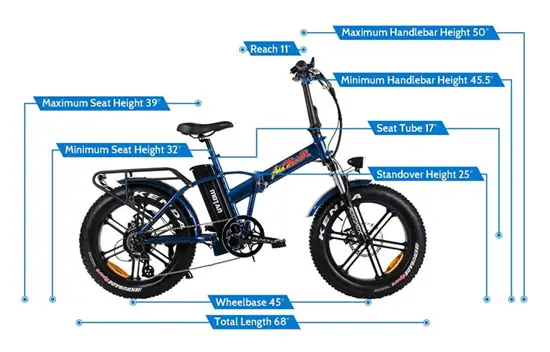 M-140 P7 is a ride to remember, especially for those who like adventures of all kinds. It can smoothly run on snowy lands as well as sandy shores. This folding commuter electric bicycle is best for anyone who is up for a challenging ride.
It is easily foldable, compact, affordable, and highly comfortable with its special design to make long rides possible. It has cohesive tire lining to make it defensive against all odds on the roads.
This double protection layer on the tire makes it puncture-resistant against glass pieces, prickles, and other damaging material on the road. It also comes with a solid removable and rechargeable battery with 17.5Ah for long distances. Its rear-mounted hub motor has the power of 750W, which makes its gear easy to shift without putting much load on the rider.
It has a detachable back rack which helps in carrying extra stuff. You can also assemble a child seat on the back rack and take your child along with you to enjoy a ride. It has a foldable top tube, frame, and pedal, making it transportable and compacted. It is available in four different colors. 
Conclusion
ADDMOTOR has a wide range of user-friendly portable folding electric bikes that makes the rides comfortable and adventurous. Each one is uniquely designed to give you an ultimate experience of fun and exploration at the same time.
All the folding commuter-bikes can easily be taken on a long-distance holiday, as it becomes foldable and transportable. It makes your day-to-day commute quite easy as you can just fold it and put it under your desk.
Folding electric bikes are best for fast and easy commutes making your life stress-free.