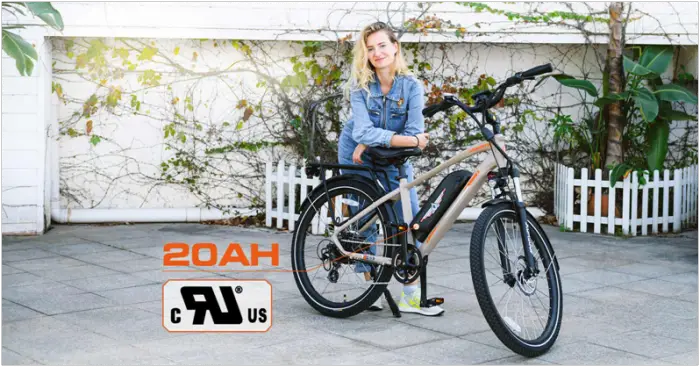 "This site contains affiliate links to products. We may receive a commission for purchases made through these links."
Long-distance traveling seems hectic and boring. However, for riders with adventure and exploration in mind, such rides can become enjoyable and relaxing.
Considering such needs, ADDMOTOR has manufactured some supreme products that make your riding experience and your daily commute a source of recreation and delight. We have selected the best long-distance commuting e-bikes to highlight in this article.
E-43 CityPro Electric Bike
E-43 City Pro Electric Bike is one of the optimum manufacturing products of ADDMOTOR, which has reduced the practice of car commuting by its dynamic benefits of swiftness and control. It has a battery capability of 20 AH (960 WH), which offers an extensive range and an improved commuting experience. Its motor power is 48V * 500W, allowing it to accelerate over hills.
It has a riding range of 125+ miles with 8mph, which makes it user-friendly to commute at the long-distance workplace. It has a maximum speed of 20 mph with coverage of 70+ miles.
It also possesses a large cell capacity of 5000mha. It has a hydraulic disc brake system. It has 26" x 2.3" Kenda Tires, which are completely covered with huge curved glue tread designs. Whether you ride alone or with a partner, City Pro is the best choice for e-bike commuters.
E-53 CityPro Electric Bike
Commuters with a choice of traveling long distances, making it memorable with comfortable and fun-filled rides, should only look for E-53 CityPro Electric Bike.
It is one of the premium products by ADDMOTOR with new leading-edge technology in terms of both internal and external body. This commuter e-bike is especially aimed to provide a comfort zone for long-distance rides.
With its availability in four beautiful colors, this commuter e-bike has diminished the practice of car traveling by its vital qualities of speed and switch.
It comes with a long-lasting battery with EB 2.0 20Ah for an incredible riding experience for its commuters. Its motor power is 48V * 500W which enables it to accelerate over hills.
It has a riding range of 125+ miles with 8mph, which makes it comprehensible to travel for the long-distance workplace or any holiday spot. It has a great cell capacity of 5000mha. It has a hydraulic disc brake function.
It has strong gripped, anti-slip, durable, and completely covered with convex glue tread design Kenda tires. It is one of the best rides to have with your partner, friends, or family.
M-50 Step-Thru Electric Bike
The M-50 Step-Thru Electric Bike is an easily manageable and comfortable cruiser e-bike. This portable e-bike is the most accessible and user-friendly fat bike. The comfy step-thru frame makes it stress-free for the customer to ride the bike. It has a spring suspension fork, and its 20 inches wide tires engage the pump quite well, providing the commuter with a smooth and restful riding experience.
The handlebar of this e-bike is specifically designed with a huge cruiser-style modifiable handgrip that reduces your distance from the handlebar. It allows you to regulate and set the most relaxing riding angle.
It has a 750W brushless rear-mounted motor. It has a rechargeable and removable 17.5Ah Panasonic battery for long-lasting rides. It has adjustable 80MM front forks for a smooth ride. It has integrated back and headlights powered by the main battery pack. It also has a removable rear rack with complete cover fenders.
It has a 750W twist grip throttle with a power-cut switch. It is considered one of the best products by ADDMOTOR because of its long-distance commuting.
M-66 R7 Cruiser E-Bike
M-66 R7 Cruiser E-Bike is the choice for adventurous commuters, as its speed exceeds from 20mph to 25mph downhill. With an amazing design, this cruiser e-bike can take you faster in the city rides to your workplace and home.
It is a step-thru, unique e-bike that can take you through uneven and hard hills and roads, soft and silky snow, and beaches with remarkable speed. It has a rear-mounted motor with 48V*750W. This e-bike has a riding range of 80+ miles.
It has the new high volume 21700 battery cell. With the capacity to carry groceries and stuff, M-66 stands out as a suitable and pleasant ride. It has 20" x 4.0" strong Kenda fat tires. With all these amazing features, M-66 can be considered one of the top-speed commuter e-bikes by ADDMOTOR.
Conclusion
Cycling with an e-bike can be an exhaustive experience. To make it wonderful and revitalizing, long commute e-bikes have made it easier to travel. These products are ideal for long-distance commutes making the ride of its commuters a memorable trip. Now you can simply enjoy your commute with one of these e-bikes and make your commuting exuberant.