"This site contains affiliate links to products. We may receive a commission for purchases made through these links."
Are you looking for a high-quality and durable step-through electric bike? Do you need an easy bike that you can use to commute around town?
It's quite a challenge for many people to choose the best step-through electric bike in the midst of ever-increasing brands in the market.
You don't have to worry, because all the information you need about step-through electric bikes are available in this write-up.
I have used several brands of step-through electric bikes for over 5 years, therefore I know how to identify the best e-bike that'll suit you. 
Step-through electric bikes are designed with features that offer comfort and more body fitness.
The e-bikes have gained popularity for their easy and faster means of keeping fit. An easy way to get into the cycling world.
To help you make an excellent buying decision, here are the 10 best-researched step-through electric bikes recommended for you. 
1. Raleigh Array Step-Through Electric Bike
One of the main features that Raleigh Array stands out is the smooth ride it gives riders.
This bike is built with a Suntour system and the rear motor that offers an exceptionally smooth ride to riders also
Raleigh Array Step Ebike is made with a durable aluminum 6061 frame. You can easily incline with this e-bike because of the sophisticated Suntour system. 
It has an inbuilt software power delivery system, which allows riders to move smoothly without experiencing back and front jerk surges.
With this software, you're completely in control of the e-bike. You determine when to stop and the speed it can run.
Raleigh Array Step through electric bike has a 250-watt motion motor. This motor helps it to deliver power through the crank.
The crank motor provides the correspondence power for riders to effortlessly incline a hill; reducing the amount of energy they spend to push the bike forward. 
The motor torque allows you to start out with speed, especially when you're in a hurry. You don't slowly enter speed but it moves at once. 
It has Suntour rear wheel motor that provides a smooth run on the tires. Also, the wheel motor is built with 7-speed Shimano derailleur gears, which help the rider to easily twist the shift dial. 
Selection of the gear becomes possible and simple as a result of the Shimano derailleur. You're always in the control of the e-bike no matter the speed.
The Raleigh Array step-through electric bike has a battery capacity of 300Wh (8.2Ah) 36V 40-60 mile range.
Even though the motor is continuously in use, the e-bike has a battery capacity of 8.2 amp-hour to power the motor for 60 miles on a single charge. 
If your route all through the day is hill then the battery has the 40-mile capacity to power the motor and still be enough to commute within the town.
The Raleigh Array step through the electric bike's battery takes 6 hours to charge fully on a complete down. 
It's recommended you charge the battery once every 3 months even when you don't use it. 
The compartment of the battery makes it easy to remove when you want to charge it. 
The Array has front and rear lights that make riding at night possible. It has a pannier rack, which you can use to carry your load. 
Additional features:
Kickstand 
Comfortable saddle
Mudguard 
These features make it easy for beginners.
The Raleigh Array step-through electric bike has both open and crossbar frames that make it easy to actually step over it.
2. Dawes Mojav-E Hybrid Electric Bike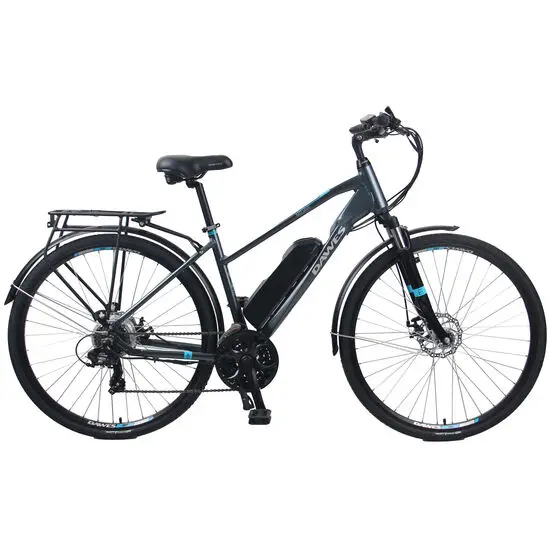 Are you looking for a unisex electric hybrid bike that you can use to commute in and out of town? 
Dawes Mojav-E is an amazing e-bike that has all the qualities you need to take up such a ride. 
It has a low-step crossbar for easy hopping in and out by everybody. Built with an aluminum frame of 18″ Alloy Trapeze, which makes it durable, and lightweight.
Dawes Majov has a functional fork suspension that reduces the impact of bumps on the road. Mostly, this suspension has increased the friction of the tire with the ground.
It has a high energy distribution 10Ah Li-Ion battery mounted on the frame.  With the battery, you can be over 30 miles upon fully charged. 
You can hop on the hill with this all through the day-long without experiencing a low battery.
The battery has the capacity to power a 250W rear hub motor and the same time 3 different LEDs on the handlebar. 
The battery requires 4 — 5 hours of charging when it is low. Maintain the life of the battery by always charging it when it runs down.
One of the top-speed ebike in the market. Riders are always in control even at the speed because it has a functional brake.
Dawes Mojav-E has a mechanical disc 160mm rotors brake, which you can use to stop the bike at any application.
The gear component is designed with a 21-speed Shimano. The Shimano makes the gear selection become easy.
It has a wheel balance of 700c trekking and with CST 700 x 38C tires. The wheel diameter produces an excellent rotation on the go. 
Additional features are a mudguard, kickstand, and rear rack. This is an excellent e-bike you can count on any time any day.
3. Wisper Wayfarer H7 Hub Drive Step-Through Hybrid Electric Bike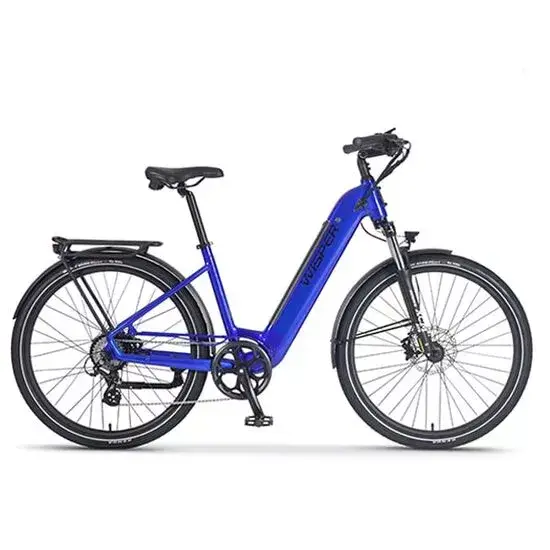 One of the best electric bikes for aesthetics with exceptional comfort while on the day-to-day workhorse is Wisper Wayfarer H7 Hub Drive.
A versatile, and practical bike for long-distance riding to keep fit. This is a perfect day bicycle with a model feature to make you enjoy excellent riding.
The frame is 17.5 inches (44.5cm) step through. The frame has a hub drive step-through modernized features.
The hub drive is built with a Hi-Torque 50Nm motor, which is used to incline hills or make riding on the tough terrain easy.
The frame fork has Suntour XCM 30 100mm travel. The Suntour XCM suspension fork is what cushions the tires when you ride if on rough terrain.  It has a 2.2 high puncture resistance hybrid. 
It has a Wisper High Torque 250w Rear Hub motor. The gear is Shimano Altus 8 speed. The gear system makes pedaling become easy and simple.
The battery capacity ranges from 450Wh which take up to 20 – 40 mile, and 700Wh for 30 – 60 mile. It is used to power the motor and the LED.
The brake is built with Apex Hydraulic — 180mm at the front. Also with 160mm rear. A flexible brake that brings the bike to a stop at any application. The wheels had 27.5 alloy double walls and Kenda 27.5 tires.
Additional features are Front and rear mudguards, rear carrier rack, kickstand, and front and rear lights.
4. Oxygen S-Cross ST MKII Ladies Step-Through Electric Hybrid Bike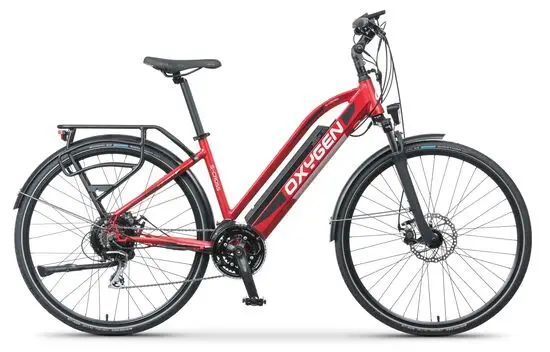 This is specifically customized for women. A nice women's electric bike for a gift to your wife, girlfriend, sister, and female colleagues.
The frame is made with Alpha 6061 T4/T6 with a size of 17″. This is a durable rigid frame that holds oxygen. A customized alloy frame that produces quality lights.
A 36v battery is mounted on the frame, which has the option of 3 battery sizes (10.4ah, 13ah, or 16ah). 
The backlit LCD display with 6 power assist levels and with the additional option of 3 power modes. 
It has a USB port mounted on the handlebar for charging mobile devices. 
S-cross ST MKII has a 36V 250W 8FUN Brushless motor for excellent and reliable power delivery while climbing hills.
The gear system is made up of Shimano 21-speed. It uses Tektro Novela Disc front and rear. 
The 36 voltage battery delivery power at these levels: 10.4Ah, 13Ah, and 16Ah LG Cells. 
The battery has the capacity to take up 50 miles. It delivers a maximum speed of 15.5mph/15mph subject to the terrain. 
S-Cross ST MKII has a 26.4Kg weight including a battery. A portable electric bike for women.
5. Elswick Electric Step-Through Bike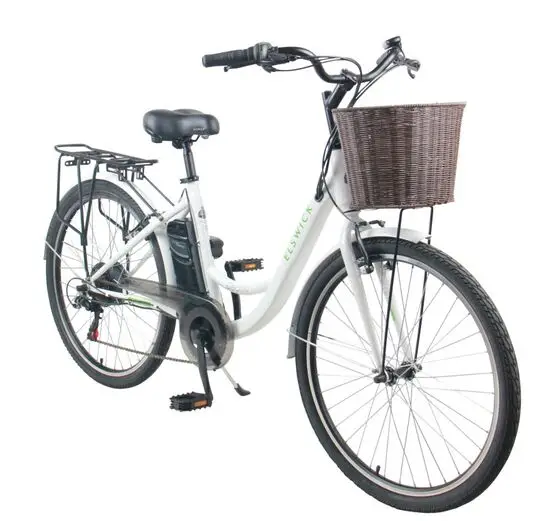 Are you looking for a daily cycling bike that you can use daily? Elswick electric bike is built for daily cycling. 
It has a 7.8 7.8Ah Li-Ion battery that is placed behind seat tubing for an evenly distributed weight.
The motor hub power is 250w that delivers over 25 miles at a go without stopping upon a full charge. It has 3 power modes that change the use of the LCD display. 
The gear system is a 6-speed Shimano. The 6-speed working hand in hand for effortlessly climbing hills.
The frame is produced with Hi-Ten Steel with a size of 17''. The wheels are 26 Alloy double walled. 
The battery is 7.8Ah 24v. It has the capacity to power the motor hub and the LED light. 
The electric bikes have extra features like a kickstand, front-mounted wicker basket, rear-mounted pannier rack, and mudguards.
6. Aurelia 28″ Step-Through City Electric Bike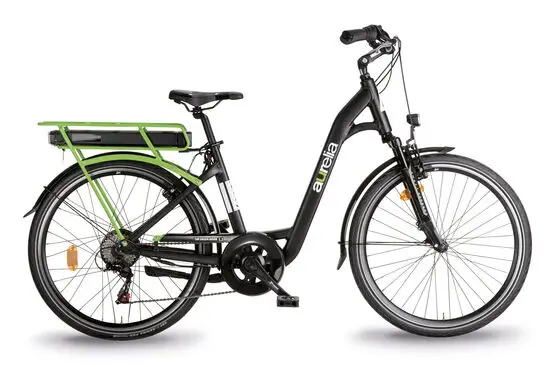 Aurelia's 28'' step-through city electric bike is a style bike that is easy to use across all ages.
A customized design Aurelia electric bike for commuting around town. 
A dura battery of 11Ah Promovec that is integrated within the rear luggage rack. This is where the power is transmitted to the rear hub Promovec 250W motor. 
With just one rotation of the pandals, the bike gets the boost it needs to incline hills while the handlebar is mounted display to alter your power assist level (PAS).
The step-through frame is made from Hydroformed Aluminium, which makes it to be durable, and stable while on high speed.
The step-through frame is lightweight which makes it simple to travel with.
Aurelia has alloy front suspension forks that make the ride smooth even on rough terrains. 
It has adjustable stem handlebars, which you can either use to position/alter the angle, height, and reach the stem.
The gearing system has Shimano 6-speed — alloy V-Type brakes. 28'' double-walled wheels and 28×1.75 reflective tires. 
You can either select the gear from back to front or vice versa with any default or chain disturbance.
7. Falcon Crest 20″ Folding Electric Bike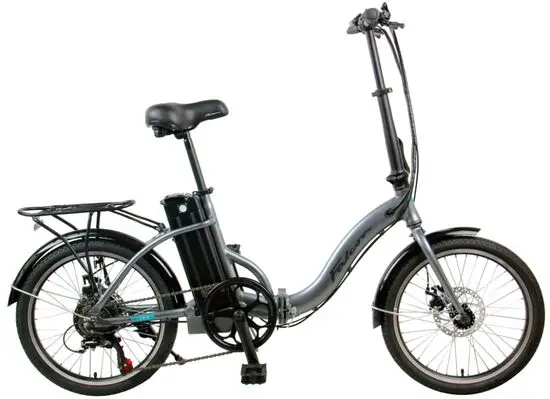 Are you looking for a low-step through fold frame design? Falcon Crest has exactly the type of electric bike you desire. Bike easy onboard without throwing your leg over.
The frame is built with 15'' alloy folding while the battery is placed under the saddle, which helps to distribute the weight evenly. 
The position of the battery makes the frame look good and neat. 
The 10Ahbattery  has the capacity to produce 40 miles, front, and rear mechanical disc brakes. 
The gear is 6-speed Shimano with a fork suspension. They make the ride smooth and enjoyable. The motor hub is 250w that is powered by 36v.
Falcon Crest has mechanical disc brakes that you can use to stop the bike at one application. The wheels are made with 20'' alloy double walled CNC RIMS.
8. Orus E-4000 Step-Through Dutch Style City Electric Bike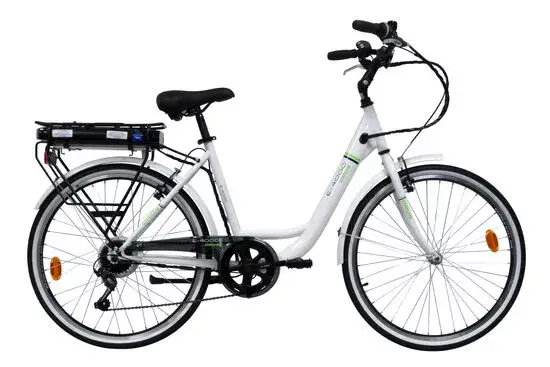 The Orus E-4000 is made with high synthetic material and with an advanced comfort electric bike. 
It has a 6-speed TY21 gearing system that provides all versatility you need in an electric bike.
A durable and shining frame with an 18'' style size steps through. It has a high-capacity battery produced by Samsung 7.8Ah. It has the capacity to go up to 25 miles.
The battery is placed under the rack carrier to maintain an evenly distributed weight. 
The Orus E-4000 has a 250w rear motor hub driven with 36v coming from the battery to power it. 
It has a functional brake steel V-Type front and rear. The wheel is 26'' double-walled rims. 
The wiring is internal which makes the frame clean and neat. The tires are white-walled 26×1.75 tires. It has a rear carrier rack.
double-walled 26″ rims, white-walled 26×1.75 tires, rear carrier rack with battery mounting and internal frame wiring
The gear is 6 Shimano speed, which you can use to climb hills with the stress of the rider.
9. Byocycle Zest Plus Electric Step-Through Bike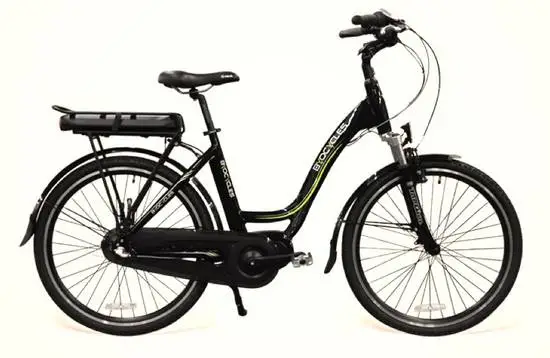 The Byocycle Zest Plus has the capacity to climb hills efficiently because of the crank drive motor.
It has a highly durable frame of 6061 aluminum. The wheel is made of aluminum double wall 26'' rims.
The fork is made up of a Suntour NEX suspension fork. Durable tires are 26 x 1.75 strong and produce more friction on friction on the ground.
It has 3 speed Shimano Nexus that makes pending easy to maintain the cadence. The battery is produced by Samsung 36v 9Ah, 10Ah, and 11Ah Li-Ion.
The battery has the capacity to power up to 40, 50, and 60 miles at a go without any stops so long as the battery is fully charged.
10. Batribike Vista-S Step-Through Trekking Electric Bike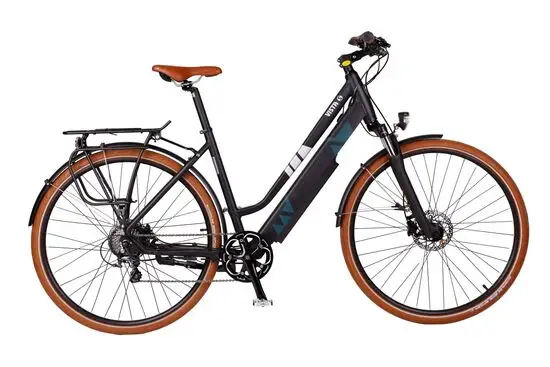 This is one of the hybrid electric bikes out there that you can use for adventure. A comfortable bike you can ride on a long-distance ride.
It has an alloy step-through frame with a 36v Li-Ion battery available in 3 sizes to accommodate riders of all lengths and terrain.
Batribike Vista has 7.8Ah 36v, 10.4A 36v, and 12.8Ah 36v, which supplies power to the 250w rear hub. The battery has the capacity to deliver 60 miles from a change.
The wheel is made with a 28" alloy w/ disc mount. It has a mini LCD handlebar 
The gear is a 10-speed Shimano. This makes it one of the highest electric bikes in the market.
It has a total weight of 21.7KG. With the one-stop application of a powerful Shimano hydraulic brake.
Conclusion 
The step-through electric bike makes cycling easy and enjoyable. It becomes more pleasurable when you have the one with quality features.
The top best 10 e-bike reviews here are well-researched electric bikes, with high-quality features you need in an Ebikes.
These are the alternative motors that you can use to commute in and out of town without feeling tired.