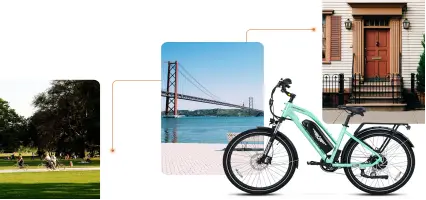 "This site contains affiliate links to products. We may receive a commission for purchases made through these links."
Cycling has become common with the passage of time. With that, the need for innovative designs and types of bikes has risen as well. This has increased the demand for e-bikes for a faster commute in today's life. If you are a new member of the cycling community, you might be thinking about what an e-bike is, or maybe you have also heard of fat tire bikes.
Many traditional cyclists have also never used any of the two discussed here. So here we are taking you to an in-depth description of both the e-bike and fat tire electric bike. ADDMOTOR has a variety of e-bikes, and they have excellent designs and features of e-bikes, as well as the cruiser fat tire electric bike.
What are E-Bikes?
E-bikes are electric bikes, which means that they are partly dependent on a powerful battery. The most used and the most popular e-bike is the pedal-assisted one. Cyclists claim it to be the best electric bike as you can control the amount of exertion you need to put on the bike. While riding on a pedal-assisted e-bike, you pedal in a similar way to a normal cycle, but you are assisted with the powerful motor attached to it.
However, the support you get from the motor can easily be controlled and allows you to commute on rough roads and terrains. There is also an option for throttle and speed pedal e-bikes, which are more like an electric scooter, but a license is needed to ride those.
Features of E-Bikes
The commuter e-bikes are manufactured to provide a long commute in a quick time.
If you need to travel long distances, a commuter e-bike is the best choice with a long-lasting battery to take you to your desired place with just one charge.
Commuter electric bikes are also favorable to use on rough terrains and challenging roads.
Because of their use for commuting long distances, commuter e-bikes are comfortable to provide a relaxing and less tiring ride experience.
The commuter e-bikes are cost-effective because of their use for long commutes.
Best Commuter E-Bikes by ADDMOTOR
E-43 City Pro Electric Bike is one of the finest manufacturing products of ADDMOTOR, which has minimized the practice of car commuting by its vital benefits of speed and control.
E-53 City Pro Electric Bike is the fast commuters' choice, as its speed exceeds 20mph to 25mph downhill.
M-50 Step-Thru Electric Bike is the right choice for fast commuters. 
What are CruiserFat Tire Bikes?
Unlike other electronic bikes, the cruiser fat tire bikes come with wide tires. The cruiser fat tire electric bikes are considered the modern generation of electric bicycles. The best part of cruiser fat tire electric bikes is that they can be ridden on snow, dirt, sand, rough roads, roadways, and all terrains.
The cruiser fat tire electric bikes are a flexible, useful, entertaining, and exciting source of commute suitable for all ages. The extra fat tires of these e-bikes enhance the ease and rollover capability. The electric motor vividly minimizes the effort needed to control the balance of a big e-bike.
Features of Cruiser Fat Tire Bikes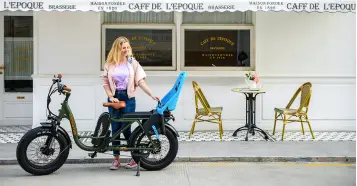 You can go on almost all kinds of terrains on these e-bikes.
The electric assistance makes it easy to control and balance this e-bike.
The width of the fat tires on the cruiser fat tire e-bikes is between 4″ to 4.8″.
The fat tires are easily changeable and can be inflated to alter the pressure to set according to the road surface.
Cruiser fat tires e-bikes have unique designs with step-thru frames and foldable e-bike frames, making them portable and easy for transportation.
Cruiser fat tire e-bikes can be ridden in all kinds of weather, as the tire surface does not allow it to slip or sink and keep it steadfast on the surface.
Cruiser fat tire e-bikes are known as mountaineering bikes as well due to their refined technology of extra fat tires.
The fat tires are made with extra rubber for double elasticity, which gives enhancement to suspension and makes your commute easy and enjoyable.
The cruiser fat tire electric bikes are durably made to survive for a long-lasting time.
Best Cruiser Fat Tire Bikes
M-66 R7 Cruiser E-Bike is the choice for adventurous commuters, as its speed exceeds 20mph to 25mph downhill.
The M-430 Cruiser Electric bike with fat tires is a remarkable piece of art.
Conclusion
ADDMOTOR has a wide range of electric bikes, and as mentioned above, the commuter e-bikes and cruiser fat tire electric bikes are equally promising products for its commuters.