"This site contains affiliate links to products. We may receive a commission for purchases made through these links."
Do you like traveling around your state of habitation and want to explore more life out there? Is your quest for exploring the wonder and beauty of the US with peace of mind from your travel trailer?
Most people usually think RV reminds them of an iconic and exceptional way of traveling to explore useful things in life.
When you're looking to buy an RV for the first time, bear in mind that the market is loaded with several options for a recreational vehicle to select from. It is important to know every RV remains great for several uses and needs. Asking certain questions will help you to know important things to consider when buying an RV for the first time.
Should I Buy A Travel Trailer?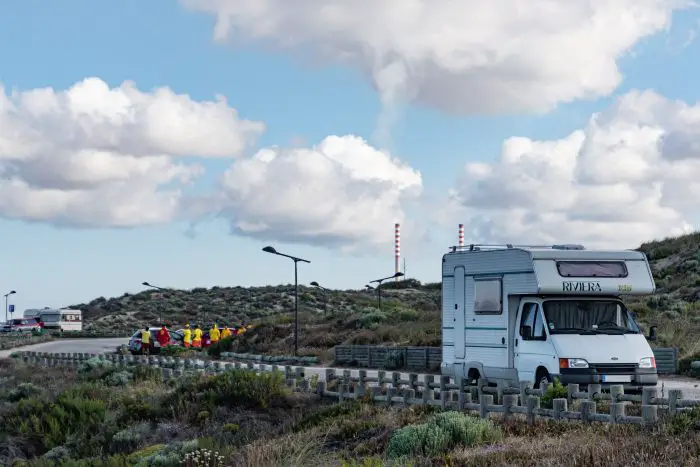 I got my first RV when I was 29 years old. I hadn't married then. And trust me, it's the best decision and investment I have ever made.
If you're still skeptical about this whole thing, I have some advice for you. Here's what you should have at the back of your mind:
The value of a product is usually the amount that a buyer is willing to pay. This simply means if a travel trailer suits your need, then go for it.
Travel trailers are designed to provide buyers with several benefits. It is easy to tow a travel trailer with standard minivans, SUVs, and pickup trucks.
These trailers have a sturdy construction and remain lightweight. Travel trailers come in a variety of sizes such as 33-foot triple-axle giants, and mini teardrop systems with twelve feet, just to mention a few.
New and innovative travel trailers are designed to contain satellite TV, inbuilt generators, modern toilets, bunk beds, slide-outs, and designer-oriented interiors.
Buyers can take the tow car away to explore other important areas while camping or dry camping. There is every possibility to also leave a travel trailer at the campsite. If all the features of a travel trailer described here is what you want, then don't hesitate to buy one.
Used RV Buying Guide
Are you looking for the fastest solution to frugal and manageable adventures? The first to a frugal journey is trying to buy used RVs. Keep reading this paragraph to get the important steps you need when deciding to buy your first used RV.
1). It is important for you to see the procedure as part of your adventure or journey. It is a good idea to borrow or rent an RV in the process of understanding how it all works — because you invest your own money.
Take some time to attend any recreational vehicle trade shows and educate yourself about the benefits.
2). The next step is for you to reduce your choices of used RVs. This means that you will have to attend certain forums to get bold and useful information for selecting your choices.
3). It is time to start searching for the perfect used RV that suits your specific needs. Check through consumer pricing guides, browse online, explore locally, avoid dealers, be educated on seller's profiles, and walk through recreational vehicle parks.
4). If it is possible, you can go ahead to get the magazine or even import the brand of used RV that suits your need. It may be a better way to find cheap and affordable used RV.
5). Now, ensure that you are asking the right questions to help you make an informed decision. The questions you ask will help to determine the type of RV for your adventure.
6). Go ahead to check the available used RV to know its condition. This is when you have the opportunity to see for yourself the quality of vehicle sent or available.
7). Once the inspection period is over, then try to create and make an offer to the seller. Remember that everything you want in used RVs should be available in your offer proposal.
8). At this juncture, the only thing remaining from your side is to remain patient. Remember that with patience, you will be able to get everything in life.
9). Once the purchase is completed, you can go ahead to use your RV.
Why You Should Own An RV
It is the dream and aspiration of most people to explore and know the world they live in. In fact, some people keep on looking for ways to achieve their dream while the answer is right around the corner.
RV remains a great way to help you explore your surroundings and know more about them. The benefits of owning an RV are endless as a matter of concern.
Let's break it down:
With a recreational vehicle, it is possible to sleep in your personal bed without stress. RV often comes with a special bed for the owner. This gives you the opportunity to sleep and relax in your bed while traveling around.
RVs are designed with comfort and luxury that can help you see places that were out of your range before. If you really want to explore your state or surrounding, then using an RV will help to accomplish the goal.
Owning an RV will lead you to experience a cost-effective lifestyle. Whether you believe it or not, some people don't know how to handle their finances and way of life.
This can end you up in a financial mess and disaster. With an RV, it is possible to have a cost-effective lifestyle.
If you are looking to have cheaper and affordable vacations, then give an RV a try. It is the fastest way to help you take a

French

leave from your surroundings.
Owning an RV will also help you live or go wherever that suits your preference. If you want to visit a village or town, an RV will always help.
Important Factors To Consider:
Now that you're in the process of buying a used RV, you also need to consider these factors as they are important:
The area to park your RV

Maintenance

Miles per gallon

Towing

Purchase prices

Connectivity

Insurance

Meals

Cost for camping
Cost Of RVs:
Generally, every reasonable and well-built RV doesn't come cheap. And depending on your financial capacity, you may want to know what's the cost breakdown. Let's quickly consider it:
Truck Bed Camper – $3000 and above $40,000 or more
Pop-Up – It is within the range of $8,000 to $20,000
Travel Trailer – It is within the range of $10,000 and the mid $60,000's
Fifth Wheel – It is within the range of $15,000 to $50,000
Motorhomes Class A – From $50,000 to $100,000
Motorhomes Class B – Within the range of $40,000 to the mid $100,000's
Motorhomes Class C – Around $60,000 to mid $100,000's
Takeaway
I'm confident that if you use the tips and information that I have shared with you in this guide, you will be in a better position to buy the best-used RV in the market. It will also expose you to the best information and knowledge on how to use your RV effectively.
Buyers can take some time to explore the market for more price comparisons of the different RVs. Recreational vehicles are currently designed with top-notch features that can make your journey worth the investment.
When selecting an RV, ensure that the vehicle is able to satisfy your immediate need. I can't emphasize how important it is.
This remains the most effective way to know that you will not encounter any problems while traveling in an RV.