"This site contains affiliate links to products. We may receive a commission for purchases made through these links."
In this Millet Bivy Bag review, we'll guide you on the features and how to choose the right one. But first, a brief background.
The full name of a  bivy is bivouac.
People prefer shortening the name to a bivy sack. It has tough waterproof nylon that is durable on its bottom-most layers. To allow you to breathe well when sleeping inside, it has a lightweight top.
If you are more than two hiking a mountain and taking more than three days, you can carry a tent.
If you prefer hiking alone and staying for less than three days, a bivy sack will be useful for you. When sleeping inside it, you will feel warm.
It will protect you from snow and rain and anything else that may disturb you at night.
You can get an enormous bivy sack that has an extra room around your shoulders and head. Some are smaller, though they have a space for your eyes and mouth.
If you like traveling through the woods, and there is no space to put a tent, then the bivy pack is the best option for you.
It is lighter, and you can sleep wherever you like. Unfortunately, they are not comfortable like tents. You cannot use them if you intend to spend more days in your outdoor activities.
Factors to Consider When Buying a Bivy Sack
1. Weight
To decide if you want to buy a tent or a bivy sack, you can consider the size you are willing you carry. Some tents can have a few pounds but will be cumbersome if you hang them on your back for long.
Once you decide that you want a bivy, you can either select the one with a big space for the shoulder and head or the one without.
The one with space is much heavier than the one without. Some bivy has a heavy-duty style and accessories that are bulky to carry and much heavier.
If you want a more comfortable bivy sack, you should be willing to take more weight.
2. Value and Key Accessories
If you have a budget for the bivy sack, you have to check features within that price.
You need to consider the reason why you need the bivy pack. Since it has a small space, you don't expect many accessories. You can decide on critical factors such as sleeping pads and straps.
3. Material and Durability
A bivy sack has two layers made up of different types of fabric. It is meant to keep you warm and protects you from any insects that would like to crawl inside. 
It should be waterproof to protect you from getting wet in case it rains.
Tough materials have an advantage since they will not get torn in the case you walk down the woods.
The top tier has a material that will not affect your breathing but will provide shelter.
Some of the best materials include:
1. eVent: It is waterproof and breathable. You will be protected from any event of fire since it is fire resistance.
2. Pertex Quantum: It is breathable, wind-resistant, and waterproof all thanks to its two–fiber thickness.
3. Gore-Tex: It is made from stretched Teflon
4. Sympatex: The wicking technology that it uses allows condensation to escape. Apart from being breathable, it is also waterproof.
The wicking technology that it uses allows condensation to escape. Apart from being breathable, it is also waterproof.
5. PowerTex: After applying this coating to breathable fabric, it becomes waterproof.
4. Space and Ventilation
Space and ventilation will depend on the season. Some bivy is very fitting and leaves you no space to move your body.
Some have some extra space that can help you turn around comfortably. Some have a space for your eyes and mouth, though it is not suitable during cold seasons. A fitting one will be good in the rainy season.
During hot summer, you need the bivy to have proper ventilation, and to be extra-breathable.
You can also go for a design with a mesh covering over your face. You will have excellent ventilation, and no bugs will manage to enter.
5. Comfort and Warm
Do you want a bivy sack that will wrap you up or the one with a wiggle room? If the season is cold or rainy, you can go for a heavier-duty one.
Even if the temperature is below 10 degrees Fahrenheit, it will protect you.
Here's a review of The Best Bivy Bags
1. Tact Bivvy
It is durable, waterproof and the lightest of all. It weighs 4.8 ounces only.
Unlike the traditional, model which was bright orange, the modern one is tactical green. Out of your total body heat, it reflects 90% to you.
You should always have it for an emergency. If your car breaks down in the middle of nowhere, you will not worry about cold at night. You can use it in the house during winter as a sleeping bag.
2. Emergency Sleeping Bag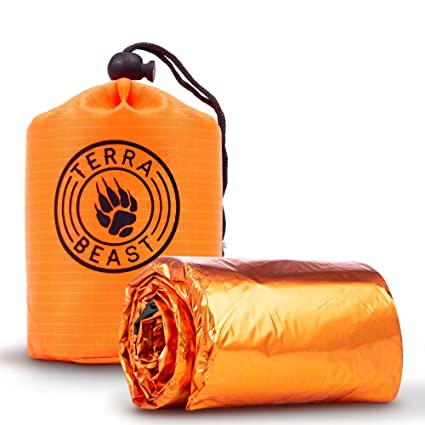 Just have all advantages of the tact bivvy. Fortunately, you can easily find it at half the price. You can also have it for an emergency since it weighs 4-5 ounces.
You can't tear it quickly because it is made heavy-duty. Out of the total temperature your body produces, 95% goes back to you.
3. Outdoor Research Alpine Bivy
It's breathable and waterproof. It is more advanced since it is made of hydro seal and has an anti-fungal coating. Anything you could be looking for in a bivy is available here.
It has a 3-layer Gore-Tex respiration-positive fabric. The nylon and hydro seal coating on its floor makes it waterproof.
It has enough space for the thicker mat, and you will have a very comfortable sleep.
4. Military Modular Sleep System
Regardless of where you are, it will provide the warmth and comfort you need since it has four separate pieces.
The mummy-style patrol bag is the first piece. The second one is the mummy-style intermediate bag, then weather-resistance camouflage Gor-Tex cover. Fourth, either 6 or 9 strap compression stuff sack.
It is a bit heavier than the others since the weight is 8lbs. It has an extra boot room.
5. Sierra Design Backcountry Bivy
If you are a backpacker Or a mountaineer, this bivy is perfect for you. It has 100% quality nylon and a lifetime warranty. For your added comfort it has an inflatable pad. Apart from being stylish is also colorful.
It weighs 13 ounces. You can pack it in your car when traveling. You don't have to spend a lot of money looking for hotels to sleep in.
Conclusion
Before heading to the market to purchase a bivy, you might want to refer to this article first.
It will remind you of the qualities you have to look for. You understand why a bivy is better than a tent and when to use it.
You might also want to consider buying the five bivy with a better review.