"This site contains affiliate links to products. We may receive a commission for purchases made through these links."
Backpacks have long been established among high school students.
So, some choose bigger, some smaller, some more colorful, some darker.
In any case, before the beginning of the new school year, everyone is in the interest of having the most beautiful backpack, especially the girl's population.
Over time, this compulsory 'means of transport' for books becomes irrelevant, but with the first days in the new school, you give it a lot of attention.
If you do not already have a vision of what kind of backpack you would like to have in the new school year, we've listed a few of them that you might like.
For girls this year, semi-circular models in one color could come in, like brown or colorful models. The lace that this year's hit has also found its place in school backpacks.
On the other hand, the guys will choose classic patterns of color, like black or grey.
What to choose
Every student needs a good backpack. Something to pack books in, laptops, and other things that will make it easier for the day.
Since every student has a limited budget, there are well-known high-quality backpacks on the market, such as Osprey or North Face, which are very high quality but quite expensive.
Because of this, students overlook these brands and look for more affordable backpacks.
And fortunately, there are some other backpacks such as Herschel and Jansport that are competitive in terms of price.
Do not worry about what the price is lower because the lower price does not mean lower quality.
On the contrary, it has been shown for many years that these brand backpacks are on the market, that the quality is very high and the price is affordable.
Each model of these manufacturers has different colors and models, and everyone will find what suits him.
What to consider when we look for the right backpack
First, we need to determine what we are looking for from our backpacks to keep it all. Do we need a laptop sleeve?
If the answer is yes, both manufacturers offer their backing pads for the laptop. When we come up with such types of models, we need to determine the size of the sleeve on the backpack.
The most common ones are 15-inch sleeves. There are also 13-inch models, they are the most suitable for those with a Mac laptop, and sometimes you may also come up with models of 17-inch backpacks.
They are difficult to find because the models are much larger and are not popular among students. First, determine which laptop you have, so then you choose the backpack as well.
An organization of packing stuff in a backpack
We all have a different view of how things should be packed. That's the case when things are packed in a backpack. Someone loves to have a backpack with as many pockets, as someone do not, so they prefer their backpack to be compact.
In any case, both manufacturers have in their offered a backpack with and without pockets.
Material endurance
The materials used to make backpacks are polyester and nylon. Polyester is a lot cheaper material, so the price goes in that direction, which is far lower. Surprisingly sounds, but this material, though inexpensive, proved to be durable.
If you want to save some money, you may want to consider purchasing JanSport backpacks because it is made of polyester, but do not be discouraged because it is made of highly durable polyester, so you do not have to worry about it will break down for a short time.
Herschel, on the other hand, is made of nylon or cotton material. These are materials of better quality, but they are also more expensive.
With the purchase of these backpacks, you can not miss it because, although a bit expensive, they will last for a couple of years, and there is also a waterproof feature for most Herschel models.
In any case, all material information exists on the product itself.
Now we will present to you the most famous and most popular models of both manufacturers so that you can be well informed and choose the one that suits you most.
Digital Student Laptop Backpack – JanSport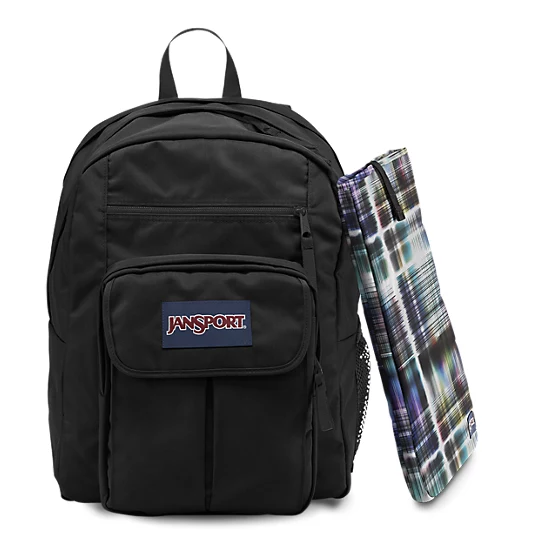 This model is one of the best. It has sleeves for laptops up to 15 inches in size, and also has pockets for cables and chargers, not to worry about where to charge the laptop.
Of the other benefits, we highlight pockets on the side for bottles, in case you have too many items inside the backpack, so you do not have time to look in the backpack.
If you do not want to hold bottles at that place, you can easily put them inside the backpack because they have plenty of capacity for all your stuff – a capacity of 38l.
We all want the maximum backpack capacity to comfortably pack all our stuff without pushing. This model allows this because it has additional front pockets.
Overall, this is a good backpack that comes in three colors – blue, black, and white.
Hatchet Backpack – JanSport
Hatchet backpack is a very popular model.
It has a sleeve for a laptop that stays most of the 15-inch laptops. The sleeve does not close, so do not be confused if you see that the laptop does not come in full in the sleeve, it's intentionally designed to be like that.
It is very comfortable to wear because it has shoulder straps made of soft material, designed not to sting on the back. In the back, there is a sleeve for the tablet, as well as a key clip that is away from the sleeves where your electronic devices are located.
On the front, there is a sternum strap, which makes it easier to pinch the backpack onto itself and correctly distribute the weight of the backpack to the whole body. Made in many colors and designs, this backpack, you will not regret.
Big Student Backpack – JanSport
Most people say that the big backpacks are not popular. The Big Student Backpack breaks this claim from the foundation.
Made exclusively for students' needs has a bunch of add-ons for your books and electronic devices. You can even pack things in case you get dirty somewhere, so you need to change them. How spacious it is proved that you can comfortably pack a jacket.
The only disadvantage is that he does not have a sleeve for the laptop, so if you need a backpack where you will not insert a laptop, this model is for you.
There are two large compartments that you can expand and get a space capacity of as much as 34l. With shape shoulder straps, they are very flexible and enjoyable.
Odyssey Laptop Backpack – JanSport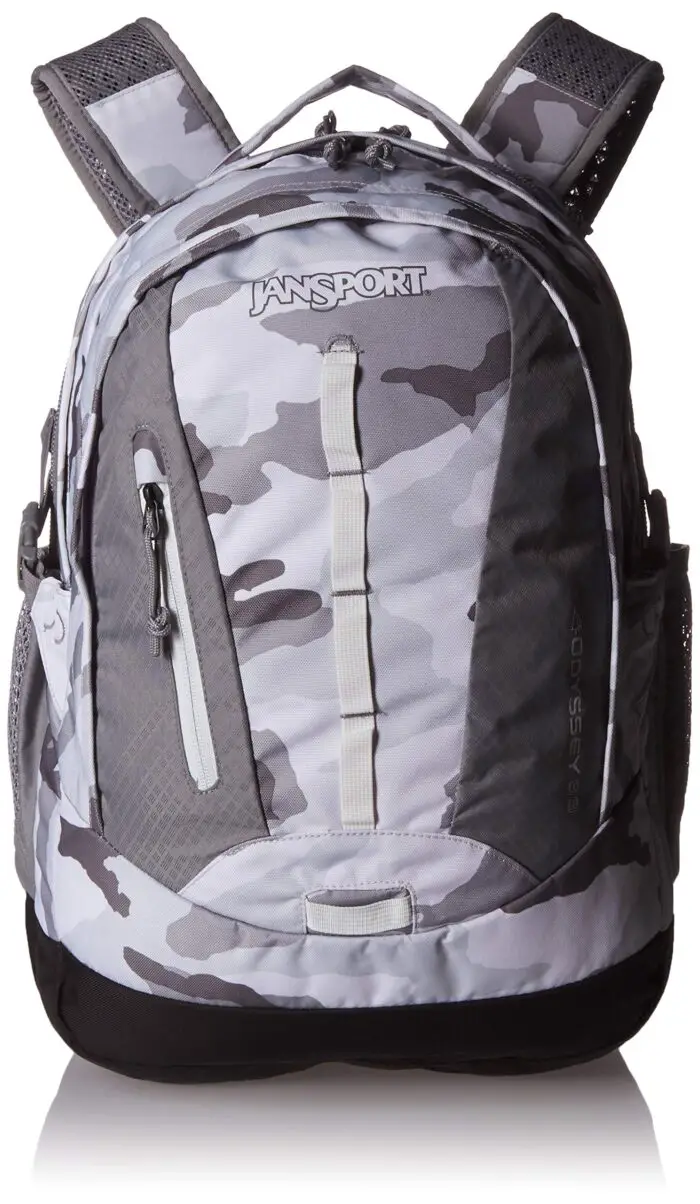 This is the most expensive model, but also the highest quality.
There are plenty of accessories that are suitable for school as well as for outdoor activities such as cycling, climbing, etc.
A 15-inch laptop sleeve then pockets for bottles where you can pack up to 3l capacity.
The Tablet sleeve is in the front. Sternum strap, compressive straps, and tuck-away hip belt are all included in this model. And when you see all these accessories, this model does not seem so expensive, right?
The Daypack – Herschel
As the name implies, this model is intended for everyday tasks where you do not need much to carry with your room, but only the most necessary.
Unlike other models of this manufacturer, which makes it stand out, is its lower price.
Made of highly durable polyester, which is waterproof, we are sure you will be delighted with this backpack.
It is made in various colors, so it has something for everyone. An interesting thing, you can pack this backpack so that you can carry it in a bigger backpack when you do not need it.
If you are looking for something to carry more things, this backpack is not the best choice for it.
Little America – Herschel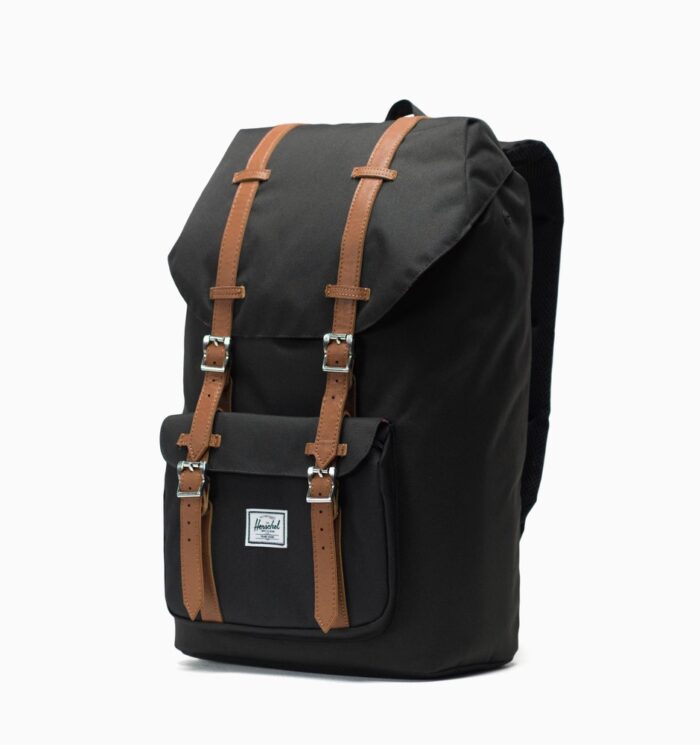 When you see Little America, you will think that you have returned to the past.
The Vintage design, which many like, is made of very high-quality airborne material by venting. There is no such thing as JanSport backpacks.
In addition to the already basic benefits offered by this backpack, there is one that can be separated from, is the so-called media pocket that has its port. It comes in many colors, just take a little more money and choose your favorite.
Lawson Backpack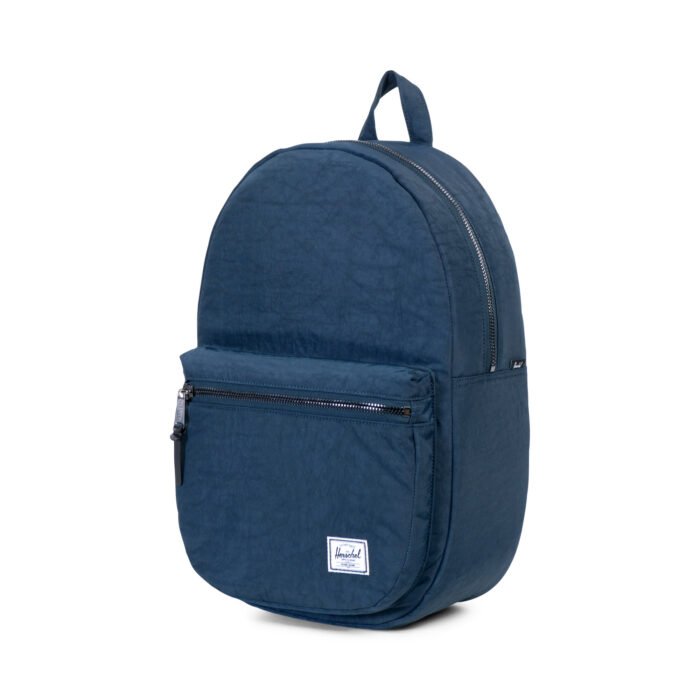 Lawson Backpack is an absolute champion in endurance. Made of cotton material with special technology used to make tents. Also, it is waterproof, making it the ultimate companion through schooling and out-of-school activities.
It has a sleeve that can fit a laptop of 13 inches. Very spacious and transparent, a lot of things fit in the back of the backpack. If you need more space, of course, there are also side pockets that can be expanded.
Shoulder straps are padded, which makes them comfortable for the back but are not unfortunately ventilated.
It's Lawson. You cannot make a mistake with it
Summary
It's important to check the bag before buying it. Check the size of the bag for proper holding and how comfortable it is.
It's best to try a stuffed bag, ideally in thin and thick clothes or jackets, for example.
You will find out whether it is pressing or pushing somewhere, whether you can move well, move your hands and shoulders, and head.
The most important thing is to check the comfort of the bag on the spot, both in the thinner and in layered clothes.
Also, do not forget to fill in the bag and examine how it fits at different weights.
Check all the options and models of the described backpacks of both manufacturers, compare the prices, and, first of all, determine what you want from your future backpack.
If you want cheaper, JanSport is for you. If you want quality and do not complain about money, consider Herschel as your option.