"This site contains affiliate links to products. We may receive a commission for purchases made through these links."
The holiday is already here and your children are back from school. They don't have to get bored throughout the holiday.
You need to have fun and enjoy a family reunion. Backyard games will make the whole family enjoy themselves. Do you have an idea about such games?
Below is a list of the top 10 DIY outdoor games to play with friends and family:
1. Giant Jenga
You might have practiced this game using a plastic ball and straw. It's time to go a notch higher and build the actual Jenga tower. The giant Jenga requires some skills in woodworking. 
Imagine the whole block crashing down. Though it can be time-consuming, you will be amazed by the results.  
To achieve this, you require some power tools to help you cut. To get Jenga size pieces, you will have to cut 54 pieces each 2*4.  It will be fun for your kind. You can Google to get better ideas.
2. Create a Chessboard Patio
Do your children love playing chess at home? Imagine if they get a chance of playing a free giant version.
Setting it up could be a big task, but once you are through it is worth it.
Your neighbors and guests will envy you and give you lots of compliments. Playing with your kids will be impressive and memorable.
3. Backyard Movie Theater
Do you have money to buy a backyard projector and a screen? If you don't have, relax.
Even if you have the money, you can spare it and do something better with the money. Did you know that you can build a backyard theater on your own?
The screen will use the PVC pipe.
The pipe is durable and will withstand strong wind. Next time you think of watching a movie in the evening, consider the backyard theater. It's an excellent way to enjoy the evening.
4. Tire Swing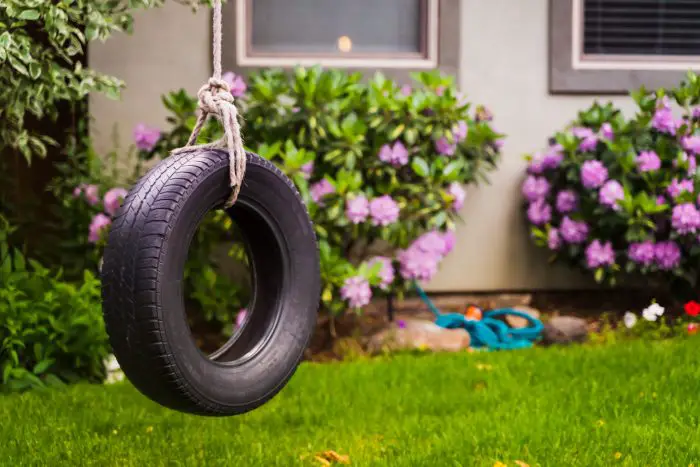 The tires and ropes are readily available. The trees are just there behind your backyard. Funny enough not in many homes, you will find the tire swing. Children love visiting homes that have a tire swing. 
To make it enjoyable, you can make them right behind your house. Your children will have a lot of fun. 
It is an eco-friendly activity since you are recycling the tire and the game is safe for your kids.
5. Bean Bag Ladder Toss
There are many games that you can play with your kids and have fun with. If you have a ladder at home, then the bean bag ladder toss is one of them. In each rung of the ladder, tape some points.
Let the children through their bean bags. You have to be keen to be able to collect the marks of each kid. Continue challenging the kids and have fun.
6. Outdoor Chalkboard
Do you want to test the creativity of your kids or even help them improve it? That is possible and easy. In your backyard, put a chalkboard.
Give your kids some chalks of different colors. Let them write and draw whatever they wish.
To motivate them, you can challenge them to write or draw something and award them some points or give them a treat
7. Glow-In-The-Dark Bowling
Summer is here, and you are not sure how to spend the warm night. I have good news for you, the glow-in-the-dark bowling is the game to try. All you require is six empty water bottles.
You also need a kid's pet hamster ball and glow sticks.
Light everything up by tossing the stick, and you will be ready to bowl. It takes less of your time; you will remember it for very long.
8. Charades
If your children are in high school, some games might bore them to death. You have to come up with a better game that will make them enjoy playing. 
Such a game is charades.
If you are six in your family, you can divide yourselves into two or three. One member will think of something. It could be a famous book or song, a movie, or a famous person.
He will provide some clues by acting. When giving a hint, you should not speak. Instead, you can use gestures and pantomime.
Your member of the team has only 60 minutes to give a collect guess of the person you intended to mean. To help him or her narrow down to the right guess, you can pretend to be singing, if it's a song.
For a book, you can act as if you are reading. If it's a movie, indicate that the camera is rolling. After the member of your team guesses correctly, your team gets one mark.
The next member of another group will repeat the same process until all the groups participate. The group that receives the highest points is the winner.
9. Cops and Robbers Tag
Do your kids enjoy watching action movies? It's time to act. Imagine acting as a robber and your children as police; it could be fun right.
Some of you can pretend to be robbers and have a specific point as your base. Some will pretend to be police and have a police base.
You will place some objects somewhere where the thieves will come to steal. The thief should touch the objects or even take them without the police tagging him. If the cops tag him, he should be arrested and taken to a police base that acts as a jail.
If the other thieves manage to get to the police base without the police tagging them, then they can tag the other robbers and free them.
If robbers steal all items without the police tagging them, then they win the game. If the cops tag all of them and put them in jail, the police win. Do you think you are too old to play this game?
Try it you will leave to remember. As you enjoy playing, it will also be an opportunity to do exercise and bond with your kids.
10. Balloon dart
If the kids enjoy playing darts, this game is perfect. You need to make a wall of balloons and fill some with water. 
Let the kids use the dirty to aim the balloons.
Award them some points if they manage to target and hit the balloons with water. It is a great idea to test the coordination of their hands and eyes.
Conclusion
Once your kids come for a holiday, they don't have to use a lot of time chatting with their friends on social media.
They don't have to play a video game either. As a family, you can decide to have outdoor activities and have fun. Let the family look forward to the next holiday.