"This site contains affiliate links to products. We may receive a commission for purchases made through these links."
RVs and camper vans could be the answer to the freedom that you crave every single day. You're not limited by route when you're on your RV and there's no need to book a hotel or find a place to sleep in advance.
If you're looking for some ideas on how to convert a van into a campervan (more like converting a jeep into a camper), this article will help you. I poured my heart into it because I have been able to do the same thing.
It's not the typical van-to-camper conversion tutorial, however, you'll know the important things to keep in mind when turning your van into a recreational vehicle.
Let's start with…
1. The flooring of the campervan
Some people like to install just an interlocking gym mat or cork flooring. These are durable, comfortable on the feet, excellent insulators, and fancy.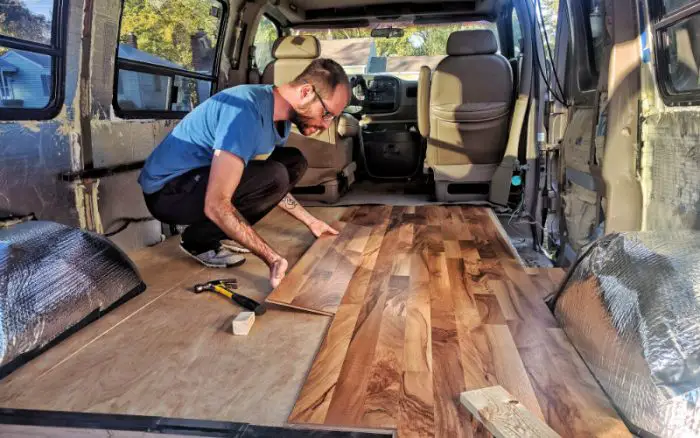 However, some other people would like to install a wood flooring — either real or fake. The use of planks would be better when you want your van to look longer and larger.
Planks hold some options like vinyl, vinyl planks, or laminate planks that are easily available in the market.
Vinyl wraps come in big rolls. Vinyl wraps are easier to install as they usually come with an adhesive already on the back. You just need to peel and lay down.
They are more resistant to moisture and convenient to clean.
Mostly, campers like to choose a vinyl or laminate plank for van flooring purposes.
These planks, when installed, lock together and create a more realistic look. You can buy pretty much exactly the amount you need and affix them methodically.
2. Portable Butane Gas Stove for Cooking
Carry a butane gas stove for cooking at camping sites. Though many travelers carry cold foods like buns, butter, cheese, etc — but these are not all-time favorites.
Sometimes, you may fancy eating something hot and freshly cooked. So, it would be a wise decision to buy a butane gas stove. You can boil eggs, make some hot cocoa or even you can prepare a meal. This will offer you another option.
You can buy some instant-cooking food items and carry them along with you. Whenever you need them, just grab them and cook them on the stove readily.
In this way, a stove offers you a more "homey" feeling.
3. How to provide power to the van
All electric appliances and lights require an uninterrupted power supply when in use. They demand more energy than a car battery can provide.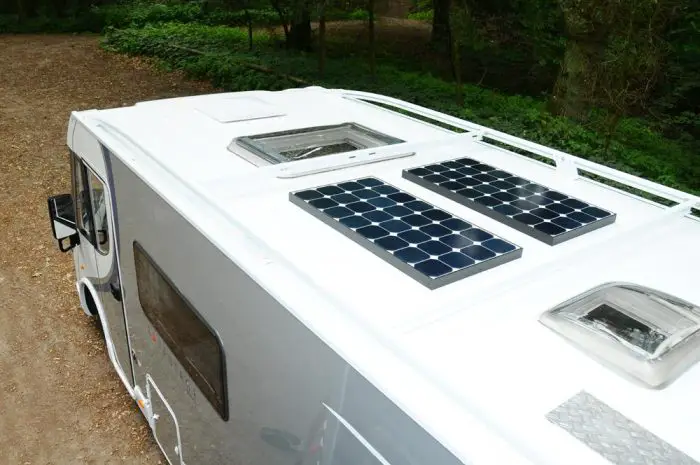 You can have a temporary solution by installing additional batteries but they will eventually need to be recharged. On the other hand, generators are noisy and bulky.
A good option is to use solar panels to charge batteries constantly so that they never run out of power.
On the plus side, making the initial investment in solar power will mean that you'll never have to find an electrical hookup or never have to deal with propane or a gas-powered generator.
4. Never ignore a toilet
Suppose you are on a recreational visit on your camper van and all of sudden your adult child says that he/she needs to poop. Would it be a recreational trip anymore if you have no proper space?
I don't think so.
You can have a portable toilet. This can be very convenient at times you know. Grab a 2.6 gallon or more portable toilet and use it to have greater satisfaction.
In small campervans, a cupboard or compartment containing a small portable toilet is very common. This type of toilet is out of sight when in no use.
However, many people do not like this type of porta potty more likely due to the confined space.
Another good option is using a swivel bowl toilet. This type of toilet provides more space for showering, and so much more.
You need to purchase and use some specific chemicals to reduce the smell and hazardous effects of wastes in the above-mentioned toilets.
However, SOG toilets negate the need to purchase and use chemicals to prevent smell, etc.
A built-in fan in the SOG toilets automatically draws air into the cassette when the toilet valve is active.
So, you can choose any type of toilet that will, in turn, add more ease and comfort to your journey.
5. Don't Spare a Fresh Water Container
A freshwater container is a must when you are traveling in a campervan for long-distance.
This water tank will provide you with more mental relaxation while using water for your common needs like toilet or kitchen, etc. So, you have to take at least one reasonable size fresh container with you.
Carrying a 7 Gallon rigid water container would be a wise option.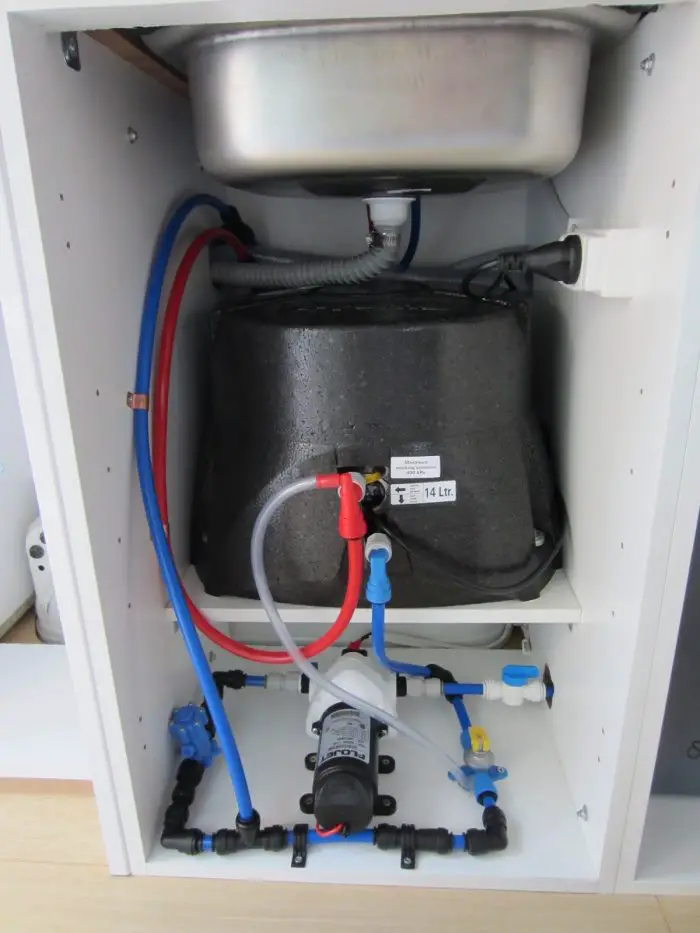 However, you can choose as per the space available in the vehicle.
You can also choose a filter because you could end up in a situation where you have to drink water from that container. In that case, having a filter would be a blessing.
You should carry a durable and reliable water tank that does not leak if handled a bit roughly.
6. Carry a heater
Traveling all through the year demands a cautious selection of necessities. It can be quite cold in autumn and winter — so you had better get ready for it.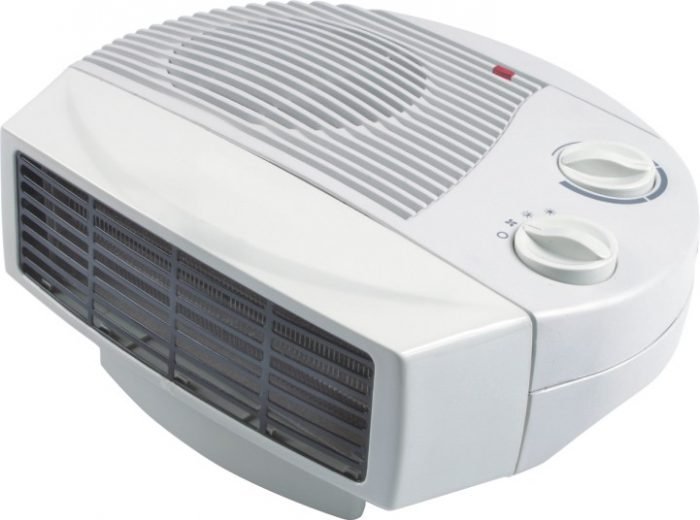 When you are traveling in the cold season or in an area with a comparatively lower temperature, you may need something to keep you warm.
There are so many different types of heaters of various sizes and abilities in the market.
Just go to the camping shop and grab a portable heater. A fan heater could be the best choice.
However, you can choose a better heater with automatic response capability. There are some heaters that are safer and turn off when get knocked over. So, nothing gets burned.
Never let it turn on at night.
7. Bed Selection
Choose an extendable bed that could pull out from the sofa into a large bed. Make sure the bed can contain two persons.
Now, select two mattress sheets of high-density upholstery foam and lay them parallel so that they provide you with a space for a full mattress. Grab some nice cushions and cover these mattresses perfectly.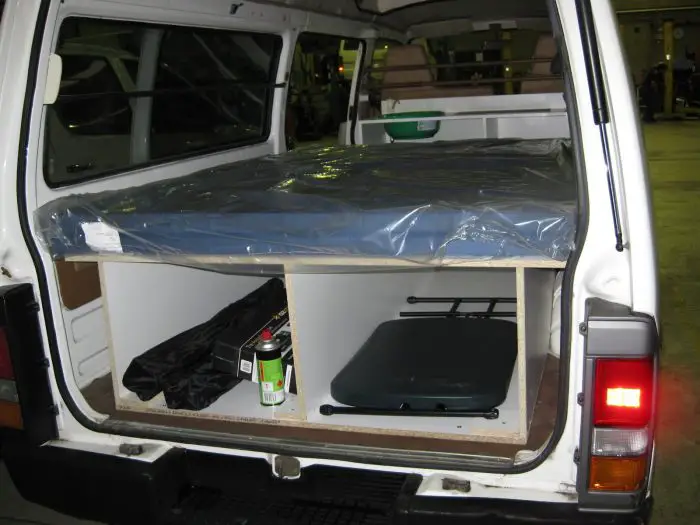 Securing your bed is also a crucial part of van conversion. Secure the bed using L-brackets straight through the laminate planks and into the plywood subfloor.
Also, use a supporting beam that is attached to the van's wall from one end. This support mechanism will prevent the bed from flying forward in case of an unfortunate collision.
8. Use the under section of the bed for storage
Measure the width and height of the space under your bed and grab some containers or bins from the store/shop accordingly.
Look for bins that are longer and have wheels or easily glide. You can choose plastic containers, canvas, or even a wood bin or coaster.
You also have the option to make containers in the home by yourself from old shoe boxes or other worn-out cardboard boxes you have waiting around for something to do.
Transform an old dresser drawer into a rolling storage drawer and place it under the bed. Firstly measure to make sure that the drawer will fit into the space under your bed.
Another unique idea for homemade under-bed containers is to add wheels to the vintage suitcases.
You can easily store luggage, out-of-season clothing, books, or shoes under your bed.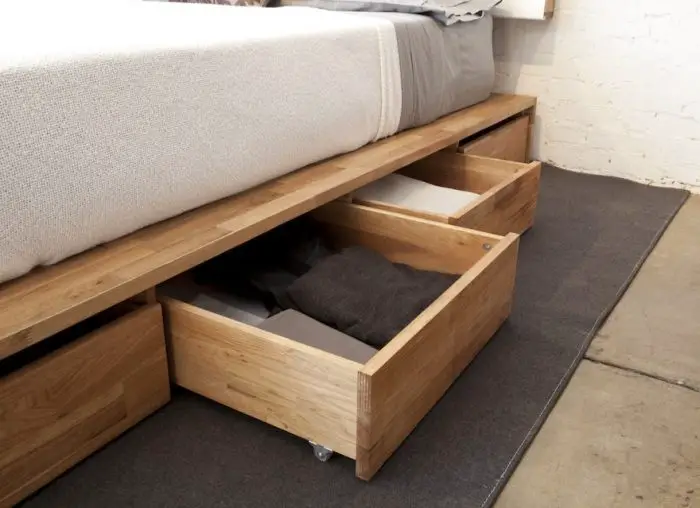 9. An idea to ensure your privacy
Use some nice and simple curtains which, in turn, will ensure your privacy. Sometimes you have to undress at night for the sake of your comfortable clothing choice before going to bed. In this scenario, it would be a good choice to have some curtains on the windows.
A van usually holds three sides of windows and it would not be possible to ensure your privacy without curtains.
You can use the elastic binders in the back and clamps to tighten the curtain sheets on the windows. It is very easy to hang them and take them off.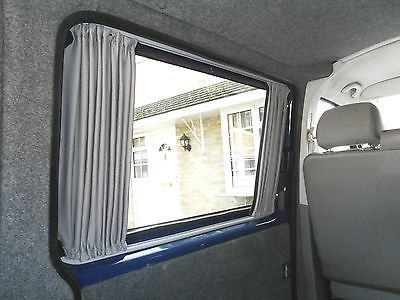 10. Add personal touches
Add some final touches as per your style and taste. You can hang some lightweight plants on the inner side of the van doors. Having some paintings on the walls would also be an exotic idea.
Grab some paintings as per your budget and savor — and then hang or affix them against walls. This little addition can make your campervan more exciting.
If you want a more "homey" look then consider decorating walls with colorful textures. Hang a wall clock or your young son's guitar on the wall.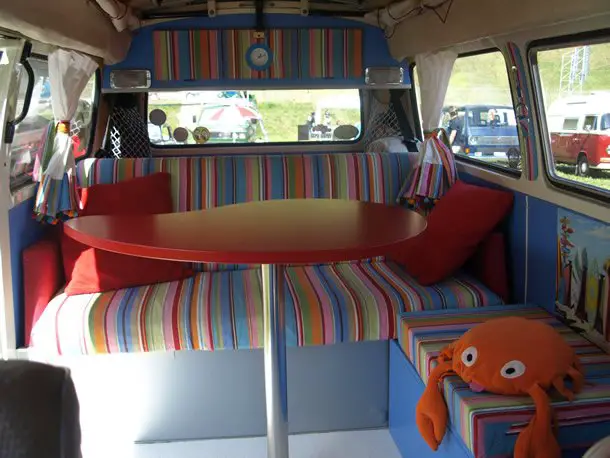 There's nothing as exciting as upgrading your lifestyle by turning your van into a camper for recreational purposes. Just make sure you follow best practices during the entire process.