"This site contains affiliate links to products. We may receive a commission for purchases made through these links."
Painting your toy hauler is just like decorating a vehicle.
However, a camper is a bit larger than painting a vehicle. To paint a toy hauler, special equipment and skills are required to get the best result. Due to the training and equipment required, it may be nearly impossible for everybody to handle this task.
Camper painting requires the concept of an airbrush that enables the matching and combining of personalized colors to prove a plethora of options in pattern and design. The task can be just one or several colors with designs and patterns depending on your preference.
Purchasing a camper remains an exorbitant venture similar to buying a home. For this reason, it is highly crucial to always maintain both the exterior and interior of your travel trailer. Below are 13 camper interior paint ideas to make your RV the talk of the town.
Charming Spartanette
With an obsolete typewriter table, family members can enjoy dinner when removed from the wall and also serve as a children's homeschooling desk.
For children, the sofa can open easily into the bed while vintage lockers protect linens and quilts. A doily-filled master bedroom can help to serve Dad and Mom's needs.
The walls of this amazing vintage interior painting idea can be painted in light brown color. The shelf and chairs can maintain a white color while keeping the floor neutral. Using this painting technique will help to beautify the interior of your toy hauler brilliantly.
Nautical Airstream
If you want to remain in the beach mood, then this camper painting idea will blow your mind. This coast-to-coast travel technique should include items such as lobster pillows, and life rafts and match with a dishtowel and Nautical wallpaper.
Paint kitchen tables, chairs, and walls in white while maintaining a neutral color for the floor. This mind-boggling design and style are all you need when traveling close to the beach.
Chic Girly Trailer
Giving your toy hauler a complete overhaul may require using some drastic and powerful designs. For a fun girly gateway, this is always a perfect design to pick. Add funny items to the likes of framed artwork, paper lanterns, and faux rugs to compliment the overall appearance.
White walls and neutrally-painted floor speak more of your personality. Use a white sofa with pillows in different colors to beautify your furniture settings. Using a light brown rug and wall artwork will also boost the look of your RV.
Mid Century Mod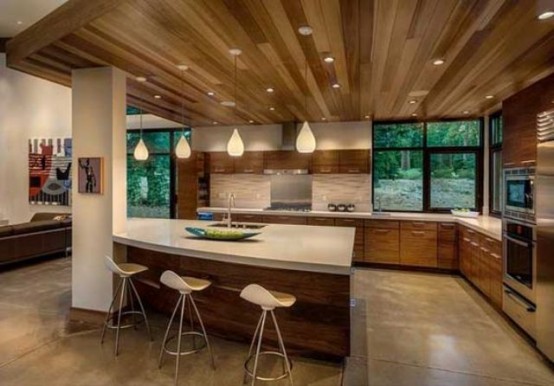 Campers can always invite the mid-century mod into their toy hauler to give a great look. With clean lines, pops of yellow mixed with cool gray tones remain what you need to compliment your travel trailer. Using reupholstered seating, freshly painted cabinets and innovative laminate floors remain the game changer for this simple toy hauler style.
The curtain can be mixed colors while the wall can maintain a faint-white display. With a yellow rug and light brown floor, you will have a complete blend of amazing colors in the interior of your RV.
Crafty Camper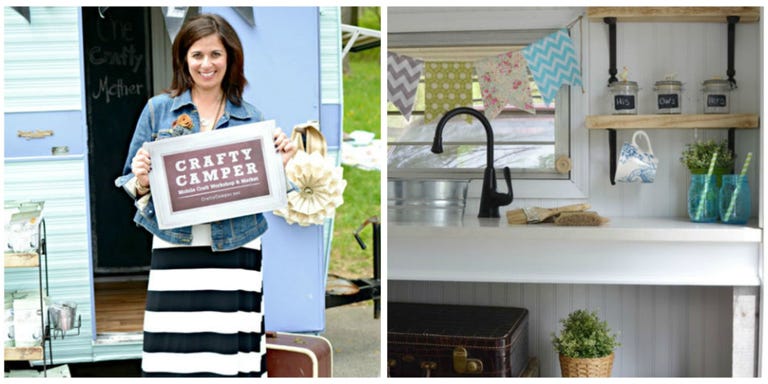 Image Source: countryliving
Craft a sink from obsolete pallets and add oil cloth flags to serve as valances inside your toy hauler. Add a countertop with white color and under the sink maintain a neutral feature.
Apart from the storage comfort that your RV gets, you will be happy spending the whole day indoors. If you like to paint the floor neutral, then go ahead and as well add a rug to compliment the overall look.
Hollywood Regency Camper
Do you know that the Aristocrat LoLiner used in 1960 can help beautify your travel trailer? In the diamond-style vinyl flooring, simply add white and silver-gray pairs. The geometric slipcovers and shimmering wallpaper will also add more value to your toy hauler.
The center of the RV should include pink and pops of orange throw pillows and fun curtains. The seating can be spotted light brown color while red can be used for windows. This is absolutely a chic idea that anyone will like for a visitor.
Map Covered Trailer
If you are an adventurer, this idea will leave you speechless. The truth is that items used to complement this idea are cost-effective. A map does not cost anything in your investment.
Go ahead to design your perfect wallpaper by using any style or idea. The matching pillows, floral curtains, and bright red bench will make your RV a cheerful and fun environment.
Playful Quirky Airstream
This idea emanated to give you a unique and fun hideaway. In most cases, it is considered that an RV remains the second of many people.
This means that displaying your sense of creativity will help to add more beauty to your RV. On hinges, you can make use of three-dimensional dots to store smaller structures.
On the wall, you can also use dots and maintain plain white color in the background of your design. Are you thinking of paradise? With a playful quirky airstream, you may not be far from paradise.
Luxury Camper
This idea is highly appreciated if you have small areas in your toy hauler. Luxury campers will always help you to travel in comfort and style. Even if your bed is 8 feet long and just single, this amazing idea will help to beautify it for real.
Use comfort seating of light blue color along with polished sink fixtures. Keep the wall in the same color as the sink fixtures. With a neutral floor and multi-color pillows, you will gain back your sanity in this RV interior design.
Contemporary Airstream
Use track lighting, cork flooring, and personalized furniture along with well-designed cabinets to endorse this contemporary airstream idea. Are you looking for a functional and cohesive toy hauler that glows with beauty? Add a white rug and light green wall with every other thing remaining neutral.
Rustic Chic Trailer
Use a diner-style table, kitschy pillows, faux animal head, and up-cycled chandelier to make this toy hauler special and fun. If you are traveling in a group, this design will pay well for your trip.
Modern Airstream
The fun personality of the modern airstream is beyond anticipation. Keep the wall of your RV in yellow and black. Add a stylish design to garner the overall appearance.
Do-It-Yourself Masterpiece
Design your own wreath, pillows, and curtains and slap them to your preferred location. Add turquoise walls and an elegant chandelier to upgrade the look of your RV.
Wrapping it Up
Making a toy hauler a homey haven is always possible if you are creative and ready to spend some time. With the ideas in this content, the sky will always be your limit of beautifying any RV.