"This site contains affiliate links to products. We may receive a commission for purchases made through these links."
So you decided to spend this year traveling around the country and the world.
Still, you do not have a vehicle that meets criteria such as space, reliability, availability, price, etc.
For this, you need an RV of the highest performance, and when talking about this type of travel, the best class is a class C vehicle.
How to know that it is a C class?
It's very simple: If there is a cab-over chassis construction, then it is a 100% class C RV.
Therefore, in this article, we will present to you the best RVs and their best features as well as their flaws.
You probably think that this type of vehicle may not be for you because it may not be popular, but the latest statistics show that this class has overtaken sales and production in the past couple of years.
So, today we have a large number of these vehicles on roads throughout the USA and the rest of the world. This class proved to be very reliable and very easy to drive.
Keep in mind that these vehicles have a lot of obstacles around the paper, permits, and other administrative obstacles, but if you want this type of vehicle, get in touch about it, before the start of the RV buying adventure.
Now we present you the five best RVs that will surely turn your trip into a wonderful adventure.
2018 Winnebago Minnie Winnie 31D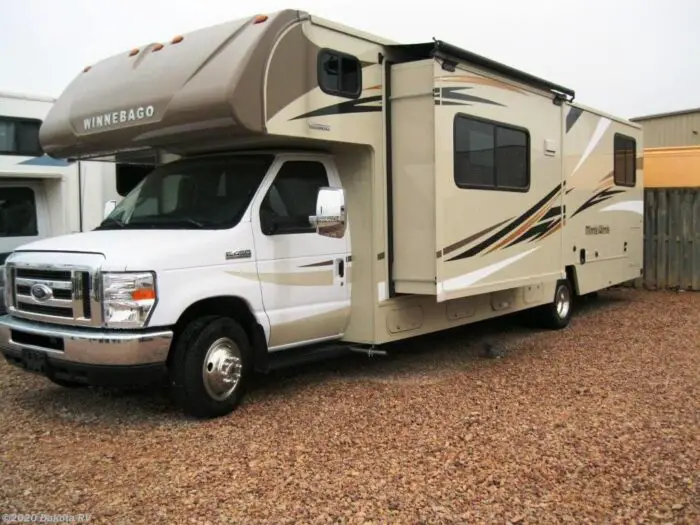 Winnebago is a name that has long been in business with RV, so we know that their models already have a good reputation for many years.
We can dare to say that Winnebago has reached some standards that other RV manufacturers have to reach if they want to be competitive on the market.
Therefore, it is not surprising that these vehicles are particularly popular with their C-Class models, and the most prominent among them is the Winnie Minnie 31D.
This model has all the qualities of good engineering and construction that provide great stability and comfort that is necessary. Among the other features, the model has built-in sofas and bunks.
It features a V10 engine, a 32-inch TV entertainment center, a DVD player, double windows, 17 ft of LED lighting, and 93 cubic meters of storage and space.
The only disadvantage of this model may be some great engine noise, but still, it takes a lot of power to start such a vehicle, so most users are quick to get used to the noise.
The 2018 models have two slide-outs. But pay attention to the environment when you want to activate slide-outs, especially if it is close to wood or a post.
The second slide-out can be on the rear of the RV. This way, you can make a bigger space in the RV when camping.
When we summarize the impressions and see all these accessories, we can say that Winnebago Minnie Winnie 31D is great for camping, especially for those who like to have more space.
2017 Thor Motor Coach Quantum RS26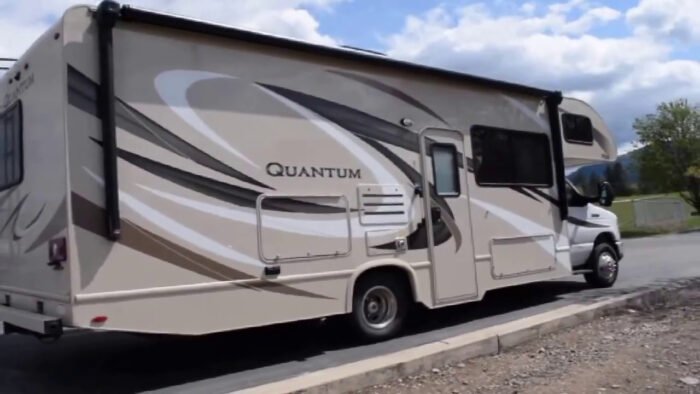 If you have ever had doubts about RV Class C, this model will convince you to kill the all negative reviews you've heard from others.
It has an electrically stabilized system, an 84-inch high inside, a fiberglass front cap with a skylight, and a touch screen computer with navigation.
It may be some sort of clumsy design for some people, and if you're too picky when we think about the exterior design, it might be better to take another model.
If you do not care about it, and if you want something that will make your journey as easy as possible, this model is the right one for you.
This model, although it does not look from the outside, has a very nice and detailed interior design because these manufacturers have paid attention to the comfort of the interior rather than the exterior.
Generally made of quality wood, with high-quality air conditioners, the 2017 Thor Motor Coach Quantum RS26 ensures proper airflow and therefore you will not even feel the heat and the feeling of stuffed air.
And in the winter you will be comfortable dressed in lightweight clothes, without fear that you will feel that outside is very cold.
The vehicle is made according to Ford standards, so the Ford chassis is upgraded to the V10 engine. With this combination, you get great power and speed.
It is also possible to install the Chevrolet chassis, and you will have a similar feel when driving as well as with a Ford chassis.
2019 Jayco Greyhawk Prestige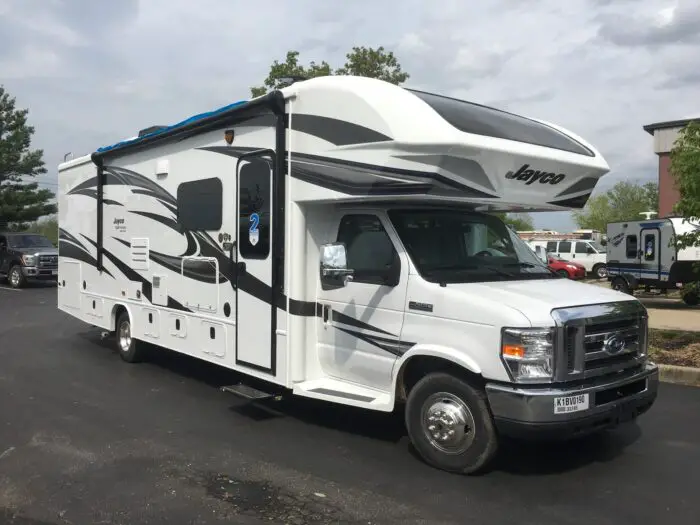 When you first see this model, you will surely be delighted. This vehicle can be purchased at a very affordable price.
Of course, we do not say it is cheap, but we say it's affordable when we compare the price and benefits that this RV model provides.
2019 Jayco Greyhawk Prestige is very easy to operate, excellent for a family of 5 members, and very spacious for life and storage.
It has an outdoor entertainment center. To be honest, flaws we have not yet found.
One of the greatest qualities of this vehicle is the modern interior design.
When you stay in it, you will have the impression that you are in the actual home, and you will not miss anything; you will not have home nostalgia.
In addition to the many accessories inside the vehicle, we highlight that there is a luxury dining set, three sets of standouts, and a queen-sized bed for your comfort.
The manufacturer of this vehicle knows that without a good driving mechanism, the described exterior and exterior do not mean anything.
That's why they paid special attention to the vehicle itself and its mechanisms, and as the ultimate product, we have the 2019 Jayco Greyhawk Prestige.
Which proved to be a reliable vehicle capable of reaching a great distance without those irritating failures in the middle of the road.
2017 Coachmen Freelander 27QB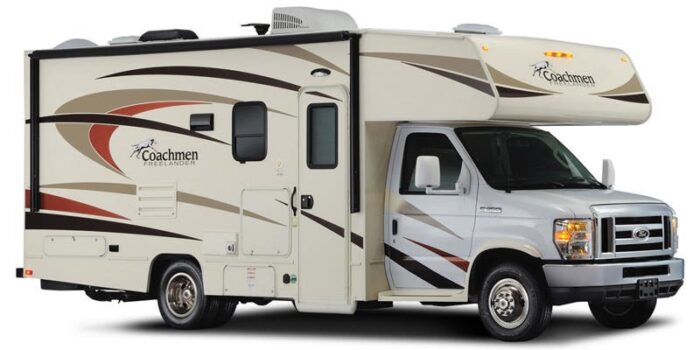 Coachmen Freelander 27QB will convince you, at a price, that it is one of the best, so it is on this list.
As far as the accessories inside the vehicle are concerned, we noticed the following:
It has no slide, no inside step-ups, a full-time bed, easy access to a toilet and shower separate from the toilet, large windows on both sides for great visibility, very quiet inside.
Ford chassis for great stability driving, V10 engine for power, easy access to passenger and driver seats.
Overall, the best layout and driving stability we found among others in the same C class.
Interior safety grab handle at the entrance door, vinyl padded up and angle pads, back-up camera.
The inside is big enough to accommodate the whole family of 4, that was the purpose of our description to find you this kind of RV.
The only disadvantage, if we can call it so, is that the gray tanks are too small and they are filled up very fast, so pay attention to it.
2017 Forest River Forester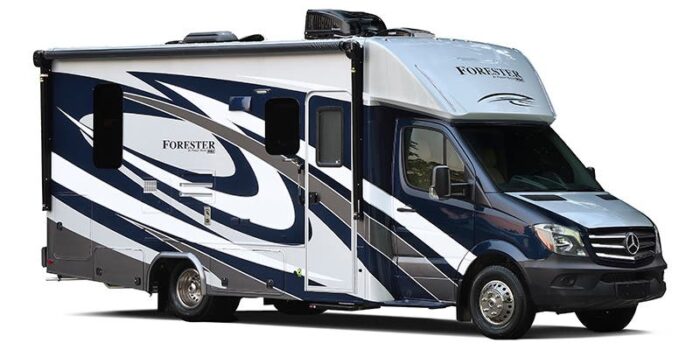 This RV model is the last on our list, but not the worst.
Moreover, the Forest River Forester 2017 is quite different from the other RV models mentioned above.
What distinguishes it from other models is the V6 engine of Ecoboost, but do not worry about it. Even with such an adjustment to the Ford chassis, this vehicle is reliable on the road.
Since the Forest River manufacturer is a household name, that is quite enough to seriously consider purchasing this RV.
The rooms and the kitchen are perfectly fitted. A large bed with a foam mattress is installed in the RV so you can expect full comfort.
We will also mention 4 points automatic leveling system, exterior grill with quick connection, swivel passenger seat, and cobalt full-body exterior color.
Summary
This would be the case with the current best-selling RV models in the market, which received the highest marks according to many users.
They are among the first options that you should inspect before going to other choices.
All of them have been properly priced. You'll find something that can match your needs and budget.
We looked at all the performances and the look of the interior and exterior, everything that your family needs to enjoy adventures and carelessly travel around the world.
Now the only thing left to do is to give yourself one of these RV models, and the journey can begin. Good luck!