"This site contains affiliate links to products. We may receive a commission for purchases made through these links."
In this article, you'll discover cool Pontoon Boat ideas.
If you're looking for the best cover, we've tested Labworkauto Pontoon Cover on Amazon. It offers Rain | Snow | dust resistant protection. And it was quite cheap.
A brief history of Pontoon Boats before I showcase the cool ideas that I found.
Pontoon Boats 101
In 1952, when Ambrose Weeres invented the first pontoon motorboat, little did he know that he was doing the world a lot of good. Especially boat lovers.
The pontoon boat has a unique look unlike any other type of boat. It is a boat with a large flat deck that's mounted on two or more metal tubes called pontoons (floats). With its floats, it can float on the water and it's a cool means of transportation on rivers and lakes.
If you like having a machine on the water that looks different, in a cool way, then you have your answer.
And whatever you love doing out in the waters, there is a pontoon that can meet your needs.
Pontoon Boat Accessories (Tested and Proven)
Our pick
What if you're looking to save cost while still enjoying time out with your family members or fishing partner?
You'll be glad to know that a pontoon boat is one of the cheapest boats you can find on the market. You can find a good one at less than $10,000. That's how cheap it can be.
Any boat lover should definitely get a pontoon. There is no reason not to, and there are many reasons to.
Who needs a Pontoon boat?
The demand for this type of boat is getting higher and it is easy to see why.
With advances in pontoon tube design, new boat building materials, innovations in outdoor fabrics, and lighter, more efficient engines, the tide has turned for this boat.
It is no more the slow and cumbersome boat that people used to think it is.
Better tube design has also made it possible for these boats to have powerful engines which will give you a performance you can only expect from the traditional fiberglass hull boats.
So you have made the decision to build one for yourself or get a Boatbuilder to build one for you?
Cool Pontoon Boat Ideas
As a lover of pontoon boats myself, I have compiled 15 ideas to make your machine way cooler than it already is.
1. Pontoon with frame and fabric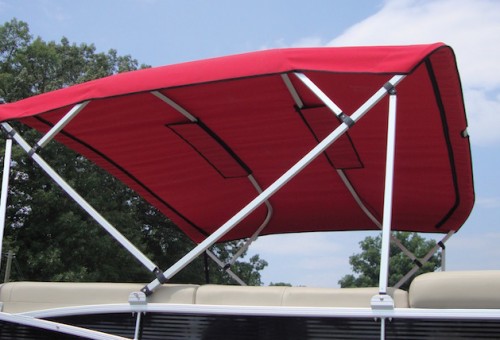 One thing you can add to your boat to give it a better look and more use is frame and fabric. This is especially useful if you want a cover from the sun or rain.
Pontoon without frames and fabric
You can also have your boat without the frame if you enjoy the feel of the sun on your skin.
2. House on Pontoon
You can have a house on your boat. Yes, like a real house. The key to having a house on a pontoon is to have big tubes with enough flotation to carry the weight of your house.
Another important point to note is to use light materials for your house so that its weight doesn't exceed what the tubes can carry.
You can fit this house with the basic equipment you need in a house.
3. Open roof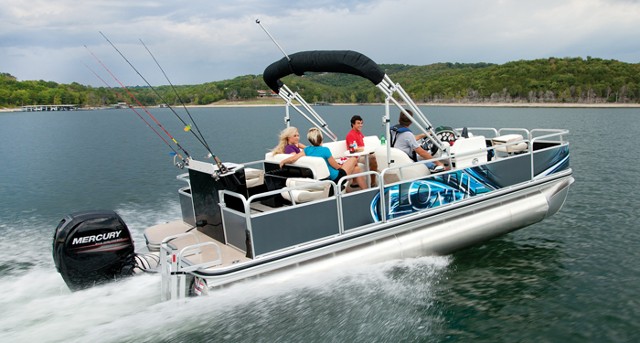 Most of these boats today have open roofs and you can utilize this on your boat too.
There are many ways you can plan the outline of your space.
If you'll have more of your family members with you on the boat, you can have round seats with a table to serve as a platform if you plan to eat during your cruise on the water.
The seats and other furniture you want to have will depend on what you want and how much you're willing to spend. You can have luxury seats with plush leather if you want them.
If you're having an open roof arrangement, the limitation is in your imagination.
You can have a totally different layout from any other boat you have seen. You can add any new feature you think will be useful.
4. Adding under-deck lighting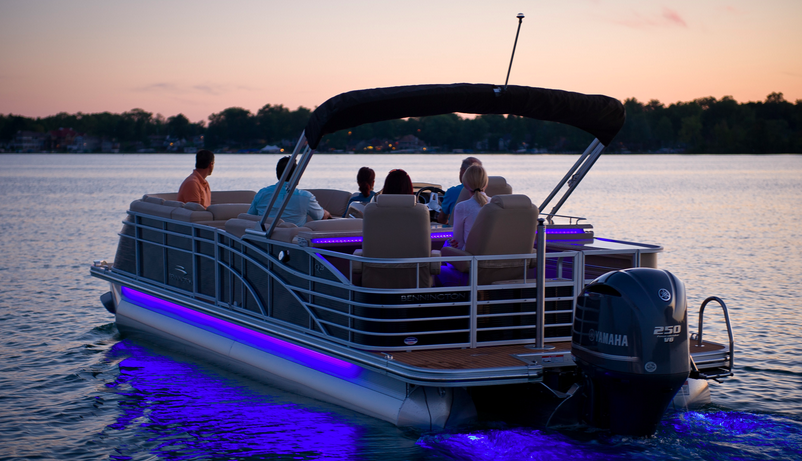 Under-deck lighting is usually situated at the sides of your tubes. Adding this to your tube may have no effect if you'll be riding your boat always in the afternoon.
However, if you'll stay late on the water sometimes, it is important you have these lights for better visibility.
These lights illuminate the water under your boat. And better still, it doesn't affect any of the lightings on the deck of your boat. So you can still have your party while these lights are on.
It is important to use marine-grade LED lights as they're very bright and produce a little amount of heat. They also consume less power than other options for lighting.
5. A mini pontoon just for you
What if you need to have a ride alone on water? You'll only need a small pontoon. Something so small we can even call it a mini pontoon.
This is a pontoon for one person.
There are various dimensions to having a mini pontoon. You can have one that is powered by an engine. And for even a lower cost, you can choose the option of installing oars.
With this option though, you may not be able to go far offshore as this boat is better used in gentle waters.
6. Pontoon with two hulls
Many boats use two pontoons as their platform. This is enough if you're going for a small boat of fewer than 20 feet.
With big tubes, your boat will float and take the weight of the people on board easily. This is also useful if you're going to attach a single-engine to your boat.
7. Pontoon with three hulls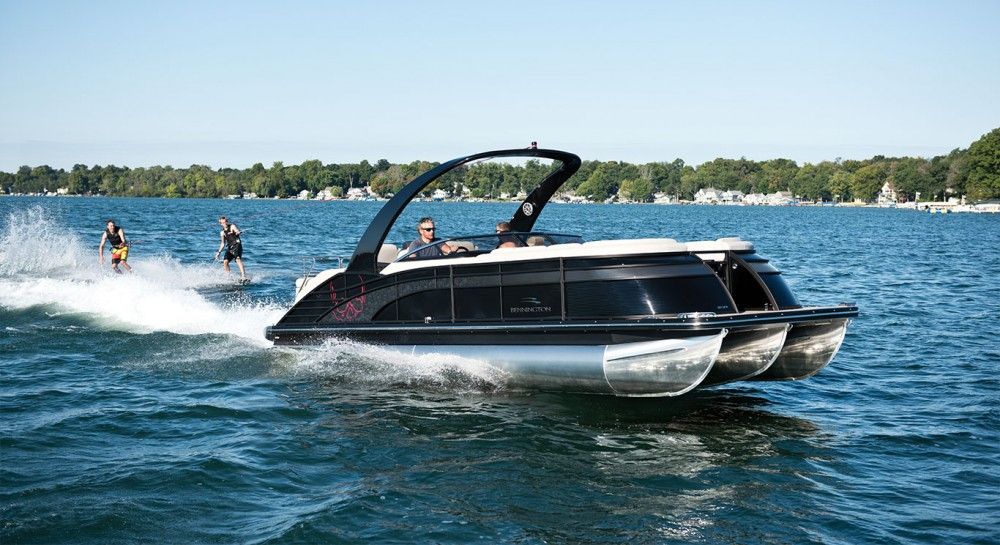 If you have a need for speed and a bigger boat, then you will have to increase the number of your tubes to three.
This will give your boat a bigger platform and you can also attach more than a single-engine to it.
This means you can move at speeds as high as 50 mph or higher. And without destabilizing your boat.
The bigger platform means your boat is stable even while turning at high speeds.
With many designs, there are usually variations of the tube in the middle of the three tubes.
For some designs, an oval-shaped tube is used in the middle to increase the floatation of the pontoons. You must know that a circular tube will also do just fine in most cases.
8. Inflatable Pontoon boat
There are many reasons to use the inflatable pontoon boat. It's usually for one or two people to enjoy a day out in the water.
Apart from this, there are many other advantages to using this boat.
It is cheaper than other forms of pontoon boats you can have. It is also easier to store.
You don't need a large space in your house to keep this boat because when you deflate it, you have a very small package. This also makes it easy to transport from one place to another.
You can easily put it in the trunk of your car without hassles. If you love fishing, then you may also have an affection for this boat. This boat comes with equipment that you can use for fishing.
Due to the small size of the boat, it is easier to access tight places in the water body than the bigger boats.
One disadvantage you can also have due to the size of the boat is the number of fish you can catch. That may be limited compared to a larger boat.
9. Pontoon with lounge area
There are very few things you can do on a fiberglass hulled boat that you can't do on a pontoon boat. You can enjoy most things on this boat and one of that is luxury.
If you'd like to relax while your boat is cruising on a river, then you can have the lounge area which will aid your relaxation while enjoying the cool breeze.
Of course, having the lounge area can make your boat a bit more expensive but it would still likely be cheaper than going for the normal type of boat.
10. Pontoon with stand-up bars
If you have to go into the water for a long period of time, then there is nothing wrong with having a drink or two.
Think about it, having a drink while you have a conversation with your buddy or wife, can only make your conversation better.
11. Pontoon with sound system
One of the equipments you can have on your boat is a rugged sound system. You can pick a very good stereo and speaker depending on how much you're willing to spend.
But think about it. Having a booming sound system combined with a stand-up bar and a lot of space between the seats can only point to one thing: it's party time!
Who says you can't party on water? Well, you can be on your boat with the right installations. And what party can you do without music?
If you have a new development to celebrate or you just wish like partying during the weekend after days of grueling work, then your pontoon boat is a perfect location.
12. Pontoon boat powered with paddles or oars
If you don't mind going slow in the water, you may just enjoy a boat without an outboard engine.
There are many ways to do this and this is only feasible if you're using a small boat. This could be fun as every member of your family can hold the paddle or oar and move the boat on the water.
This is a family activity that could even improve the bond between you and your family members on a day out.
Another dimension to this is having your floats made of bamboo. This may not be common in the western world but you'll find many in Africa and Asia.
It uses different material from what you're used to as its float. But it works and you can enjoy your day out on the water.
13. Pontoon with Livewell and fishing chairs
What if you're a fishing enthusiast?
And you think a pontoon boat could not be of any use to you? Well, think again. Because this boat has a lot of space that could be useful for your fishing endeavors.
To utilize your boat for fishing, you need a lot of space on the deck to install Livewell, fishing chairs, fishing rod, and other tackle. With this, you can fish as well as you can on other types of boats.
If you love fishing, and you want to try using this boat, you can without sacrificing your fishing desires.
14. Pontoon with metal sports arches and brackets
If you like sports activities on boats, then you would get the best out of your boat when you install metal sports arches with towline mounts, brackets for boards and skis, and splashy graphics and interior schemes.
Pontoon Boat Accessories (Must-Have)
Safety First
Whatever feature you want to add to your pontoon boat or whatever idea you have of making your pontoon unique, you must always know that safety is the first goal.
You must make sure that the floatation of your tubes is more than the load your boat will be supporting, including you and other people that may be on board.
Takeaway
A pontoon boat is a solid machine for a day out whether you're going out for a cruise with your family or on a fishing trip.
Did I say you can also party on it? Yes, that's right. And not only that. You can have your load inside the tube as the boat utilizes its space.
You can do most of the things that you can do on the fiberglass hull boats. You can also do it at a cheaper price.
Utilize these ideas and you can get better dimensions for your boat and even improve its functions. And you'll be looking forward to your next day out on the water!