"This site contains affiliate links to products. We may receive a commission for purchases made through these links."
Boating has now established itself as a popular activity all around the world. It is estimated that around 87 million people in the US alone take part in recreational boating activities. 
These activities include sports fishing skiing or travel. The combined value of recreational boats in the United States in 2016 was over 3.6 Billion US dollars. This number has surely gone up a notch by now.
A large number of these boats are those with an overall length of 36 to 45 feet. By 2015, there were a total of 11.25 million boats registered in the U.S. Again this number has surely risen.
This is partly because of companies like Contender.
Contender has established itself as a leading boat manufacturer for a period of over 30 years. They have consistently given world boats manufactured with the latest technology and first-class innovation.
They not only engage in manufacturing boats but also participate in marine conservation efforts. The great work that Contender and its boss, Joe Neber, have done in conservation efforts earned them a conservation award in 2016 from the state of Florida.
This skilled workmanship and years of experience in the boat-making industry have all come into play in the Contender 39 ST.
Contender 39 ST.
This is a big model boat from Contender that is definitely a contender for the best center console boat for rough waters.
First things first, this boat is a head-turner. It will definitely attract stares and will get you noticed even among some bigger boats. It is a fine piece of art.
However, this isn't what makes it the exceptional machine that it is. To understand why this is this machine is so great we are going to have to look much deeper.
Below, I take apart the 39 ST bit by bit to show you the capabilities of this Contender.
Overview: Standard and Optional Extras.
The boat has an enormous anchor locker with vertical anchor storage with enough space to carry an additional anchor. The forward cockpit has 4 large fish boxes.
The fish boxes have a capacity of 260, 145, 105, and 40 gallons. These ensure that you have enough live bait for your fishing expedition.
The fish boxes are installed on the deck to conserve space. You can opt to have an additional coffin box fitted with an electric hatch lift.
The standard center console is a front-entrance console with built-in rod holders. The optional pack has a port-side entrance and it is larger.
The larger compartment allows it to have a shower and a sink. The drink box for keeping drinks cool comes standard and this is important for when it gets hot at sea.
You can choose to have an additional hydraulic steering wheel for better control during fishing. You can also choose to have either an aluminum steering wheel or a stainless steel steering wheel. Both come with added steering knobs.
The additional steering may assist a bit with the steering but the metallic steering wheel merely adds aesthetic value.
You can opt for an additional fiberglass hard-top with cut-out rings for holding fishing rods vertically. This hardtop harbors the radio and radar antennas but these are standard equipment on all boats.
There is also a variety of learning posts that you can choose from; each with a certain advantage. They include fixed-back or tournament-leaning posts.
Smooth Ride and Fuel Economy.
The boat has an impressive 70-mile-an-hour top speed. While cruising comfortably at 4300 rpm the boat will do 50 mph. At this rate, the boat will manage to do around 1.1 miles to the gallon.
This is impressive considering that it's 3 V-6 Yamaha 4-stroke engines that churn out a combined 1050 horsepower. Most boats of this kind will struggle to reach an average of 1 mile per gallon at this speed.
39 ST is 39 feet in length and has a maximum weight displacement of seven tonnes. The boat will stroll along at this speed, even with moderately strong crosswinds, while still ensuring that the occupants are in relative comfort.
Now that we have delved into comfort, the Contender has Llebroc seats that provide outstanding comfort.
The seats are electronically adjustable to suit the individual specifications of the crew members. The helm is protected by a polycarbonate windscreen to shield the driver from the elements.
The helm is fitted with 2 multi-functional displays that serve as radar and fish finder screens.
Combining these with the exceptional speed of this boat will ensure that nobody beats you to the best fishing spots. The boat has been fitted with Uflex steering.
This steering system is razor-sharp while heading straight and even when sharp turns become a necessity, for whatever reason.
The steering ensures that the boat cuts through the sea easily while throwing up minimal spray. This is impressive considering that the ST has a deep-V center console.
You also find that some boats will stall when exiting a wave. This is not something you will experience with the ST, however, due to its exceptional steering.
There is a popular YouTube video that shows a previous model Contender slicing through moderately rough waters with a great degree of ease.
Mind you this is an old model by Contender. Watch the video and try to visualize how well the newer, better ST performs. (Link to video: https://www.youtube.com/watch?v=oXcr8cUB274)
Toughness.
How a 7-tonne boat that can do 70 mph remains afloat is truly outstanding. The engineers utilized fiberglass and PVC technology to achieve this feat.
The fiberglass is hand-laid in a multidirectional manner and then additional support is added by PVC foam. The fiberglass is a hand laid to reduce errors that may be occasioned by using machines.
PVC is sandwiched between almost all layers on the boat. The mounting points and strakes are reinforced to ensure the boat is compact even in rough seas.
The engineers didn't spare the fuel tank either which is fiberglassed and foamed into place. The entire section of the boat that is below the deck is filled with foam.
This ensures that the boat remains afloat and that the engine noise is muffled out.
Fishing Prowess.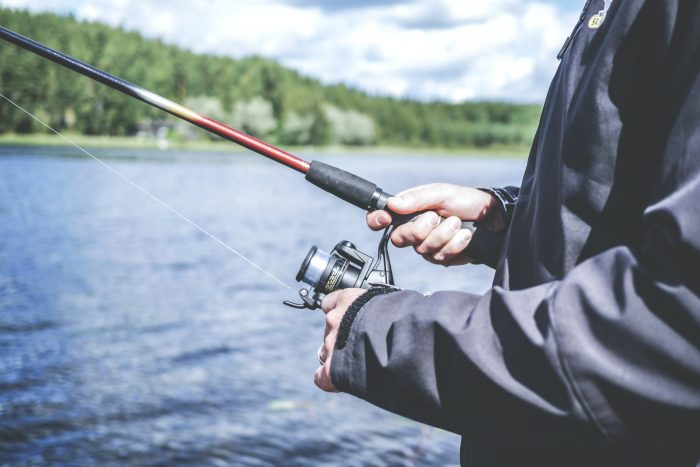 Straight away the large and spacious cockpit shows its advantage. It offers a large amount of room to maneuver around. There are lots of positions where you can tie up lines when fishing. Click Here to See The Fishing Tackle Box Kit (Available on Amazon).
These include the tackle storage and the rigging station. You only need to push a button for the cooler to extend aft when you need a cool drink or you require frozen bait.
The floor is built to reduce skid when you find yourself in a situation where you need maximum balance. In our situation where you are battling a stubborn fish.
Contender ensured that the stern and the forward gunwales are of almost equal heights thus ensuring that it is easy to maneuver the fish around.
The deck is designed to level to ensure that you don't trip when fishing. The floor slopes towards the stern and directs any water aft. The deck is built with deep gutters to ensure efficient drainage.
The bow has a grab rail that you can hold on to in case you encounter rough seas. The ST is, however, very stable and it will take very rough seas to deter you from fishing.
Boat Specifications Summary:
Length Overall: 37 feet 1 inch.

Beam: 10 feet 10 inches.

Deadrise: 24.5 degrees.

Weight (When loaded): 15,400 pounds.

Fuel Capacity: 500 Gallons.

Maximum horsepower: 1400.

Base price: 313,315 dollars.
Conclusion
Contender has outdone itself once again. It has carved out a niche where it manufactures large-size boats without compromising quality time and time again over the years.
The company has managed to instill the usual toughness that is associated with the Contender brand. And it hasn't stopped there. It has installed numerous fishing aids and out-at-sea comforts.
Contender has incorporated modern technology and innovation to build a large, safe, and durable boat and this is exactly what they do best.