"This site contains affiliate links to products. We may receive a commission for purchases made through these links."
Who is eligible to get camping passes in the United
To qualify for camping passes for disability, the requirement is that the disability must be permanent and limit the person from one or major life activities. If a U.S. citizen is partially disabled, he or she doesn't qualify. And there's no age requirement for this pass.
Camping is not only an affordable choice for a holiday or a break from routine life, it is also fun and healthy.
Being close to nature with like-minded campers has been found to have positive impacts on the health and well-being of humans.
Camping builds confidence, reduces stress, and re-energizes the mind. In recent times, camping has become a very popular recreational activity, with over 40 million Americans participating in camping in the United States each year.
Not just in the US, it is also growing in popularity in Canada. Although research shows that the millennials and the Gen Xers comprise a majority (about 75%) of all campers, the campers come in all shapes and sizes.
The young and the old love camping alike; and so do the people with physical and mental disabilities.
In fact, it would be very incorrect to assume that the disabled cannot go camping like others. They can and they must.
One study has revealed that only a 5-minute active exposure to nature in outdoor areas can significantly boost one's mood, self-esteem, and depression. Therefore, the disabled should be definitely recommended to go camping.
The Americans with Disabilities Act (ADA) has made it mandatory for all camping sites to provide reasonable arrangements for the disabled campers so that they can access parks and camps as much as the others without any difficulty.
There are wheelchair-friendly ramps, specialized medical care, special adaptive equipment, etc.
However, if you are disabled, all you would probably need to go camping is a camping pass. Once you get that, you are all set to go camping. Yay! 
So how can the disabled get camping passes easily? How would you get your camping Access Pass? You need to apply for it.
Yes, the good news is that the application can be sent online in a few simple steps. But, in order to get the Access Pass, the disabled person needs to physically go to the authorities, pass through all the necessary verification processes, and then collect the pass. That is the easiest way to do it. Let's elaborate.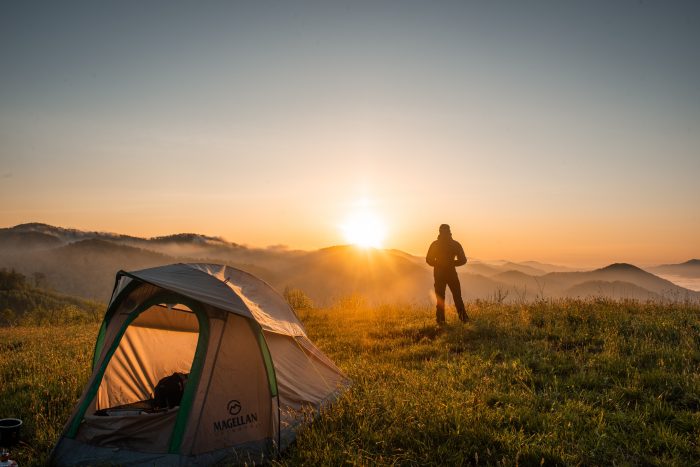 About the Camping Access Pass for the Disabled
There are many parks and recreational sites which allow for camping for the disabled.
But to enter these areas, a disabled individual would need an Access Pass issued by the Government. The disabled applicants are not charged for the pass in the national park system.
It comes free for the disabled and is valid lifetime. Eligibility criteria for this Access Pass are:
You have to be a US citizen, or
A permanent resident, and
You have a permanent physical, mental, or sensory disability (though the disability need not be a 100% disability)
If you are eligible for the pass, the easiest way to apply for it is online. With this Access Pass, people with disabilities can access over 2,000 Federal recreation areas across the country – the national parks, national forest lands, and the national wildlife refuges.
The pass may sometimes also offer discounts on activities like camping.
The Access Pass allows the owner of the Pass and any others accompanying him/her in a non-commercial vehicle to sites where a per-vehicle fee applies or it may allow the owner of the pass and three more adults to areas where per-person fees are charged.
Applying for a Camping Access Pass 
The easiest way to apply for camping passes for the disabled is over the Internet. Just follow the 5 simple steps:
Check the list of 'Acceptable Documentation' on the USGS website and get all of that together in one place.
Scan these documents and save them digitally as either JPEGs, GIFs, PNGs, or PDFs, not exceeding 20 MB.
Place your application through the online store.
Once you hit 'Submit' your application, you will be asked to upload the required documents. This is a vital step as your application stays incomplete without upload.
After the application is complete, you will receive a physical pass through email. However, to obtain the pass, the individual needs to go in person. The issuing officer of the pass will review the documentation you submitted and verify your residency before giving you the pass.
The Access Passes are managed by the 5 Federal bodies that function under various regulations and hence, have varying fees.
So, the disability pass discounts also vary from one recreation site to another.
If you do not have the Access Pass, you can still go camping but will have to pay for the applicable entrance charges and other standard amenity charges (like those for swimming, camping, guided tours, etc.).
Important Points to Remember 
Here are a few important points to remember:
You must know that the Access Pass is free, but there is a $10 application processing fee that needs to be paid by the disabled applicant. 
You would need to go through photo identification for successful verification.
The Access Pass can also be obtained free of cost by the disabled person at the recreational site also. You would not need to fill up an application there. Just document verification and photo identification would be necessary, and you will be issued the Pass. Also, if you are present in person there, you would not even have to incur the $10 processing fee.
However, sometimes the recreational site may be short of passes with them. So it is always a good idea to call and check with them before if you are planning to collect an Access Pass right from there.
The Access Pass is non-transferrable and non-refundable.
There are no age requirements for the Pass. Even a disabled child can get the Pass. However, please know that children aged 15 years or younger do not require Passes. Their entry is free.
This Access Pass entitles you to access places like the National Park Service, Forest Service, Fish and Wildlife Service, Bureau of Land Management (BLM), and Bureau of Reclamation.
Required Documents for the Pass
There are a few documents you would need to keep handy if you are planning to get an Access Pass for taking the disabled person(s) on a fun and relaxing camping trip.
You can check the list directly at the official sites. But here's to make your job easy:
Proof of identity – Either a US State or Territory-issued Driver's License, Identification Certificate, or Birth Certificate, a US Passport or Passport Card, or a Permanent Resident Card (Green Card).
Proof of disability – A statement issued by a licensed physician confirming the permanent disability (physical, mental, or sensory) that significantly impairs 1 or more major activities, and stating the nature of the disability. You may also submit a document issued by a Federal agency, such as the Veteran's Administration, which confirms that you are medically found to be eligible for getting Federal benefits due to your disability. Or you may even submit the proof of receipt of Social Security Disability Income (SSDI) or Supplemental Security Income (SSI). Another alternative is to submit a document issued by a State agency such as the Vocational Rehabilitation Agency, which confirms that you are medically found to be eligible for receiving vocational rehabilitation agency benefits or services due to your medically-determined disability.
Note: A State motor vehicle department disability sticker or a license plate or hang-tag are not accepted as valid documentation for issuing an Access Pass.
Benefits of Camping for the Disabled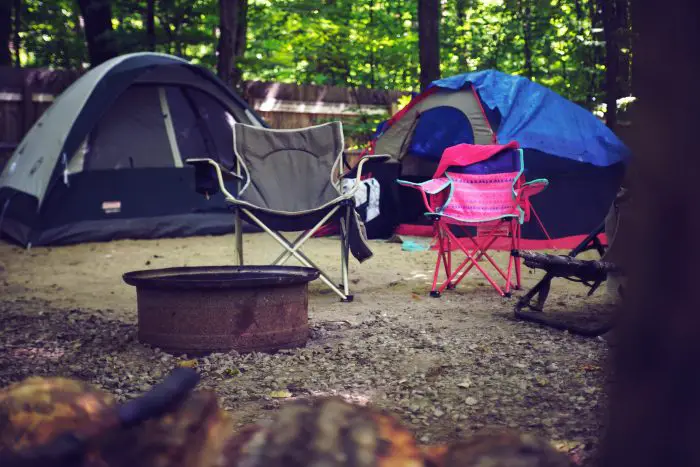 The camping experience has always been rewarding for people with special needs. It was started as long back as 1899 in Chicago when a teacher took her disabled students on 2-week camping.
Thereafter, such outings were repeated by several others.
Many enthusiasts like the parents of disabled children, compassionate medical people, disability-focused teachers, and social workers came together and found a common purpose in taking the disabled people on camping activities.
They found huge benefits in those camping programs. Some of the identified benefits are:
Scope for lots of exercise, movement, and activity.
Scope to socialize and interact with others, form relationships, build friendships, etc. That indirectly enhances their communication skills in a non-formal environment.
Chance for boosting confidence, self-esteem, and independence.
Opportunity for positive role-modeling and learning from others.
Scope for finding peace and calm amidst nature, which has a healing effect on the mind and body.
Chance for the caregivers to have a much-needed break in a recreational environment.
Opportunity for rediscovering oneself through activities like dancing, swimming, tennis, golf, and even wheelchair-racing. Not every activity would suit every disabled individual, but the scope to take part in some activities is a big motivator for them in itself.
Conclusion
Therefore, camping or any outing for that matter is substantially helpful for the disabled.
They should engage in more such activities just as the mainstream individuals.
No disability can take away the need to let loose and have fun. So just apply for your Access Pass and get it in a few days to weeks. The rest is pretty simple!