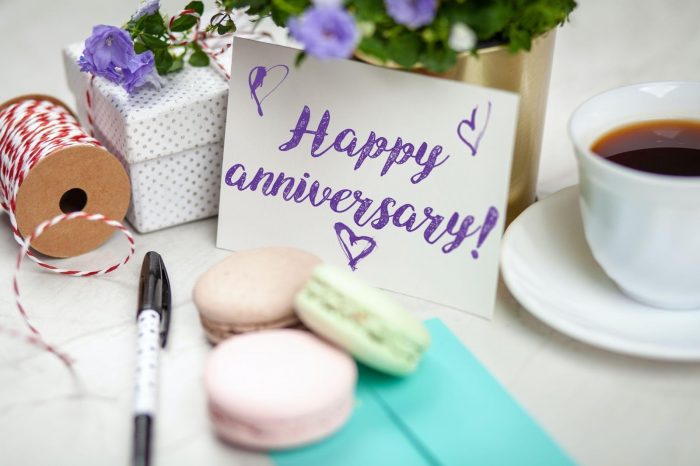 "This site contains affiliate links to products. We may receive a commission for purchases made through these links."
Anniversaries remind us of the love and bond a couple shares with each other. On this day, you both opt to surprise each other romantically and thoughtfully.
We know it's easier to surprise a husband than a wife. But, don't take the easiness of this task for granted. The husbands may be easy to please, but it doesn't mean they won't love the extra love and effort you put into making the anniversary special. Trust us; your effort won't go unnoticed.
Express your love for your husband by surprising him on your anniversary this year. If you're looking for ideas, our article is enough to fill your husband's heart with joy. Let's not waste any time; you still have a lot of planning to do.
Impress Your Partner With 10 Surprise Ideas
You can't just buy something, surprise your partner, and be all done. It's sweet but not thoughtful or romantic. You have to think out of the box to make your partner feel that you appreciate having him by your side. It's a lot of work, but it'll be all worth it when you see your husband's goofy-big smile and the surprised look on his face.
Revisit Your First Dates
Maybe it has been a while since you both visited the first places you went when you started dating. So, why not make the anniversary day an anniversary week instead. You can plan a romantic evening for every day of the week and go to the first seven places you went on a date. It's thoughtful, and your husband will never expect it.
A Romantic Getaway
A romantic or adventurous get-away from all the work is an excellent idea for men who love to travel. You can plan a camping trip, a hike, or just a relaxing day at an exotic place to surprise your husband. But be sure to plan ahead as you'll need to book hotels, find tents, or get essentials for hiking. 
A Stargazing Picnic at the Beach
What's more romantic than a picnic? It's stargazing! Now, if you combine them, you get the most fantastic picnic of your life. Plan a night picnic at your nearby beach.
Don't tell your husband until you get there. It will keep the suspense running. Pack blankets, sheets, snacks, and wine to enjoy the sound of soft waves crashing at the shore with a fantastic night sky view. It's romantic and thoughtful, and your husband will be thrilled!
A date in the Sky
Sounds impossible, right? You're thinking we're being ridiculous. Ok, here us out! Many places offer hot air balloon rides, and you can even have a date in it. It's exciting! You get to dine along the clouds and the blue sky. Your partner will never expect it. It's a fantastic idea for a romantic anniversary dinner unless any of you has a fear of heights.
Candlelight Dinner at Home
Who doesn't love a delicious meal with candlelight? You can always surprise your significant other by cooking a three-course meal with dessert. If you aren't good at cooking, maybe you can try learning a few recipes. A good home-cooked meal is a perfect way of surprising your partner. It's thoughtful, and the effort will shine even if your food doesn't turn out well. It's the thought that matters!
Bike Ride to a Place You Always Wanted to Go
We all plan a one-day trip, but most don't go through with it. Make your anniversary the day you both take the trip. Bike riding is fun and intimate. If the site isn't far, ride a bike there. Stop for quick snacks and enjoy the scenery. It will be adventurous and exciting!
Moreover, to make it more surprising, tell your husband you rented electric bikes and after you reach your destination, let him know it's his! If he loves riding bikes, the surprise will be worth it!
Write a Love Poem
Poems are the most thoughtful gift you can give to a person. It's filled with untold feelings and sweetly expresses love. So, try writing a poem for your husband and read it to him.
Even if you're not good at writing, search the internet about how you can at least write a few romantic lines. Not only will the gesture warm your partner's heart, but you might see a few tears rolling down their cheeks.
Make a Scrapbook
Pictures speak a thousand words. Have you heard that phrase? If you have, you know what we're trying to say. Make a scrapbook with pictures of your different memorable occasions.
A scrapbook is a very romantic and personal gift. Choose the most memorable pictures and get them printed out. Arrange them according to the time or any unique way you like. To add a sweet touch, write snippets of the story the picture tells.
Renew Your Vows
If you and your partner have hit a milestone in your relationship, celebrate the day by renewing your vows. It can be intimate and romantic.
Renewing your vows will bring back all the memories of the wedding day and the promises you gave each other. It will strengthen the love and bond between you.
Moreover, it doesn't have to be some huge party but rather a small dinner with close ones or alone. It all sounds very peaceful and sweet!
Do Nothing
We mean it! Sometimes doing nothing is doing more. Spend the day together, stay in bed late, cook meals together, and binge-watch your favorite movies or TV shows. You can also end the night with dessert and some champagne or wine to celebrate your anniversary.
The Most Important Gift
There's a gift that no one else can give your husband but you. So, the most important gift is "love," and only you can afford that for your partner. 
Moreover, there's also all the effort, support, and respect in your relationship, which makes it special. Spend the anniversary with your loved one and rekindle your treasured memories. Things just can't get any better!