"This site contains affiliate links to products. We may receive a commission for purchases made through these links."
A bicycle helmet protects the head from injuries by reducing the impact of the fall on the head. These helmets are made of polystyrene that crushes on fall and contains an inner foam lining that absorbs the impact of the fall thereby protecting the head.
While almost all countries in the world have strict motorbike helmet laws, there are very few countries that have laws regarding wearing it.
Even in countries with strict bicycle helmet rules, very few people actually wear helmets while riding a cycle. According to various studies, more than half of the cycle accidents could have been prevented if the riders had been wearing helmets.
This research is backed by several medical pieces of evidence that show the effectiveness of helmets in reducing head injury during a cycling accident.
Why should you wear a Bicycle Helmet? A bicycle helmet protects the head from injuries by reducing the impact of the fall on the head.
These helmets are made of polystyrene that crushes on fall and contains an inner foam lining that absorbs the impact of the fall thereby protecting the head.
Although the helmets cannot guarantee protection in case of an accident with a vehicle moving at high speed, still they can reduce the risk of a fractured skull to a significant level. Given below are a few reasons for wearing a bicycle helmet:
A sudden break while at high cycling speed can result in the rider falling head first thereby putting a lot of pressure on the head. In the absence of a helmet, it can lead to inevitable consequences.
While driving fast the rider puts his entire focus on the road ahead and often ignores overhanging objects like tree branches that can easily hit and cause injuries in the absence of a bicycle helmet.
Young children, who are beginners in the field of bicycle riding have less control over their bikes and experience more frequent falls. Having a helmet gives them safety assurance and confidence to learn to cycle faster.
Even an experienced rider can face accidents in spite of being extremely careful. Medical researchers have proved that wearing a helmet reduces the intensity of injuries to a significant level.
Although some people believe that compulsion laws regarding bicycle helmets discourage people without helmets to opt for an active and healthy lifestyle. This is against the "Go Green" mantra that the entire world is following.
Well, whether to wear a bicycle helmet or not is entirely your personal choice. However, there are no two views regarding the importance of wearing a well-fitting helmet in the prevention of your skull.
For people who have learned it the hard way, riding a bicycle without a helmet is a complete no-no.
Tips on how to choose the right helmet
Cycling is generally considered a very safe activity. You can cover distances taking your time without being dependent on anybody, save fuel costs and also get your daily quota of useful physical exercise.
However, reckless driving on the part of other drivers and by some cyclists has led to many accidents over the years with some of them being fatal.
The main reason identified was lack of protection to the head of the cyclist who invariably was knocked off his cycle and fell to the ground.
That prompted traffic authorities to make the wearing of cycle helmets compulsory and though there was resistance initially from many who felt that these helmets did not allow them the freedom of movement they were used to, good sense, threat of stringent action by the traffic police by way of levies and active public awareness campaigns have ensured that all cyclists and motorcyclists now wear helmets.
This has helped bring down the number of deaths due to head injuries in road accidents. Helmet manufacturers too have contributed a great deal in coming out with helmets that are easy to wear, make a style statement and also provide safety along with comfort.
As a cyclist, you should take care and spend as much time buying that helmet as you do in selecting the bike for yourself.
After all, you cannot take a chance with your life and you need to be suitably prepared with the recommended protective gear. Fortunately, the choice today is a wide one, and given below are some tips to help you find the right helmet.
a) Do not look at the price of the helmet when making a choice. This is one item where you should not be making a decision on buying something cheap.
Your life is priceless and unless you are really strapped for cash, you should be buying something that is costly as you can be sure of the level of protection and comfort.
Moreover, there would be other features that such helmets would invariably have which would also make your riding experience a comfortable one.
b) The next parameter is the size. Ideally, the helmet should fit you such that it should not fall towards the front of your face as you bend down even without the strap fastened.
c) The third point is the kind of ventilation provision the helmet has. The common perception that more gaps or holes in the helmet would make it less protective is not a correct one. Manufacturers are now able to make the best of lightweight helmets with adequate ventilation without compromising on the safety and protection capability of the helmet.
There is really no excuse in today's times for not wearing cycle helmets. There are many brands that are reputed and with prices also coming down due to increased demand, you should be able to find one of your choices quite easily in order to enjoy your cycle or motorcycle ride even better.
The necessity of helmets for kids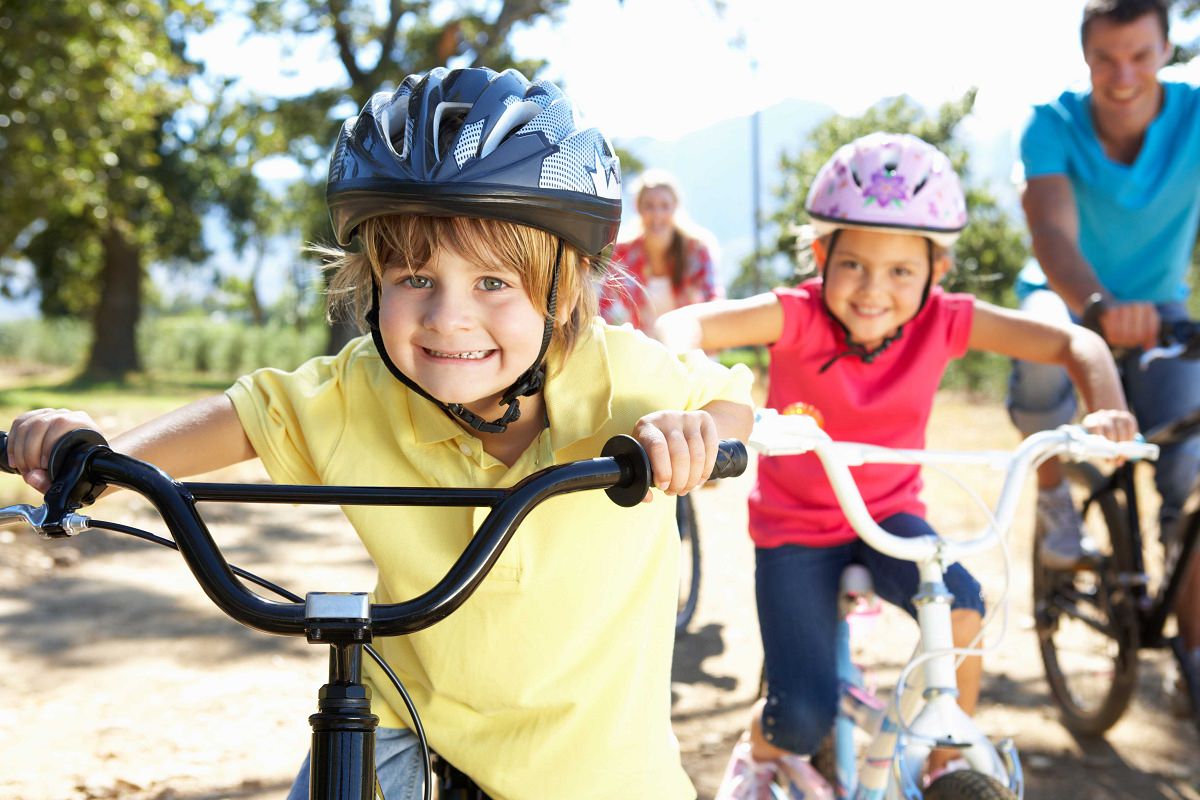 The statement that kids' helmets are a must regardless of the situation is not a subjective one, is confirmed by a large number of laws that oblige parents to keep their children safe and make them wear helmets whenever they ride their bicycles.
In fact, statistics confirm that wearing such a helmet can reduce the number of head injuries caused when in an accident by almost eighty-five percent, which is a significant percentage.
Head injuries are obviously the most serious ones when involved in an accident or they can be, sometimes result in death and there is no better reason for parents to oblige their kids to wear helmets when going out on their bicycles.
Helmets are not expensive pieces of equipment, but they are necessary. Moreover, helmets are a durable investment, not raising you any problems when it comes to your child growing older and developing.
All helmets have side pads, which can help you adjust their size so that they fit your child for a longer period of time. In fact, the size of the helmet they are wearing is very important and it can save them or get them hurt when involved in an accident.
Whatever you do as a parent, just remember that your child's safety comes above all, therefore, regardless of whether he is riding an ordinary bicycle or a battery-powered one, you should always make sure that he or she is wearing the right helmet to keep them protected from any unpleasant occurrences.
The fashion statement
'Helmets' and 'style' are not the two words that anyone would naturally associate until a few years ago. In the past few years, the designs and styles of the bike helmet have undergone a tremendous change. Today the bike helmets serve as a reflection of one's personal style and choice.
The growing influence of fashion trends in the helmet world is good news for the entire community of cycle riders.
Summers are gone and students are back to school. With that naturally, the traffic on the bike routes has increased.
Unlike the olden days when a normal bicycle helmet was the only preferred option for school-goers, today you can find them wearing a wide range of helmets starting from snowboarding helmets to BMX bike helmets.
You can even find some cyclists wearing full-face BMX helmets, racing helmets, equestrian helmets, and many other styles. A large section of the cyclists are fashion conscious and they wear helmets that can complement their look.
However, not the entire cycling community has become fashion conscious. A large section of society still considers a helmet only as a protection accessory and wears one that is more comfortable and serves the purpose of offering basic safety.
For instance, many BMX riders would choose between a basic BMX bike helmet and a full-face BMX helmet rather than selecting BMX bike helmets on the basis of their color.
In fact, many cyclists don't like wearing a helmet and wear one only because it is mandatory in their country. As a cyclist, I like wearing the helmet but I believe it's one personal choice whether he would like to wear one while riding or not?
Although I am not someone who follows fashion trends but still I believe that the new styles and designs are always in favor of growing the usage of headgear. In countries where there are mandatory helmet laws, many people argue against it.
This is probably because they are put off at the thought of wearing something dorky. Well, that may or may not be the reason for their hesitation in wearing a helmet, but better helmet options always increase the chances of more people wearing them.
When my headgear will need a replacement, I will definitely look out for something that is more stylish than my present helmet.
I will probably prefer a super cool black and white BMX helmet with some funky prints on it. I am planning to make a fashion statement with my helmet. Are you?
Mountain bike helmet
Helmets are undoubtedly the most important mountain bike gear that is vital for your safety. There are several types of mountain bike helmets that are designed for specific types of mountain biking.
For example, someone who prefers the risky form of riding such as dirt jumping or downhill needs a full-face mountain bike helmet that can offer serious protection.
On the other hand, someone who rides on a single track or cross country should wear an open-face helmet meant to provide a lightweight and well-ventilated protection.
Latest mountain bike helmets are made of in-mold micro-shell, unlike traditional hard shell construction. This is because the in-mold micro-shell allows larger air vents and facilitates the construction of different shapes of the helmet.
Most modern mountain bike helmets feature a soft crushable foam inner shell often reinforced with nylon.
The prices for mountain bike helmets start at $20 for a basic model to as high as $250 for advanced and high-end models.
Basic helmets are suitable for leisure rides at a moderate pace while high-end helmets feature a more serious impact-resistance technology and additional padding to protect your head even during serious falls.
Some of the most popular helmets are Bell helmets, Giro helmets, and Met helmets. Bell helmets are among the first few helmet brands to use Carbon fiber inserts in them. Some other brands include Giro, Specialized, and Fox.
Some of the key features that you should consider while buying the most important mountain bike gear i.e. the helmet:
• The number of air vents present in a helmet affects the rate of airflow through it. Therefore, make sure that the helmets you choose have the right number of vents to offer you the cooling you need for your type of riding.
• Check for inner ring adjustment. It facilitates a better and more customized fit of the helmet for added comfort.
• Breathable and moisture-wicking padding to soak up perspiration. Removable padding will be an added advantage in terms of cleaning and hygiene.
• Nothing can offer better comfort than a helmet that is lightweight. Of course lighter the helmet, the higher the cost.
• The correct size of a helmet is very important for a comfortable fit. Although the basic helmets are available in only one size, advanced helmets like the Bell helmets are available in three to four different sizes to offer a snug fit for every head size.
• A branded helmet whose spare parts are easily available in the market is a good buy as it ensures a longer life of the mountain bike gear.