"This site contains affiliate links to products. We may receive a commission for purchases made through these links."
Onboard fire is one of the most common reasons that force boaters to abandon their boat.
Fire extinguishers (Available on Amazon) help you to combat a sudden fire flare. But most the boaters neglect this crucial safety gear.
Here is a quick refresher that will help you to accurately install the firefighting equipment along with their effective handling.
Fire Types
Fire types are classified with special letters by the U.S. Coast Guards and the safety management bodies. This letter indicates the type of fire and the number, marked on the extinguisher and shows the amount of agent inside.
There are four types of fires:
Type A is a fire that is caused by combustible materials like wood, cloth, or paper.
Type B is caused by flammable substances like gasoline, diesel, or grease.
Type C is that kind of fire that may likely start by electrical sparking or short circuits.
Type D is caused by

combustible metal materials, such as titanium.
When are they required?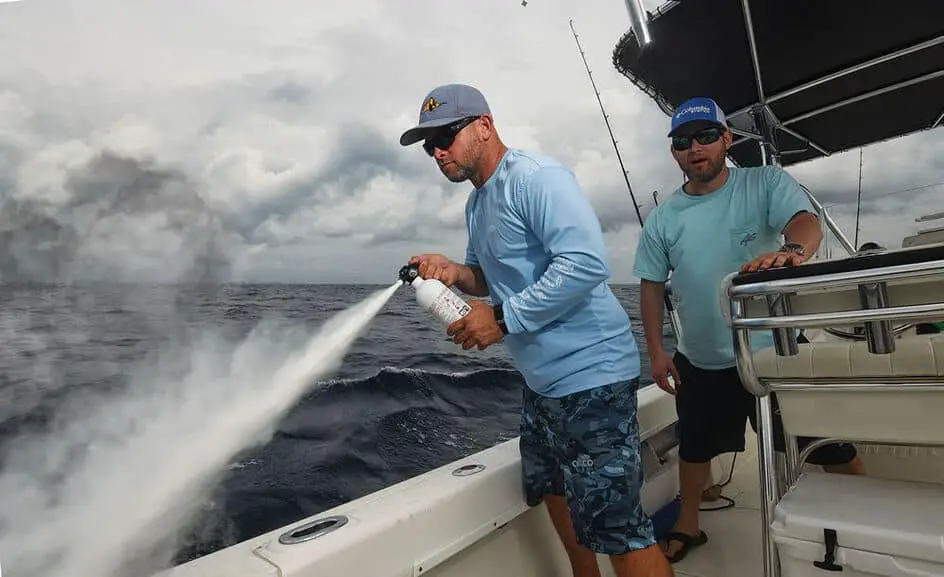 Source: Sportfishingmag
Fire extinguishers are required by law if any of the following conditions exist.
For a boat that holds some closed compartments, the compartment may be an engine compartment or a portable fuel tank storage space.
There are some closed living compartments.
If a good storage space exists in the boat where some flammable or combustible substance is stored.
A boat has permanently installed fuel tanks. If a fuel tank is portable but the weight of the tank is such that it cannot be moved by a person on board, the USCG may consider it permanently installed.
Make sure a proper ventilation system is in place if your boat has a closed compartment where gasoline vapors may exist.
Classification
Fire extinguishers come in various types and sizes. Usually, they are marked with a class of A, B, or C.
This marking makes an extinguisher specific for a certain kind of fire. For example, the equipment marked as class B is approved to put out a fire caused by gasoline, grease, or diesel.
Similarly, sizes equally matter. As the size III or larger are too big for use on the pleasure boats. Extinguisher readings can be confusing because one extinguisher can be recommended for different types of fires.
For example, an extinguisher marked "Type A, Size II; Type B; C, Size I" is acceptable for the same kind of fire.
For boats, Type B hand-portable extinguishers either size I or II are recommended by USCG.
Placement
While not required, USCG recommends placing the device on a readily accessible site. Mount the extinguishers at a site where they are visible and easily accessible.
For example, mount the device near the steering or in the engine room but away from the site where a fire may likely start.
The boat driver and the crew members must know the extinguishers' locations so that they can reach the equipment immediately.
Put the device away from the chemical stored in goods space that can cause corrosion or damage.
It would be a good preventive measure to write the words "Fire Extinguisher" on the wall, where equipment is mounted.
PASS
Generally, an extinguisher takes 10-12 seconds to discharge the extinguishing agent on fire.
So it is better to use them right away before the fire gets too large. PASS is the easy-to-remember acronym that enables you to fight a fire readily.
P: Pull the pin
A: Aim the fire extinguisher.
S: Squeeze the two handles together.
S: Sweep across the flames of fire
Extinguishing agent
Certification
All the safety equipment bears some authentication marks and numbers. Concerning bodies regulate the surety of equipment performance and standards.
The fire extinguisher you choose must bear a mark that shows certification by:
Underwriters Laboratories of Canada (ULC);

Underwriters' Laboratories Inc. (UL);

or

United States Coast Guard.
Number of Fire Extinguishers
U.S. Coast Guard requires varying numbers of fire extinguishers on the recreational boats. The requirement for fire extinguishers depends on the size of the vessel.
An outboard motor boat is not essentially bound by law to carry a fire extinguisher. But it is safe to have one onboard when on tour.
If a U.S. Coast Guard-certified fire extinguishing system is installed in the engine compartment, the required number of extinguishers may be reduced.
Now, let's have a quick review of the size of the boat and how many fire extinguishers are needed.
Less Than 26 Feet
If your boat is less than 26 feet, you need only one B-1 fire extinguisher onboard.
26 Ft to Less Than 40 Ft
Your boat must hold two B-1 or one B-2 fire extinguisher if it is between 26 feet and 40 feet. And if it has a fixed fire extinguishing system — then one B-1 fire extinguisher would be enough.
40 Ft to Less Than 65 Ft
Finally, if your boat is greater than 40 feet and less than 65, you need to hold 3 B-1 or one B-2 and one B-1 fire extinguisher.
However, if you have a permanently installed fire extinguishing system then two B-1 or one B-2 extinguisher could pass your boat by USCG.
Maintenance
Check your extinguishers monthly to make sure their pressure and the operations are intact. Make sure that you and the people on the crew know how to use them.
Check often that the seals and the temper indicators are not broken. If they are damaged or missing, replace the equipment immediately.
Hire a qualified person for the service and recharging as per the manufacturer's instructions and standards.
If you have some dry chemical equipment, shake it well about once a month to keep the chemical active and alive.
Weigh your equipment annually and make sure that the equipment's weight is as per the least weight mentioned on the device.
If your fire extinguisher does not meet the above-mentioned requirements, is physically damaged, or is partly emptied, take it to some qualified extinguisher company.
Extinguishing Agents
Dry chemical extinguishing agents are effective only for class B and class C fires. They are inexpensive, non-toxic, and difficult to clean up. These agents are not effective for the class A fires.
Aqueous foam agents are the only agents that are equally effective for all types of fires. This is a relatively new technology and is easy to use. However, it is highly recommended to avoid excessive skin or eye contact.
Carbon dioxide is very easy to handle and carry in boats. This is effective for the class B and C fires and useful only for confined spaces.
Water is a very common fire extinguisher. It is effective only for the class A type fires. This is not effective for the class B and C fires.
Brands
A leading fire extinguisher brand is Amerex (Available on Amazon). This is famous for its latest technology and innovative products. They are providing services for more than 30 years.
Ansul is another leading company that provides quality and standard fire extinguishing products. This brand introduced dry extinguishing agents for the first time in its history.
Badger is the most recommended brand by the safety regulating authorities. Their products are specifically designed for immediate use regardless of the fire type.