"This site contains affiliate links to products. We may receive a commission for purchases made through these links."
Boating is fun for all ages, isn't it? We all have cherished those old-school boating ventures or a ride across the Parkside Lake.
Fun on the water is something that a preschooler definitely seeks. Inversely, if boating was to be personified, it would extend its hands welcomingly to fellow preschoolers.
Preschoolers can enjoy tons of boat activities especially when it comes to celebrations and weekends. They can even engage in boat crafts that float and have a fun time doing it.
This article will discuss the 10 best boat activities for your preschooler. It might also help you to plan an activity if you are a part of a preschool or a kindergarten.
1. A River Trip
River trips are so interesting especially when the weather is good enough to complement your activity. These trips are amazing for weekends or long drives.  
You could give your kid a chance to paddle his own canoe. By the age of 5 kids can do such type an of activity.
A packed picnic lunch and a good ball play on the shore would assure great family time.
If you prefer you can also invite some other toddler friends for some unforgettable memories. As a word of caution, you must always fasten your life jacket and ensure that the kid also has one. Safety always comes first.
2. A Fun Slide Experience
How fascinating could it get? Sliding directly in the waters from your very own boat is something that your child would cherish. Indeed it gets very thrilling and adventurous for small children in a water body.
You could just order an inflatable water slide online and rent a pontoon for a lazy afternoon. Let your preschooler have the time of his life whilst you could enjoy a can of beer.
We would not advise you to try this in a river as the water flow is always fluctuating. A lake must be your best bet. Always remember to have your kid wear a life jacket for this activity.
3. Photo Sessions
What better way could you suggest to capture memories? Some kids love getting photographed.
They have a strange inclination towards photo sessions and would probably present themselves with a broad smile when you are around with the camera.
Why not turn this into a fun activity? Get your kids to pose with different actions and costumes (If you could manage to get them to wear them).
Secondly, you can take some candid snaps while they are playing in the waters or jingling around in the boat. To top it up, take some beautiful clicks of the sunset to add some drama to your photo album.
Getting them engaged in something they prefer is the best way to have a memorable time with them.
4. Remote Control Boat
Gift your child a remote control boat this summer. After you set out to sail, a remote-controlled boat would surely grab your kid's interest.
You could just relax on the yacht while the toddler could just go zap with his boat. Let him dive in the lake/ocean and enjoy his prized possession.
As a precautionary measure, you must check the water levels and the currents before handling the toy to your kid else the things might just turn in opposite directions.                             
5. Cruise Away to A Faraway Land
Indeed a luxury cruise is also a type of boat in itself. It is humongous and has tons to offer for little kids.
Cruise bookings mainly include access to all the amenities and tour packages to a new unexplored island or a coast.
Now, why is a cruise appropriate for your preschooler?
Well, a cruise includes kiddy pools with slides, parks, children's gaming lounges, and special cafes dedicated to kids.
Some themed cruises also offer movie and tv carnivals (Disney cruise). Furthermore cruising from such a naive age will help your preschooler to get accustomed to sailing which would help him/her to defy sea sickness in the future.
Besides, cruising is also an excellent activity for adults as it completes luxury combined with adventure.
Some good cruising companies include Libra Cruise, Carnival Cruise Lines, and Royal Caribbean. Disney cruises are appropriate for themed rides.
6. Parasailing
Parasailing is offered at almost every tourist beach. It is one of the most accessible activities. If you don't know what parasailing is, you can read up on some resources online.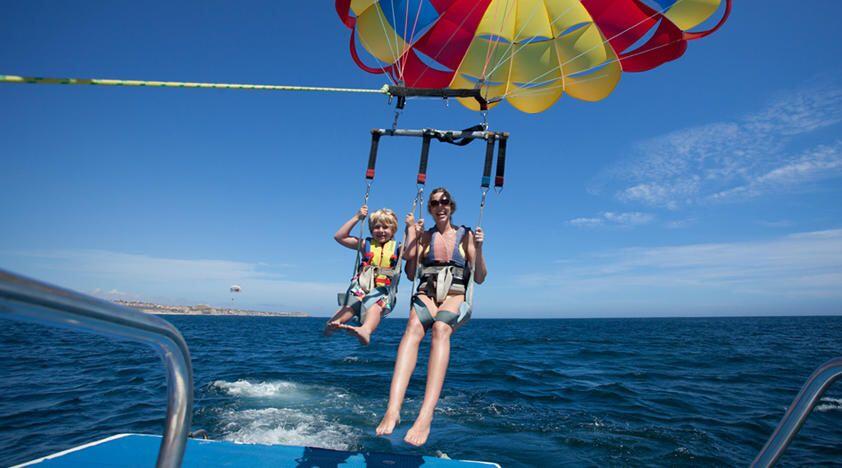 During parasailing, you are suspended in the air from a boat defying gravity. As the name suggests, a parachute is a driving factor in the air while a motorboat zaps through the waves in the waters.  
This is a perfect activity for a preschooler as he could witness breezy thrills. As far as safety is concerned the presence of a lifeguard is always ensured. Nonetheless, basic safety protocols such as the usage of a life vest are followed.
7. Boat Party
Watch your toddlers dance on interesting beats in the middle of nowhere with their friends.
You can rent a party boat and get your Bluetooth music system along to have a perfect sail. Additionally having some good kiddy snacks would add more flavor to this party.
I am confident that this is a perfect activity for some birthday parties & water picnics.
8. Water Zorbing
Water zorbing is another fun activity that will excite your kid. It involves sailing in an inflatable ball. Your preschooler will love this experience as he will get the thrills and frills of his life.
You can plan a water zorbing activity after buying a zorbing ball online. Then you must ensure that the weather is clear and calm. Thirdly, hire a boat/take your own to a lake and enjoy.
There are some safety precautions that you should take:
Always get your kid to fasten his life vest.

The weather must be calm. Too windy or rainy weathers are highly dangerous.

You must read all the instructions and adhere to them given in the zorbing ball manual.
9. Fishing
Fishing is a common family activity for a weekend. Teaching your kid how to fish would be an amazing learning experience for him/her.
Practice is what takes to become a good fisher. Take your preschooler to a nearby lake or river with all your fishing equipment.
Giving your child his own fishing rod might bring about greater interest in the activity in him. Treating him with grilled fish in the backdrop of sunset would add more character to this activity.
10. Pirate Day Fun
"Pirate Pirate!", is a fun game to play if there are many kids on board. Kids can bring flags and enact like real pirates with costumes.
Image Credit: Collier Museums
You can plan a treasure hunt if the ship is big. This game is filled with joy and creates amazing memories. You can also add some spice to this game by playing some pirate-themed music on the music system.
I am sure viewing these activities do bring some ecstasy and drama into your future plans.
Do let us know if you have cherished any of these activities in the recent future.  
Nonetheless, a boat ride might just last for a couple of hours, but those memories would be cherished forever.