"This site contains affiliate links to products. We may receive a commission for purchases made through these links."
Riding a bike is always pleasing and if the bike is BMX, the enjoyment will be increased a lot. This enjoyment can be ruined if you don't choose the right size bike. Riding the wrong size bike is not only difficult but also dangerous for any rider. 
It will worsen your riding performance and lead to severe injuries. For professional riders, riding the proper size bike is much more important. This is because a bike that is too short will feel less stable for a taller rider, while a taller bike will be harder to lift for a shorter rider. 
If you're perplexed about what size bike you should use, read the entire context. Here you will find a complete guideline about the different bike sizes that will help you choose the right bike.
What Size Bike Do Pro BMX Riders Use?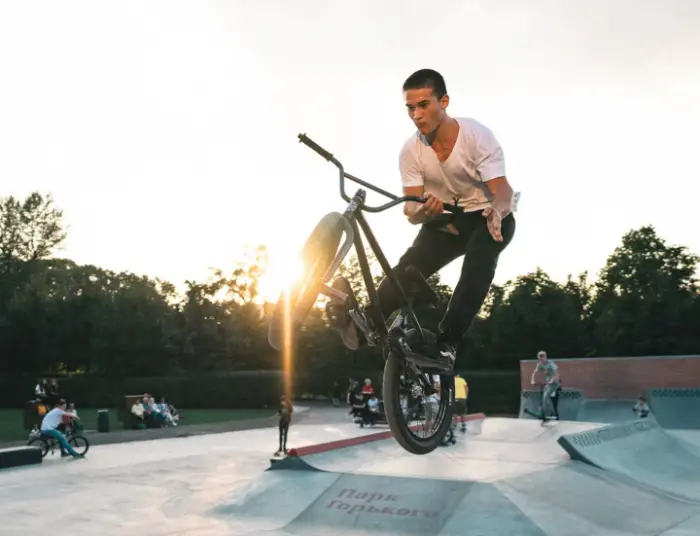 A wrong-size bike adversely affects the rider's body. So, finding the perfect bike size is very important, especially for Pro BMX riders. Which bike is perfect for you actually depends on your body measurement. 
In that case, you need to measure the bike's length and your height and leg height from the floor to the inside of your groin. Then, you have to measure your reach. To calculate the reach, measure the length from your armpit to your fingertips. With all the measured numbers, find your APE index. 
If you found a positive APE index, you can opt for a larger size bike. On the other hand, you should go for a smaller bike if you have a negative APE index. However, we have made a chart of BMX bike sizing for your help. 
Chart of BMX bike sizing
| | | | | | | | |
| --- | --- | --- | --- | --- | --- | --- | --- |
| Rider Height | Frame Size | Toptube Length | Stem Length | Bar Rise | Bar Width  | Crank Length  | Gearing |
| 4'4″ & Under | Micro | 15″ – 16.5″ | 25 – 35 mm | 2″ – 2.5″ | 20″ – 22.5″ | 145 – 155 mm | 41-43 / 16 |
| 4'2″ – 4'10″ | Mini | 16″ – 17.5″ | 30 – 40 mm | 2″ – 3.5″ | 21″ – 23.5″ | 155 – 165 mm | 41-43 / 16 |
| 4'6″ – 5'1″ | Junior | 17″ – 18.5″ | 40 – 45 mm | 3″ – 5″ | 22″ – 25″ | 160 – 175 mm | 42-43 / 16 |
| 5'0″ – 5'4″ | Expert | 18.5″ – 19.5″ | 43 – 48 mm | 5″ – 7″ | 25.5″ – 27″ | 170 – 175 mm | 42-43 / 16 |
| 5'2″ – 5'6″ | Expert – XL | 19.5″ – 20″ | 43 – 48 mm | 6″ – 7″ | 25.5″ – 27″ | 170 – 175 mm | 42-43 / 16 |
| 5'3″ – 5'8″ | Pro | 20″ – 20.5″ | 50 – 55 mm | 7″ – 8″ | 27″ – 28″ | 175 – 180 mm | 43-44 / 16 |
| 5'7″ – 6″ | Pro – XL | 20.5″ – 21.25″ | 50 – 55 mm | 8″ + | 28″ | 180 – 190 mm | 44 / 16 & Over |
| 6″ & Over | Pro – XXL | 21.25″ – 22″ | 52 – 60 mm | 8″ + | 28″ | 180 – 190 mm | 44 / 16 & Over |
Chart of BMX bike sizing
What Are The Different Sizes Of BMX Bikes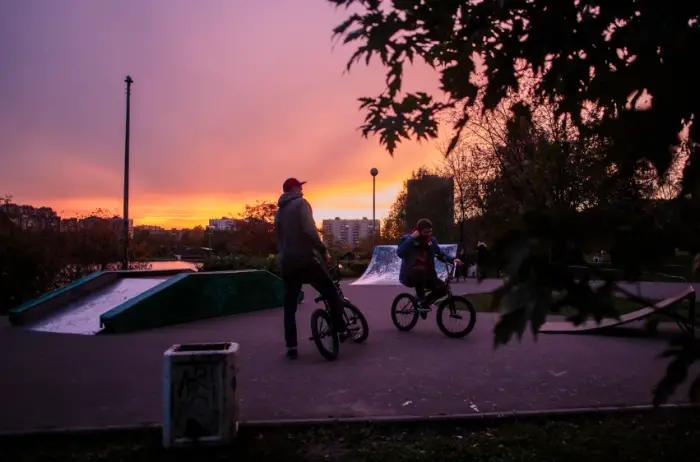 You will find several sizes of BMX bikes in the market, but you should choose one that is perfectly fit for your riding. Here we have demonstrated some common sizes of BMX bikes that will help determine which is perfect for you.
12″ BMX Bikes
This size bike is usually designed for children. For kids 1–4 years old who are showing some interest in riding, 12′′ bikes will be a good option. These bikes are designed with dramatic improvements so that children's feet can touch the ground easily when sitting on the seat. Besides, the handlebars of BMX bikes can easily be adjusted, so the rider can hold the bars comfortably.
14″ BMX Bikes 
14″ BMX Bikes are a little larger than 12″ BMX bikes. These bikes are usually made to fit kids who are tall, between 90 – 130 cm. The alloy frames and bridge of this bike make them heavier and more durable than 12″ bikes. For that, 14″ inch bikes are good for learning tricks and having much confidence on larger ramps. 
16″ BMX Bikes
16′′ BMX bikes are ideal for children between 3'7′′ and 4'6′′. At this height, a 16″ bike will be right for 5 to 8 year old kids. These bikes are designed with Chromoly frames, 3-piece cranks, sealed bearings, and normal 20-inches hubs. Riding on the ramp, street, and dirt will be easier with these bikes.
18″ BMX Bikes
These bikes are typically designed for riders who are ready for a 20″ bike. 18″ bikes are usually designed with the same quality as 20″ bikes. For that, riders who are tall between 130 – 160 cm or 7 – 13 years old can easily ride these bikes. The high-quality materials and design of these bikes make them lightweight and versatile.
20″ BMX Bikes
20″ BMX bikes are ideal for children aged between 7 and 8 years old. But adults can also ride this size bike by wearing appropriate safety gear. This is because the smaller wheels of these bikes require a lot of balance and coordination to ride the bike safely. However, most riders prefer these bikes for their variety of frames.
22″ & 24″ BMX Bikes  
These sized bikes are made for taller riders that have sufficient of a sore lower back. Riders who are 170+cm are easily ridden 22″ & 22″ bikes. Besides, the high-quality components of these bikes make them more durable and last longer. For that, adults can use these bikes as regular commuters. 
Why Do You Need The Right Size BMX Bikes?
Picking the right size bike is crucial, especially for pro BMX riders. Otherwise, there will be a high chance of not getting proper balance while riding, which may result in injury. Some common problems with riding a wrong size bike have been described below.
Lack Of Control
It will be difficult to maneuver and control balance while riding a wrong size bike. This can seriously affect your riding speed and comfort. You may also have to face different unpredictable things with the wrong size bike. For example, lack of control over your bike can lead to serious accidents and getting injuries.
Back Pain
Riding the wrong bike will leave you with poor posture, causing pain in your lower back. For example, if you have a bike with a large frame, you will need to lean forward to reach the handlebars. Besides, if you bike on aerodynamic bars, the position of riding can strain your neck and upper back, which leads to back pain.
Sore Wrists And Ankles
If you ride with the wrong bike for a longer time, your elbows will lock, and your wrists will be bent. Riding this type of bike will put a lot of stress on your ankles and wrists. Additionally, if your bike's frame is too large or high, it will cause you to lean your body forward. As a result, much pressure will be put on your wrists, causing sprain in your ankles.
What Factors Are Related To The Right Size Bike?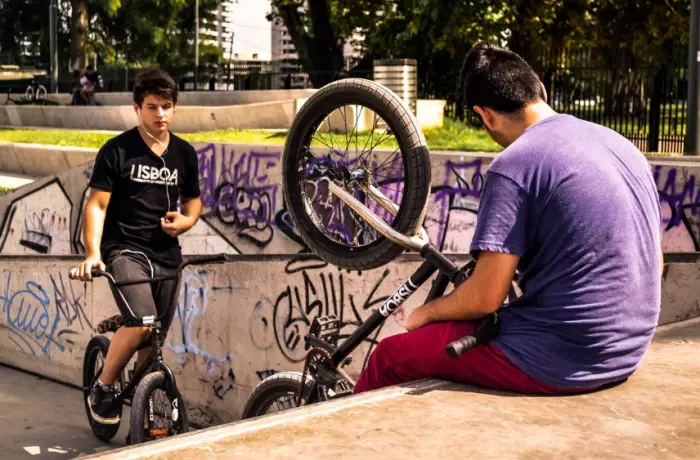 While sizing a bike, you will have to consider several factors that help you get the right bike. Some significant factors related to the sizing of a bike have been explained below.
Frame Size
Riding with the wrong frame size can cause lower back pain. The frame is actually the top tube of a bike which helps determine whether your body is straight with the bike. It is the main part of a bike that enables slight modification in stem length, handlebars, and saddle setback. 
Besides, the frame helps to know how far or close the handlebars are from your sitting position, which affects your bike handling. For that, your riding comfort, speed, and safety will completely depend on the frame. So you should consider the size of the frame while choosing a bike.
Wheel Size
The size of your bike's wheels will determine how much rolling resistance you get on the road. If you have bigger wheels, you can easily overcome bigger obstacles. So, choosing the right wheel size is crucial to determining whether your bike will meet your needs and fit your riding style. For taller riders, bikes with wheels size 20″ or above will be ideal. On the other hand, shorter riders can ride bikes with 16″ or 18″ size wheels.
Rider Height
Standing over height is usually measured from the top of a bike's top tube to the ground. Normally, riders with longer legs require longer top tubes and vice versa. For optimal size, your crotch and the top tube should be separated by a few inches. 
If your height does not fit a bike's frame, you will encounter different injuries and be deprived of overall comfort and performance. In that case, riders should choose a bike according to their height and riding styles. 
Conclusion
Riding the wrong size bike will not only carry you forward to different accidents but also harm your riding style. So, if you are a pro BMX rider, you should always ride the proper size bike. However, most riders find it difficult to determine the bike size.
For that, you have explained what size bike will be best for BMX riders in this context. Typically, bike size completely depends on the riders' height. You will just need to measure your height and compare the measurement to the mentioned chart to get the right size bike.