"This site contains affiliate links to products. We may receive a commission for purchases made through these links."
Are you wondering how you can create an RV roof cover over your camper? Do you want to construct a roof cover and you don't know how to go about it?
I know your concern is not just about creating shade, but a roof cover that will give your RV maximum protection against uninformed weather conditions.
You may have come across different ways of covering an RV or the one you have is not meeting the purpose it was created for.
If these and/or many others are your questions regarding building a better RV roof cover then you are in the right place.
A protective shade for your RV is very important because it makes it last longer. It shields your RV from rust, which the major causes of rust are water and sun.
There's an affordable cover you can build that doesn't have to spend much. They're not just affordable but durable and a secure shade for your RV. 
In this article, you will see 10 ideas on how you can create a durable and highly protective RV roof cover for your camper.
Let's get started.
1. An RV Roof Cover Attach to a Pergola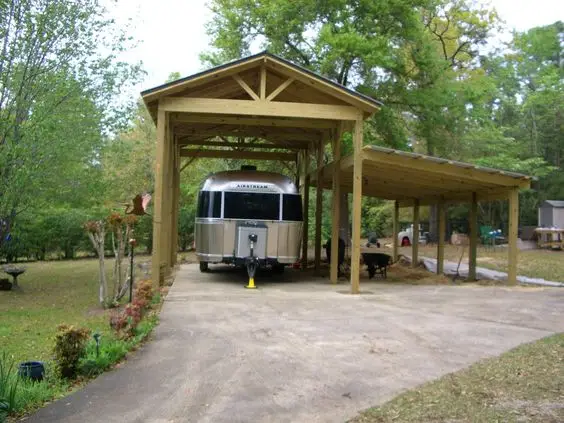 This is one of the newest designs that combine a pergola and an RV shade. This shade is built to serve two purposes. 
First, It creates shade for your RV and at the same time for you. This shade is constructed to also beautify your compound. Even though beauty is an added advantage.
Second, it has a wide range of weather protection over your RV. The shade that comes from this type of roof is wide. Because it has both shades for pergola and an RV.
This is not expensive to build. it is very simple to construct. You can build it by yourself without hiring any labor.
The only thing that requires money in this type of shade is the materials. You can get fairly used materials to build this shade. 
Though it's big but less expensive to construct — and you can build it by yours.
This is a nice idea for parking your recreational vehicle. Because it's attached to a pergola. This shade provides more protection for your RV.
You might be asking "why is the recreational vehicle cover higher than the pergola?" It was built higher for proper ventilation. So that the RV will receive enough air.
2. Front Deck RV Storage Cover
Do you need a deck and RV shade in your compound? But you're constrained by the space. 
You got nothing to worry about because I have this beautiful idea for you. How you can maximize the space in your compound to actualize your dream. 
This is two in one multi-purpose shade. It creates shade and at the same time beautifies your compound.
It's a little bit above the ground floor. It has a staircase you can use to go up the deck.
This structure adds value to your compound and has the same use for packing RV and relaxation. 
The creative idea behind this structure is two in one purpose. This type of shade makes your compound the best because of the creatives behind it.
With this type of cover, you will still have s space for other things. No space is too small but how to economize matters the most.
Front deck RV roof cover for multiple functions. It's one in all shade design to create both shade and a place for relaxation.
This idea is mainly for those who don't have enough space in their compound.
This is a simple deck and front shade built to provide shade for both RVs and humans.
The deck is raised from the ground floor. It has a staircase to climb the deck. When you are on top of the deck you can easily go inside your RV.
3. A Story Building Shade Cover For an RV
Are you concerned about customizing your own RV cover in your own way? Have you thought of constructing a story building that has an RV parking slot under it? 
Do you know you can have a house that provides both shade and RV cover? Adding value to your compound is important — an RV shade is most important. 
This is a story building having a down floor for an RV cover. The top is a complete building for a home. It has a 
This is a creative idea to enhance your compound and is a way of bringing an expression of beauty to your compound.
It is not just beautifying your compound, but also providing a maximum shade to your recreational vehicle against the harsh sun, UV, wind, etc.
It's a customized building for both an RV and a house. It's specifically constructed to have an RV under it while the top is for a house.
This is one of the best ways to maximize your compound. Give your compound an expression of beauty and amazing structure. 
4. 3-in-1 RV Shade Roof Cover
This structure is meant to provide shade to all your recreational vehicles. It doesn't matter how many recreational vehicles you have. This structure will accommodate it all.
You don't have to waste that one dollar since there's a less expensive way to build the shade that will accommodate your Rv.
This is affordable and achievable. This structure is a 3-in-one roof shade for your RVs. you build it by yourself. Even though you choose to hire labor it's very cheap.
With 8 pieces of column timber wood, you have the poles bar. To frame it doesn't require too much wood as well. This is an amazing recreational vehicle shade cover. 
This is a poles bar structure designed to occupy all your campers. Irrespective of the number of campers you have, this type of structure can contain them.
You can decide to expand to any length you desire. The expansion depends on the number of RVs you have. Also to expand it, you need to increase the materials.
A 3-in-1 RV shade roof cover is very easy to construct. Get a timber column wood and frame it. After the frame, roof it with your desired roofing.
5. House And RV Roof Shade Cover 
You can build this type of shade for your RV. It has a house and a parking space for an RV.
The recreational vehicle is not just protected from the unannounced weather conditions, but also in the safest place.
The structure is an iron frame pergola. Design to create a shade for your RV and also for the house. This house can either be used for residential or offices.
The recreational vehicle is well protected. Because it's protected from the side the weather element can come from. The build protects the recreational vehicle from ultraviolet sun, rain, and wind.
This is designed for those who want to always stay with their RVs. since the shade house both the house and the RV shade.
6. House With RV Cover
Are you concerned about the length of your recreational vehicle? Are you worried about the cost to build such a magnificent shade cover for your RV because of the length?
This type of shade roof cover is designed to meet your desire. You don't require much material to build it. 
This is a pole bar shade structure built with fiberglass. Both the body and the roof is built with fiberglass material. The roofing materials are durable and strong against the weather.
You can use fairly used materials to construct the shade. It's not just affordable but it shields an RVs off weather damage. 
The fiberglass materials reduce the heat that comes directly from the sun. it regulates the weather condition to the point of making it favorable to recreational vehicles.
It's affordable and durable. No matter the size of your RV this structure is designed to cover it properly. You can build this type of shade structure today to cover your building.
7. Roof Cover Shade Deck Under a Tree
This is a simple recreational vehicle cover built to provide a shield for your camper. It's under trees because the trees also protect the RV from the weather conditions.
It's a bar pole structure built under trees to provide a shade for an RV. It's a pergola structure that has a two-size roof. 
This roof cover construction it's under the trees to ensure your recreational vehicles have a complete shield from the weather.
The roof cover structure has a low deck at the front for your relaxation and meeting with friends.
The trees help also to shield the recreational vehicle from the ultraviolet heat from the sun. Make sure the camper it's always in a cool environment. 
This simple RV cover structure that's designed to serve a multipurpose function. It provides shade for the RV and for the deck. This type of structure is called a 2-in-1 structure roof cover structure.
The construction of the structure it's affordable. It's a pergola form of roof cover built to pack your RV and place for relaxation.
The structure is a two side roof because of the function is meant to serve. It has a zinc roofing sheet that is built to provide a complete shade for your RV. 
8. Pergola Roof Shade Cover
This is for those who may not like zinc roofing sheets to roof their recreational vehicle's house build.
This structure gives the RV owner the opportunity to roof the structure with whatever roofing sheet they desire.
It's a self-construction structure. It doesn't require any labor. When building this structure you request the help of your family members.
You don't need to worry about how you will cover your RV structure. With this idea, you have all you need to provide shade for your camper. 
This is a simple and self-constructed building, designed to provide shade for RV. it's a complete pergola shade cover structure.
This is one of the cheapest RV roofing cover ideas. It's affordable and easy to build. All you need to have this structure is the wood, nails, etc. 
Once you're done with the construction of the frame you might decide to roof it with anything you desire.
9. Slope Roof Cover Shade 
This is one side slope roofing cover shade for recreational vehicles. The sloping roofing is used to control the direction of the rain.
The structure is simple and cheap to build. It has a one-side cover and a deck at the front.
One side of the structure is covered to protect the RV from direct sunlight.
The front deck is to serve as dust and dirt protection for your RV. the construction of this structure is dependent on the size of your recreational vehicle.
What you need is the pole bar and the roofing sheet. Since it is a one-side slope pole bar, the materials for the construction are not much. 
Once you have the material you can get work. The building is very cheap and affordable. 
The roofing sheet is an aluminum roofing sheet. You may roof your structure with another roofing sheet you might want to use. This depends on the cheapest roofing sheet in your area. 
You can build this structure this way. Let the back bar poles be a little bit higher than the front ones. 
The back is the direction of the sun. You might use three bar poles for the back and three bar poles for the front.
The bar poles are a bit higher from the front pole because that will make the rain flow down in one direction.
You can use cement concrete to stand the poles. Ensure the poles are strong before you start framing the top for roofing.
Once you are done framing the top for roofing you can then go ahead to roof with any roofing sheet you desire or affordable in your area. 
10. Simple Pergola Roof Shade Cover
This is a simple and beautiful RV roofing cover for your recreational vehicle. The ground floor is to protect the tire from air deflation.
It's a pergola form of structure that is built to save your RV from being damaged by the weather conditions. 
Even though it is simple, you might not be able to roof it. Building this structure cover for your RV hire someone who knows how to roof.
When you join the person you will be able to complete this type of structure in one day. Once the building materials are available.
Conclusion 
Now, you know how to build your recreational vehicle structure. You can decide to cover the structure with ADCO 64843 Winnebago Travel Trailer RV Cover materials. You may not need to leave the structure bare open. 
You don't have to build or construct an expensive roof cover for your recreational vehicle.
These idea structures are shown here so that you can make your choice. These structures depend on the size of the compound and your camper.
Some structures here are not just to provide shade for your RV, but to also beautify your compound. 
Whatever is your budget you can build an RV roofing cover for your recreational vehicle.