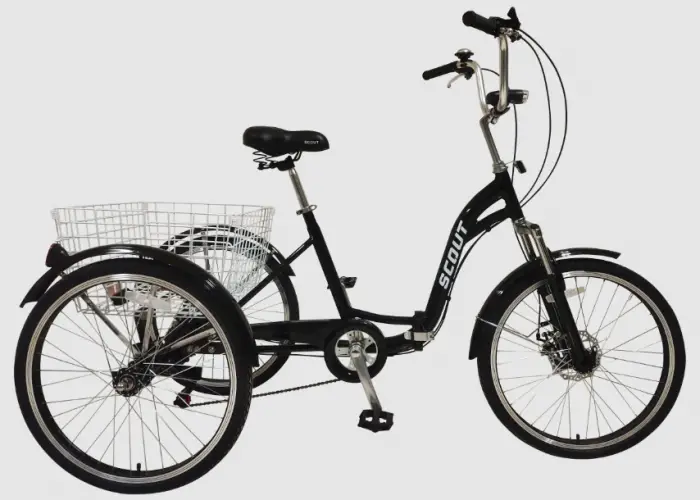 "This site contains affiliate links to products. We may receive a commission for purchases made through these links."
Riding on an adult tricycle is one of the best ways to enjoy your time outside and get physical exercise at the same time. That's why adult tricycles are more popular among adults and families nowadays.
But your tricycle has to meet your safety requirements and comfortability like a scout tricycle does. However, knowing what to look for in a good adult tricycle is very important to ensure that it suits your needs and lifestyle.
Choosing the best adult trike depends on some important factors like its wheel size, weight capacity, speed, comfortability, seat size, height, and so on. In this article, we will discuss how to choose the best adult tricycle. But before that, you should know what an adult tricycle is and the types of adult tricycles. 
What Is An Adult Tricycle
An adult tricycle is a kind of tricycle designed for adults who have balance and coordination problems. It has a single front wheel with two wheels in the back. So, it is a safe and well-balanced ride for both adults and seniors.
Adult tricycles are meant for people over the age of 18 and are great for people who want to get some exercise and have fun at the same time. Adult tricycles can vary in size from small to large. So, you should know what types of tricycles will fit your body before choosing an adult trike.
Types Of Adult Tricycles
Generally, adult tricycles have three types of categories. Upright, semi-recumbent, recumbent. You must know these types of adult trikes to choose the best one for you. 
An upright tricycle is a standard bike. It is larger than two other types and its upright position, seat and handlebars make it easier to see what is happening around you. Its large wheels provide a smooth and comfortable ride.
A semi-recumbent trike is a great option for users who prefer the comfort of sitting back and relaxing. The seats are gently curved backward to support your weight and the pedals are designed for added leg support to keep you upright. 
Recumbent tricycles have more curvature in the seating area. You sit with your legs at a 90-degree angle and the handlebars raise in the back, giving extra comfort and stability while riding.
Factors You Should Consider Before You Purchase The Best Adult Tricycle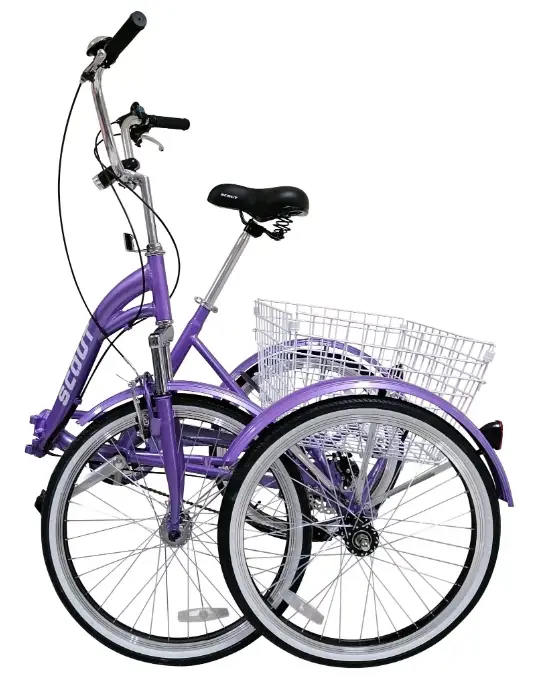 Before you can choose your best adult tricycle, there are a few important things you should consider. Let's discuss the factors below:
Right Size And Structure
The right size and structure of an adult trike are very important for your health. It mostly depends on your height and body type. Back pain, pedaling difficulties, and discomfort may happen if you choose the wrong size adult tricycle.
Weight Capacity
When choosing an adult tricycle, the weight capacity is a key factor to consider. Not all adult tricycles are built to handle the same amount of weight. 
Before choosing an adult, determine your maximum weight limit. Once you know that number, look for a model specifically designed with a weight capacity around or slightly above that number.
Speed
Adult tricycles come with gears that allow them to go at different speeds, making it easy to travel on uneven surfaces and navigate tight spaces. If you want more speed, you can choose low gearing trikes and if you want low speed, you can choose high gearing trikes.
Get Maximum Comfort
Make sure you will get maximum comfort from your adult trike. It is important to choose the trike according to your height, weight, and physical ability.
Wheel Size
An adult trike size mostly depends on its wheel size. The wheel size of small foldable models are from 15 inches to 18 inches and the standard model's wheel sizes are 20, 24, and 26 inches.
If your height is between 4 feet 8 inches to 5 feet 5 inches, then 24 inches wheel size is best for you. 26 inches wheel sizes are perfect for 5 feet 4 inches to 6 feet 2 inches tall people. 
Larger wheels are better for bumpy roads than smaller wheels.
Large Baskets
The adult tricycle is also designed to carry groceries and heavy items in its basket. Generally, the basket is located in the rear area of the trike. But few models have them in the front. The baskets are deep and sturdy enough to carry large items and groceries. 
Handlebar Style
The handlebar style of an adult trike is another important factor you should consider. Handlebars are designed with a classic and comfortable grip to provide maximum comfort when riding.
They are also available with a wide range of height adjustments so that you can adjust the position of the handlebars according to your needs, no matter how tall or short you are.
Height Of The Seat
An adult tricycle seat height should be suitable for your body type and height. Generally, the seat should be at or above the hip level of adult riders so that their feet can touch the ground. 
Accessories 
Accessories are important for any adult bike. It can be used to fit your bike and enhance its overall features. Accessories can be anything from a basket to a ball. You may want to install some lights so that you can ride at night. So, make sure you can add Accessories in your trike before buying.
Conclusion 
Choosing the best adult trike depends on your needs and lifestyle. You can choose a classic sports model with a sturdy frame and seat or choose something smaller and more compact. 
It can be a little hard to choose the best adult tricycle. But with the proper knowledge of how to choose the best adult tricycle and What essential factors you should consider before choosing the best adult tricycle, you can make it easy for yourself.