"This site contains affiliate links to products. We may receive a commission for purchases made through these links."
One thing is always clear for people using an RV shower – innovation and new remodeling ideas. If you feel that the shower of your RV is old, simply adopting a new idea can help you live comfortably in a travel trailer.
When talking about the benefits of DIY RV showers, the information is endless because new remodeling trends keep springing up on a daily basis.
In this article, you and I will explore top do-it-yourself RV shower remodeling ideas in the world, and together, we'll make your camper a great haven. Are you ready?
Note: All images lifted from https://roomadness.com
1. Well-polished plywood can be used for the construction of your RV shower space.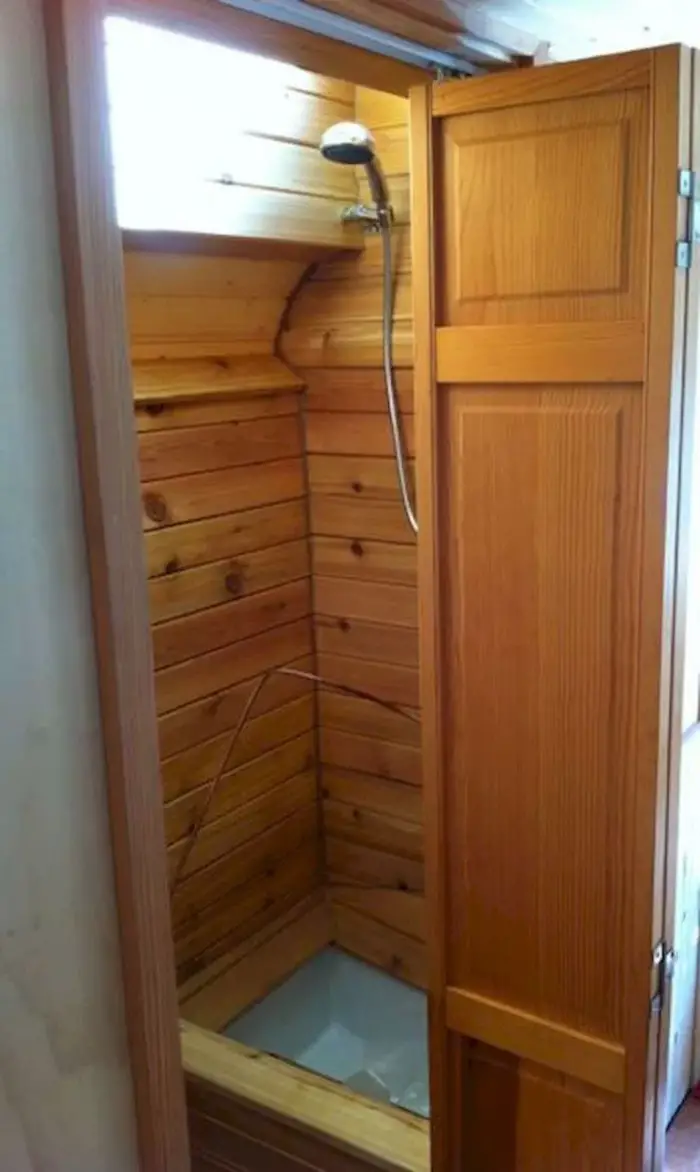 The plywood will help to create a doorway and a bathing space. The shower can be hung at the side of the bathroom door from a sustainable height to ensure a free flow of water.
Put lighting on the ceiling area of the RV bathtub for easy movement during nighttime.
2. This portable and well-defined RV shower idea can be applied somewhere close to the dining set of your camper.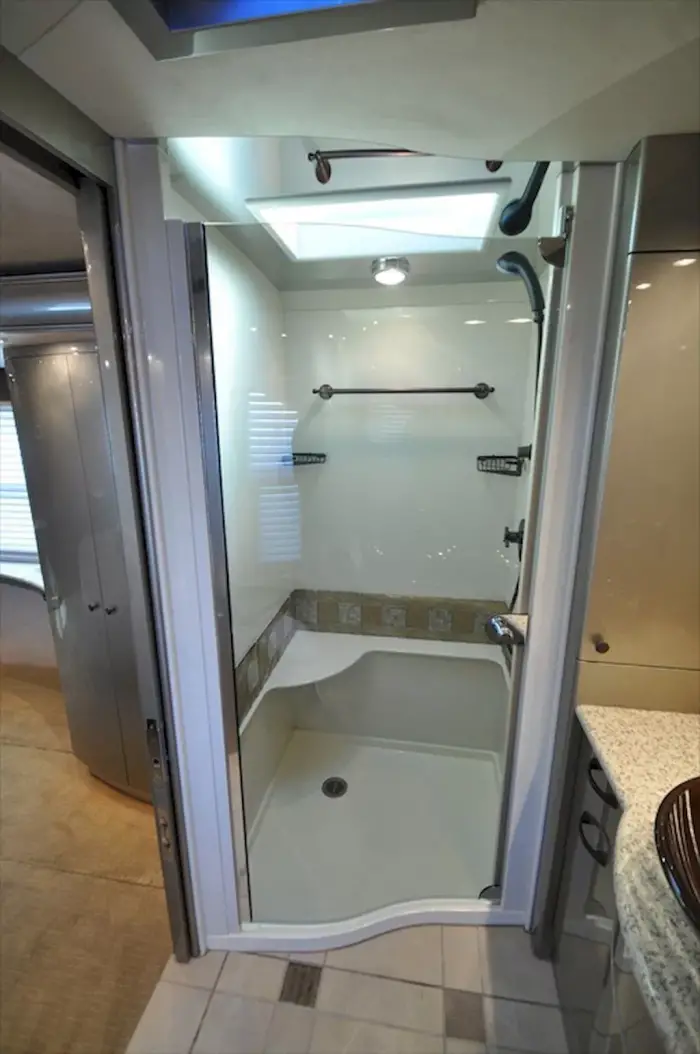 Place hangers on the wall of your RV bathroom to help secure clothes, towels, and even bathing items. Right on the floor of your bathtub, ensure a small hole is inserted to allow the free flow of unused water.
3. It is always fascinating to create a bathing space out of nothing when you own an RV.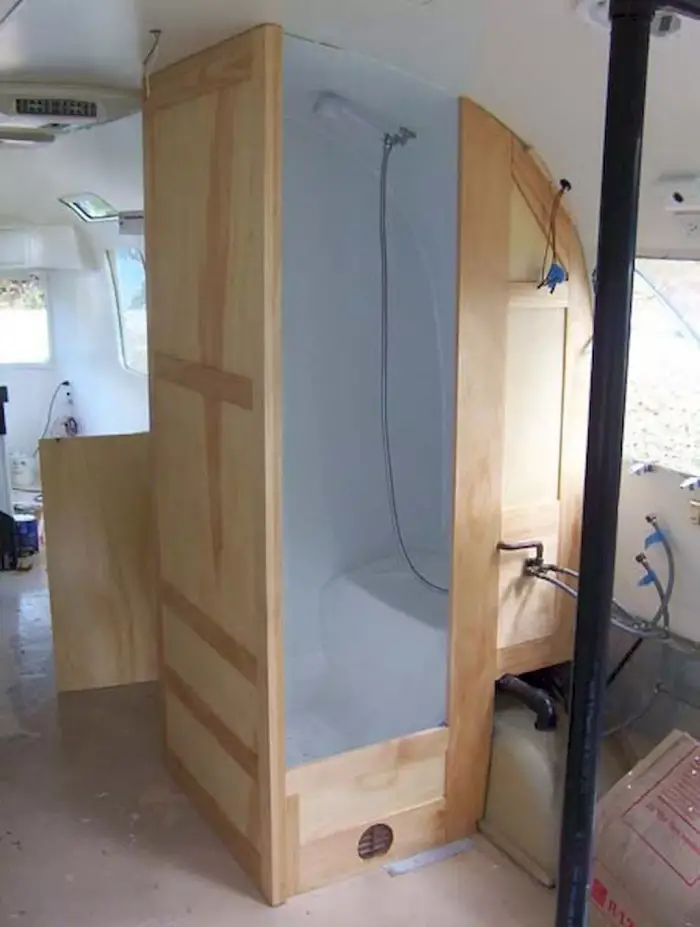 This amazing approach can be used almost in any section of your RV. Near one of the windows of your RV, strategically use plywood to build the door and floor of your bathroom.
Ensure that the shower string is well-positioned at a height to make the water passage easy to follow.
4. Right by the side of your RV bedroom, there is always a better position to create a bathing space.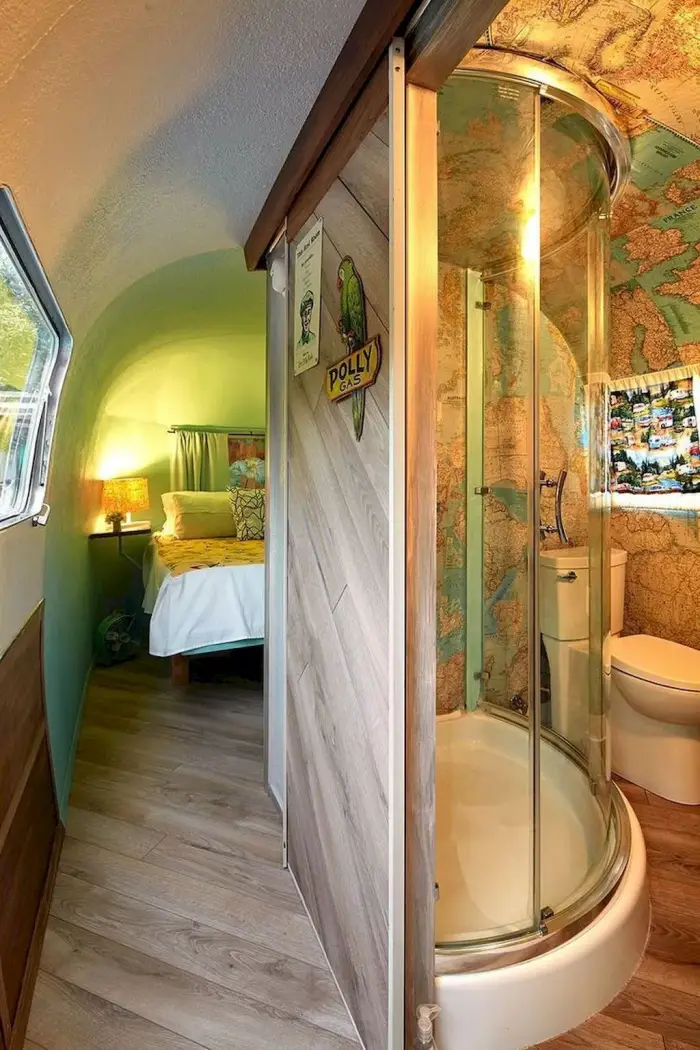 This magnificent glass shower idea can also contain a WBC system, wall mirror, and a top-notch pan where you can have your bath.
The outside floor section of the bathroom can be designed with well-polished plywood to withstand any resistance.
5. Do you know that the concrete floor for your bathtub can last for a long time?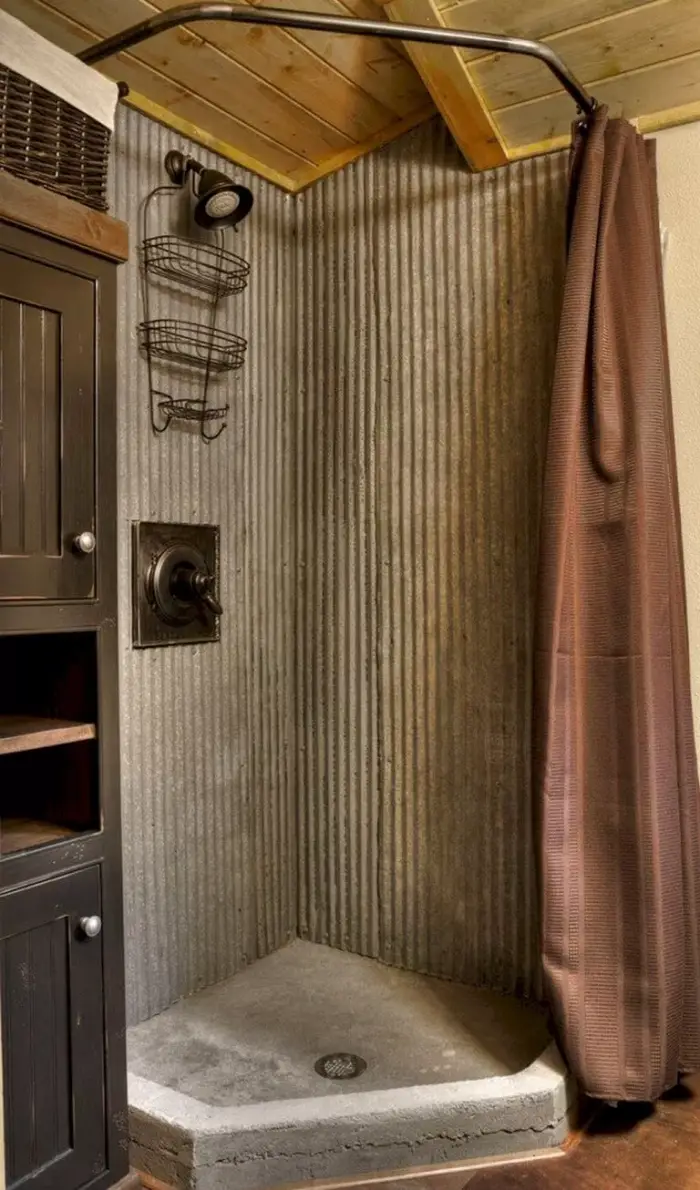 While you may think it is impossible, this idea speaks volumes. Simply use a well-curved iron material attached to a comfortable spot near the ceiling section of your RV and add a curtain for protection.
Hangers can as well be positioned at any point of your preference to hold soap cases in a cupboard to store other important items.
6. Taking advantage of the small passage area of your RV can help create a tiny home bathroom that converts.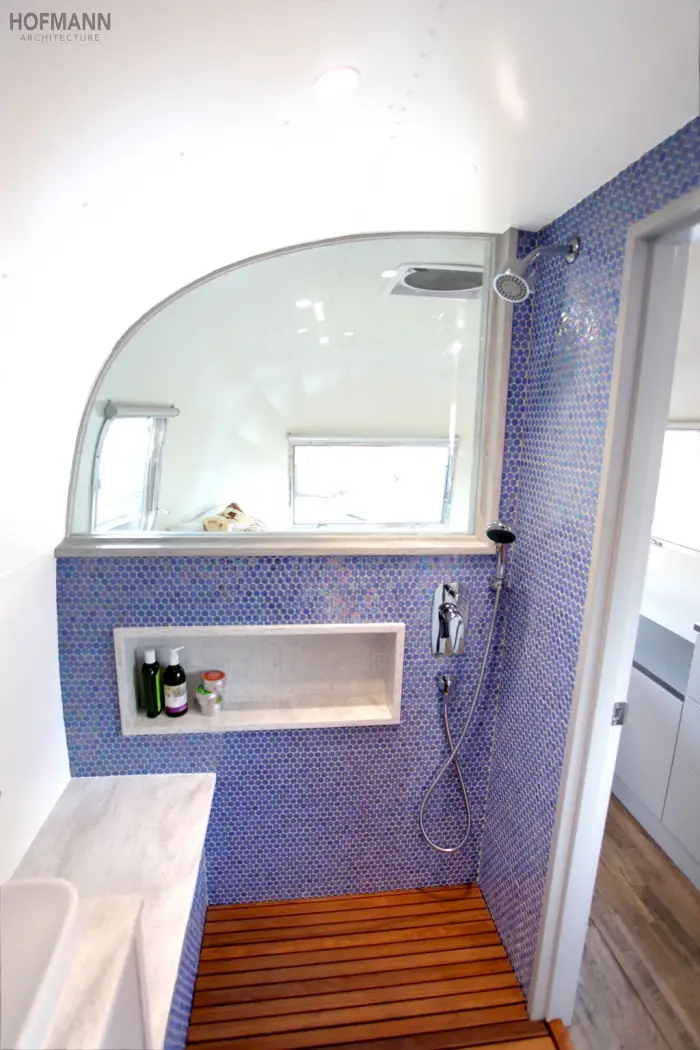 Fix your shower at a simple angle near a mirror shelf and beneath cut out a box-like area to accommodate bathing items.
The floor can be plywood while a sitting area can be designed to make you comfortable when bathing.
7. This tiles-like RV shower idea will blow your mind with total joy.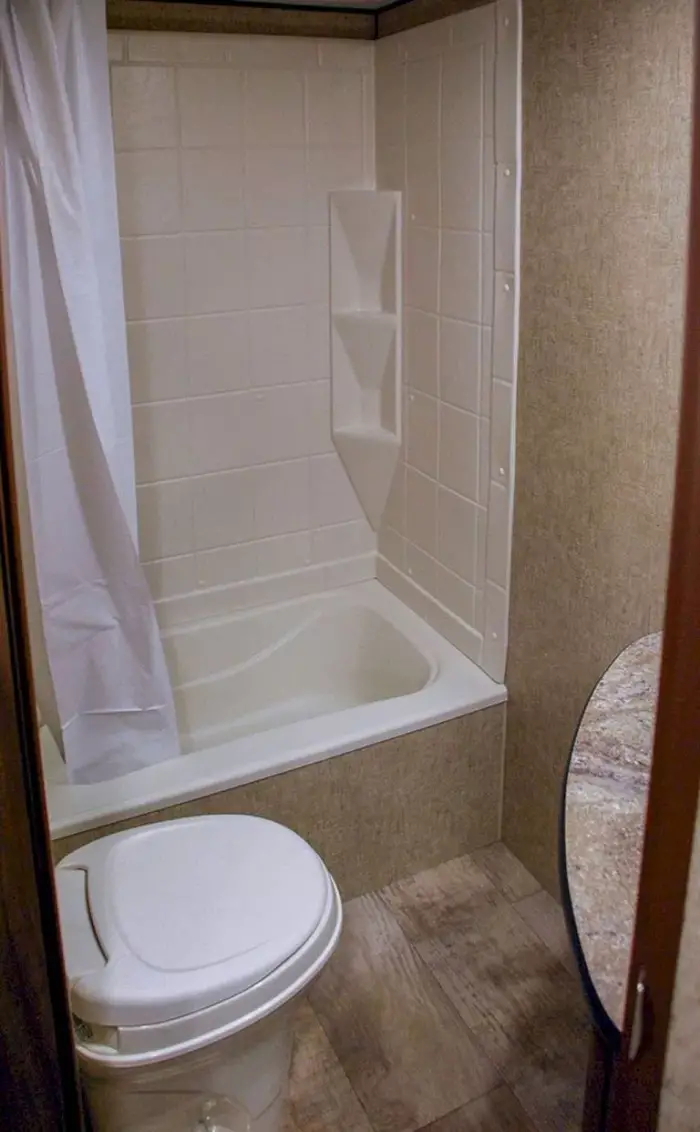 Place a bathtub in a comfortable area in your RV and close with a white curtain. This setting can also contain your toilet seat along with a table to keep bathing materials.
The external area floor away from the bathtub can be designed with polished plywood to create a smooth feel.
8. It will be a wonderful experience to have your bathing section of an RV near the kitchen.
With this idea, you can position your bathroom sink, toilet seat, and free space for a bath. Hangers can be positioned as well to retain clothes and other important items. In fact, you will be able to see your kitchen directly from the bathroom.
9. As mentioned above, the ideas for your RV shower are endless if you can add a bit of creativity, innovation, and decency.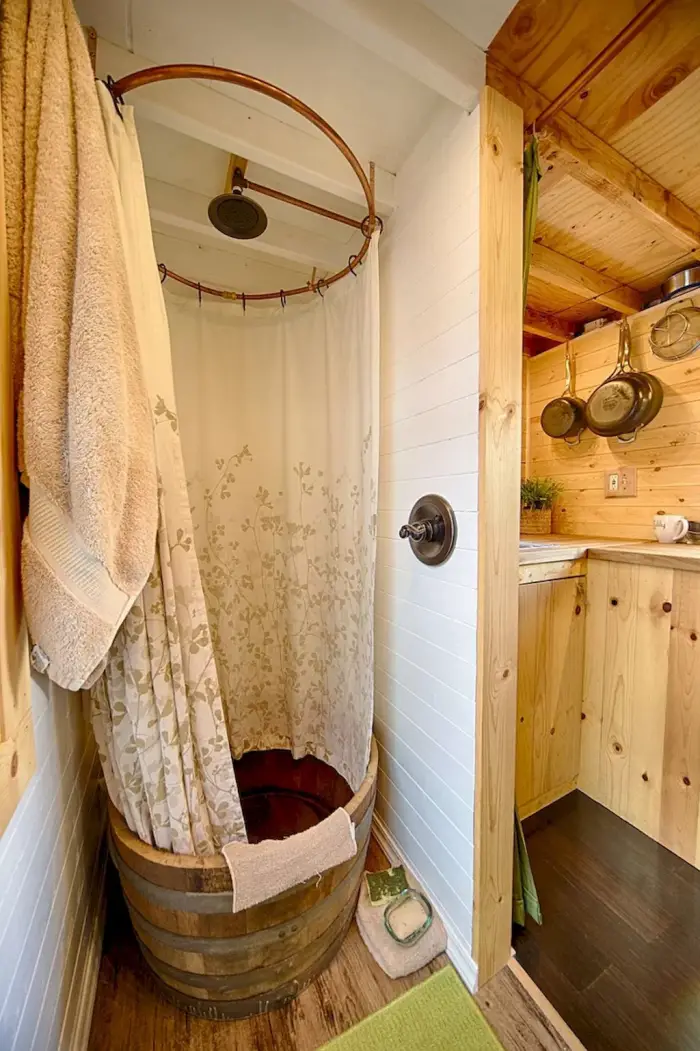 This RV shower approach includes a bathing bucket with a ring that holds your curtain.
The shower is suspended in the ceiling of the RV with a towel and other bathing items hung on the wall. Make the walls of the bathroom feature some tiles with a wooden floor.
10. If decency is what you need, then simply find it in this RV shower idea.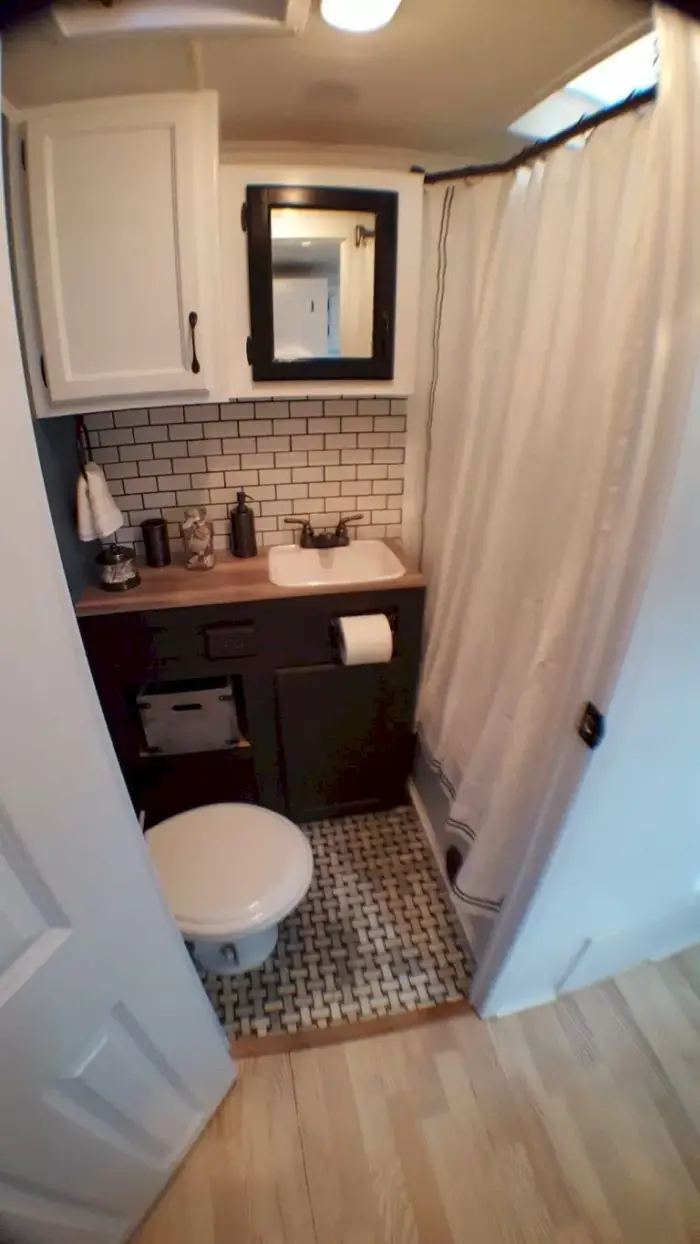 Place a plain shelf near the wall to hold bathing items and put a small cupboard that also displays your mirror.
Beneath the cupboard, design a brick-like wall to give your bathroom a nice fit. Put the toilet seat in a good position and cover the entire place with a curtain.
11. This is an all-glass experiment for your RV bathroom.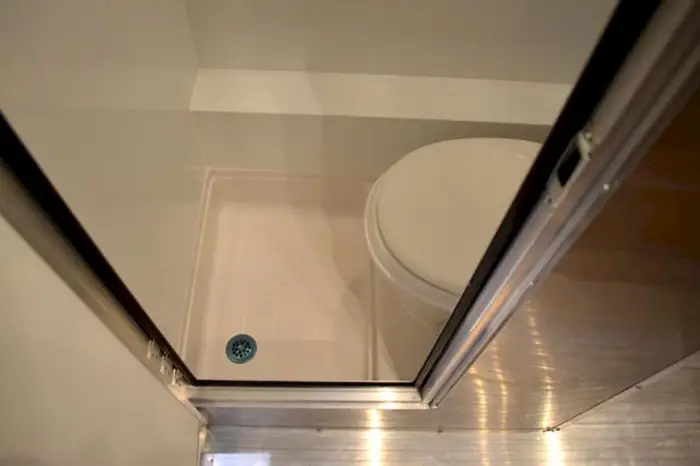 The toilet seat is well-positioned in its place along with the bathtub has a small hole for easy flow of water. A seating section can be designed to help you rest or relax when required.
12. If there is something more perfect for an RV fan, then this shower idea remains a great choice.
Right in your kitchen, a bathing bucket can be converted into a useful spot. Make a ring-like curtain to cover the user and start using the system immediately.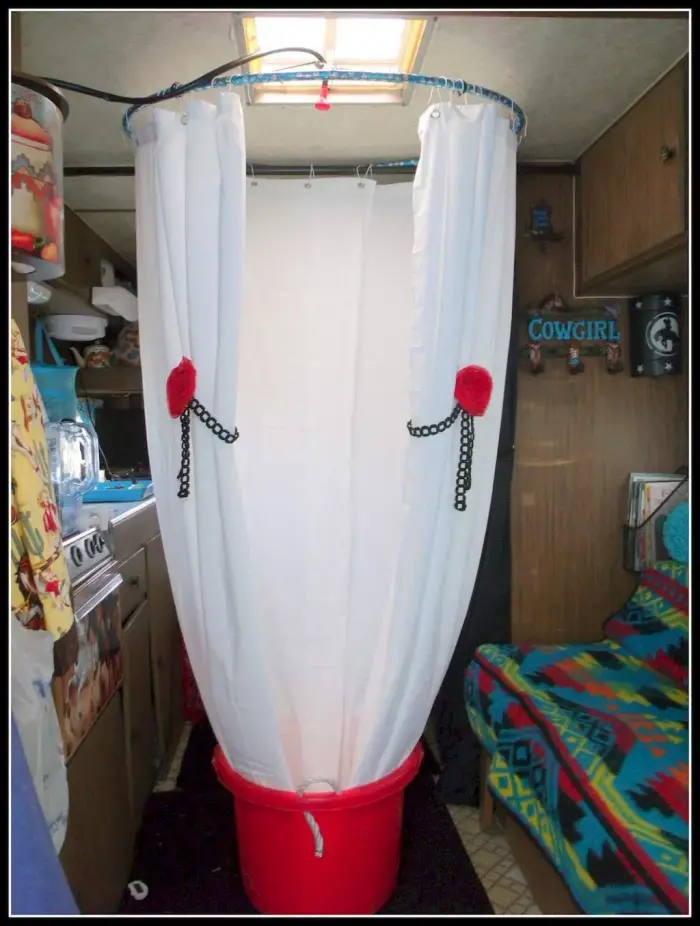 13. Do care much about efficiency in your RV bathroom? This bathing design will ring perfectly for users that want to have it created with a total exception.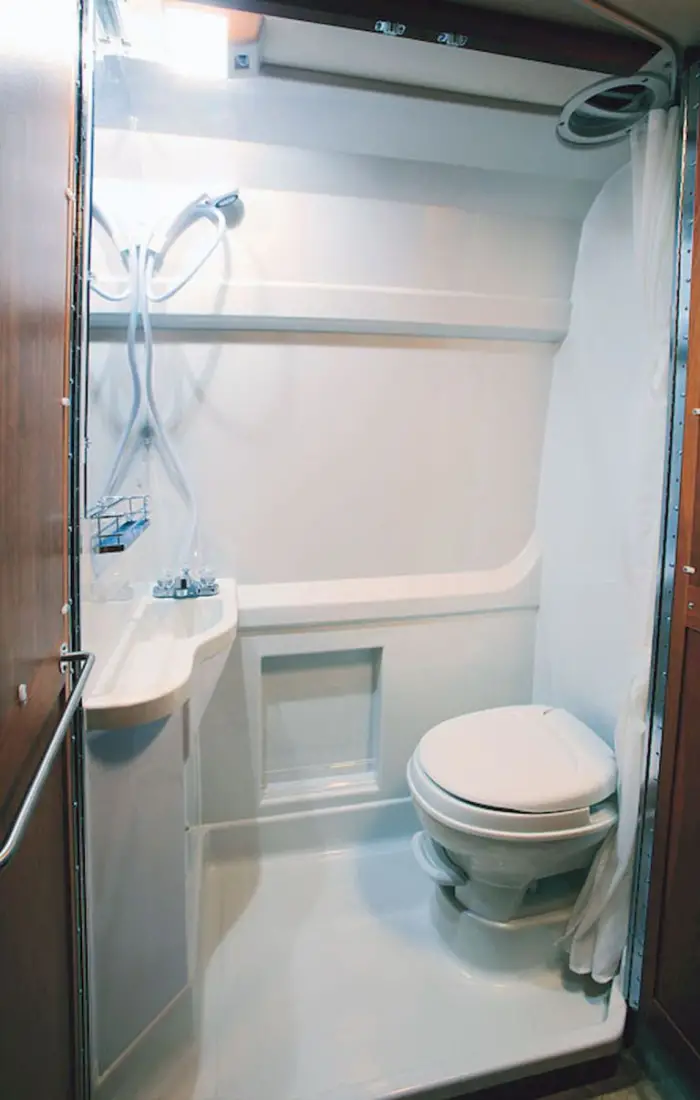 The sink is positioned opposite the toilet seat and your bathroom mirror is perfectly above it. The bathtub is also positioned to accommodate any movement of users.
14. This shower idea involves making the wall with metal sheet zinc material.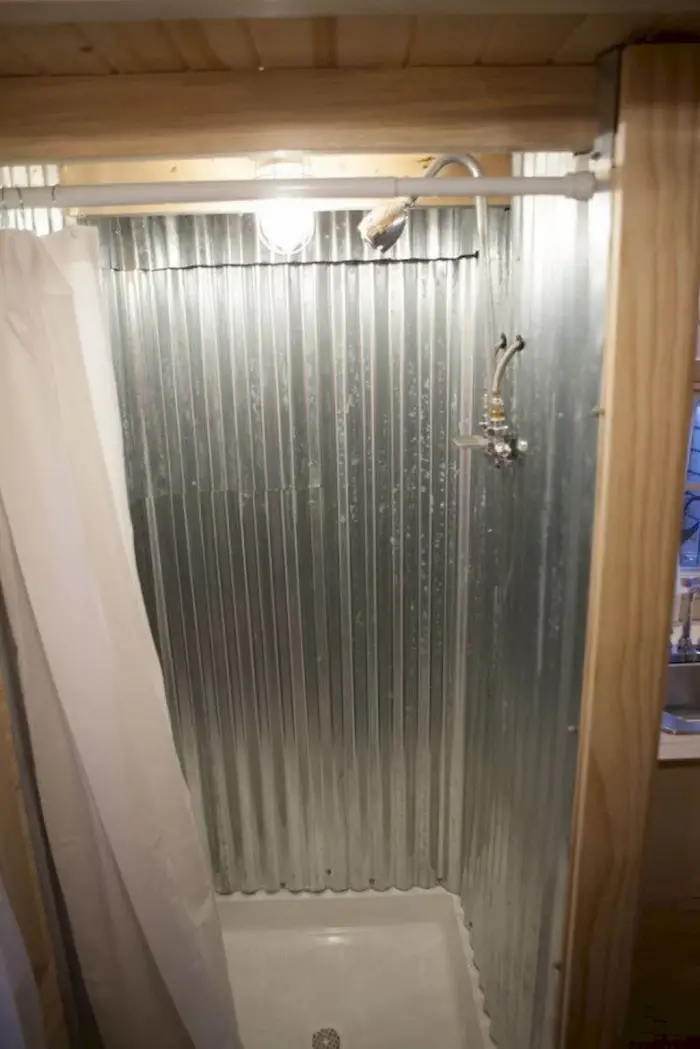 The bathtub is placed on the floor and curtailed for further protection. Ensure that the zinc sheet used for designing the RV wall is attached to plywood for a firmer grip.
15. With this RV shower idea, beauty is at its best. The wall is made of tiles reaching the bathtub position.
The shower is suspended from a comfortable height to make it easy usage.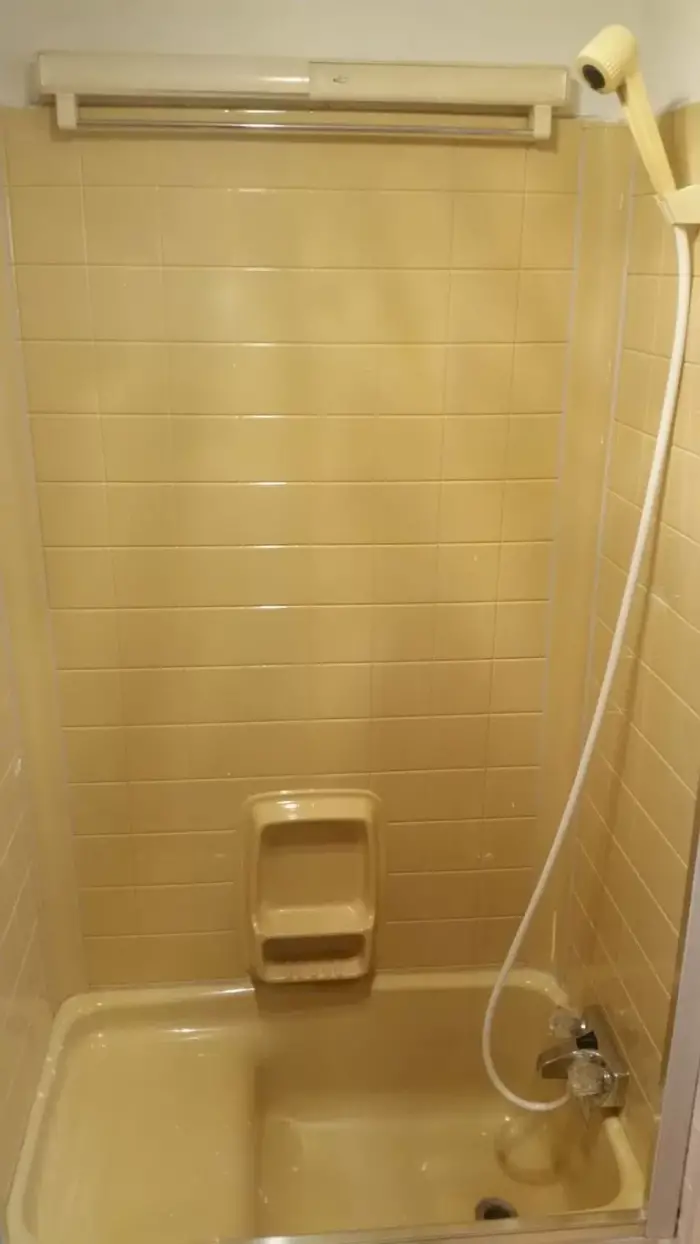 RV Shower Pan
The RV shower pans often come in different sizes and shapes. Buyers can find the material in both the ABS and fiberglass options.
The type of RV shower pan you want will always be dependent on your immediate and structural needs.
Homemade RV Shower
A homemade RV shower can simply be called a do-it-yourself alternative. It is your creative idea that helps a homemade RV shower works. Great examples can be found in horse trough shower pans, corrugated metal showers, and wooden barrel showers.
Wrapping it Up
There you have it. The best RV shower remodeling ideas you can try today. By checking the accompanying images, you will get a comprehensive view of the best idea to use.