"This site contains affiliate links to products. We may receive a commission for purchases made through these links."
What is the best inflatable paddle board under $400?
Inflatable paddleboards are easy to use and have lightweight. They are incredibly versatile and will give you the best experience. 
If you want to paddle for long, you can buy an expensive paddle board.
If you're going to enjoy yourself or you have a constrained budget, the manufacturers have the right one for you.
It will have cheaper materials and accessories, or the size will be a bit smaller.
Qualities of A Good Paddle Board
1. Thickness: If you want to avoid sagging and have stability and versatility, ensure that your inflatable paddle board is 6 inches thick. 
2. Width Are you a beginner and want to enjoy being in the water, ensure that your paddle board is 30 inches wide.
3. Length: You should go for an inflatable paddle board that is more than 10 feet. It will increase your stability, thus giving you a quiet time in the sea or ocean.
4. Drop-stitch design: These stitches make your inflated board more solid. To bottom and the top is held together by the hundreds of the drop stitch design.
5. It must have a double PVC layer.
6. At the back of the board, it should have a valve hole.
7. D-rings: They help you to store things on your board.
To get this combination, you require to pay a massive amount of money that is not in your budget. If you intended to buy one that is below 400 dollars, here is a list for you to choose from.
1. Bestway-Hydroford Waveedge
It has a thickness of 4 inches. It feels sturdy though it is not like using one with a thickness of 6 inches.
If you want to go to the lake or the ocean, it will fit well in your car. You will not struggle to carry it. Its benefits include:
1. In its bottom, it has some molded fins-With a price below 400 dollars, you can hardly find an inflated paddle board with the molded fins. If you are not sure which one to choose, then this one is the best one for you.
2. It has bungees — They will help you to strap your things to the surface.
3. Essentials — Surprisingly, at that lower price, it will come with a pump that has a pressure gauge and some detachable fins.
It will also have a paddle and D-ring that will help you to hook your things on its surface board.
Disadvantages
a) Small size: Compared to the best-inflated paddle board of 30 inches wide, it has 27 inches. It has a thickness of 4inch and is 10 feet long.
b). Not suitable for people with more significant weight: If you are a teenager or someone with a weight less than 175 pounds, you can comfortably use it.
If your weight exceeds 175 pounds, you will start sagging in the middle. You can be okay in flat water but will bend as waves start forming.
c. Though it comes with a paddle, it's not sturdy.
2. GoPlus Paddleboard
With a budget below $400 U.S. dollars, you can get at least five different models of the GoPlus.
Their main differences are color, size, and fins. They have different colors, two of them being longer (11 feet) and having different amounts of fins.
If you want a larger model, you can choose between two models. They have a length of 11 feet, 6 inches thick, and a width of 30 inches.
The two are slightly bigger than the other three models whose length is 10 feet, a width of 30 inches, and a thickness of 6 inches.
It is useful if you are much heavier and you have a lower budget. If you put it in your car, it will not take much space.
Benefits of GoPlus Paddleboard
a. Reasonable price: It has a pocket-friendly price and comes with excellent packages. You will get a paddle, bag, leash, bungee cords, and molded fins.
b. It has a drop-stitch construction, and it is highly durable.
c. Its thickness is perfect; 6 inches.
Disadvantages
1. Its pump and nozzles are poorly made
2. Printed dimensions on its side.
3. Detachable fins- They can bore you since you have to put them on and off.
3. Aqua Marina
It has two models. The first one is called the breeze, and the second one is vapor. The breeze is suitable for people with a weight of not more than 150 lbs.
When using it, you quickly get wet since the water gets on the top of your board.
The Benefits of Using Aqua Marina
1. It has a double wall and drops stitch design. Your board will hold more air, and when inflated, it gets more rigid.
2. Good package-It has a pump, fins, and paddles.
3. 7 D-rings
4. On its back, it has some air holes.
5. You can easily roll it up since its fins are removable.
Disadvantages
1. Unclear product design: The manufacturer doesn't give clear information about what you expect to find inside the board.
2. 4 inches thickness: Thickness comes with stability and versatility. Because of its lower thickness, people have given it bad reviews.
3. Even if it has a PVC drop: stitches, it still feels flimsy.
4. There are complaints that the board of the Aqua marina normally forms bubbles and even bumps on its deck.
4. Pathfinder Paddle Board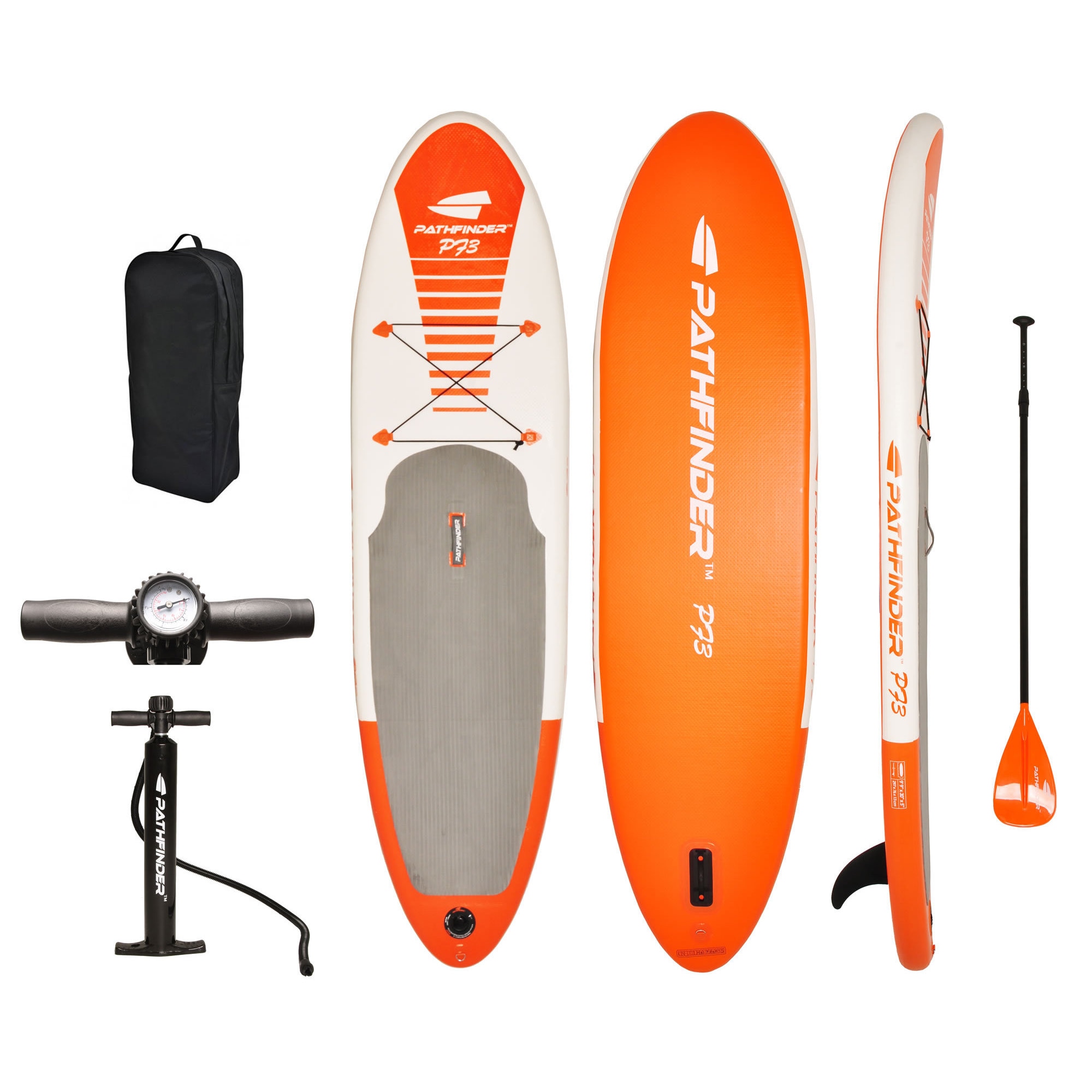 It is unique with a thickness of 5 inches, and 9 feet long. Thou it is small and wider, balancing is not tricky.
Since its thickness is not yet 6 inches, it is suitable for you if you have a weight of 180lbs and below.
You can comfortably lie on it when the water is flat. It has excellent stability all thanks to its thickness of 30 inches.
Benefits
1. It has quality extendable paddles
2. Its PVC materials and the deck pad are of high quality and very durable.
3. It has drop-stitch and proper construction.
4. Sooth rounded side- Moving with it in the water becomes much more relaxed.
Disadvantages
It has only one fin
2. Poorly manufactured pumps and valves.
3. Unlike the aqua marina that has 7D rings, it has only two D-rings.
Conclusion
They say that price comes with quality. Sometimes, it is not always the case. Even if your budget is constrained, you can still get some good inflated paddle boards that are below $400 dollars.
Though they might not have all the qualities of the ideal paddle board you want, you will get the opportunity to enjoy yourself in the ocean.
Some are easy to carry and come with excellent packages that you can't expect at their prices. Next time you go shopping, you might want to re-read this article to help you get the best.