"This site contains affiliate links to products. We may receive a commission for purchases made through these links."
Most people usually mistake hard panniers for soft panniers. But having a clear distinction between both panniers will save you time and money.
Likewise, many find it difficult to know the best adventure motorcycle hard panniers they should buy. That's why I put this write-up together to address the difficulties of knowing the best hard panniers.
In this article, I review the 10 best adventure motorcycle hard panniers, which you can choose from to have a memorable trip.
You'll also learn how to identify the best hard pannier for your next adventure. 
I know there are many brands of motorcycle bags out there, and choosing the right one among these brands is sometimes a challenge.
To quickly help you out, here are the top 10 adventure motorcycle hard panniers:
1. SW-MOTECH TRAX ION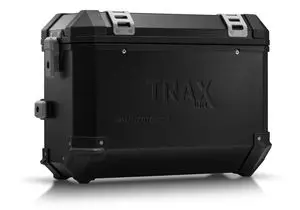 This motorcycle bag is constructed with aluminum. It has a 38-Liter Top Case. It's well assembled and sealed with a robot-welded seams machine.
The edges are sealed with super-strong punch rivet technology, to maintain a complete and durable waterproof.
Weather conditions have no effect on the enclosure. The enclosures are well-sealed and compacted. They have high resistance to water at the same time. 
TRAX ION case edges are fiber-reinforced plastic bumpers, which guard against speed and trail rash on the way.
The cleat is used to secure the case to the rack. The rack is a heavy gauge aluminum that goes around the width of the bag, which helps to distribute the load evenly. 
The bag lock is secure with stainless steel latches. TRAX ION dimension is 16.1″ x 13.4″ x 13″, with capacity of 38 Liters and maximum load of 22 lbs
With this bag, your luggage is secure and safe. Camping with this bag gives you a memorable adventure.
2. M-Wave Amsterdam Hard Box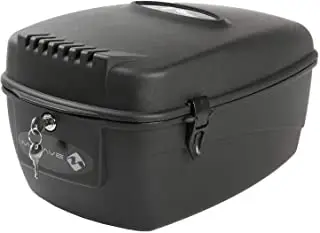 Are you looking for a bag that'll not squeeze your valuables during camping?
M-Wave Amsterdam Hard box is designed with wide interior space to accommodate luggage — this bag will keep your content the way you arranged it. 
It has durable quality plastic that is reinforced. These hard panniers are lockable with 2 keys  — your valuables are well secured with the lock. 
An affordable bag with dust and dirt resistance features. It's constructed to fit any motorcycle carrier rack. This box can fit in properly on most motorcycle racks.
M-Wave Amsterdam hard bag is built with 17-liter capacity storage space. So, with this bag, your items are well-kept during camping.
3. 2PC Motorcycle Synthetic Leather Panniers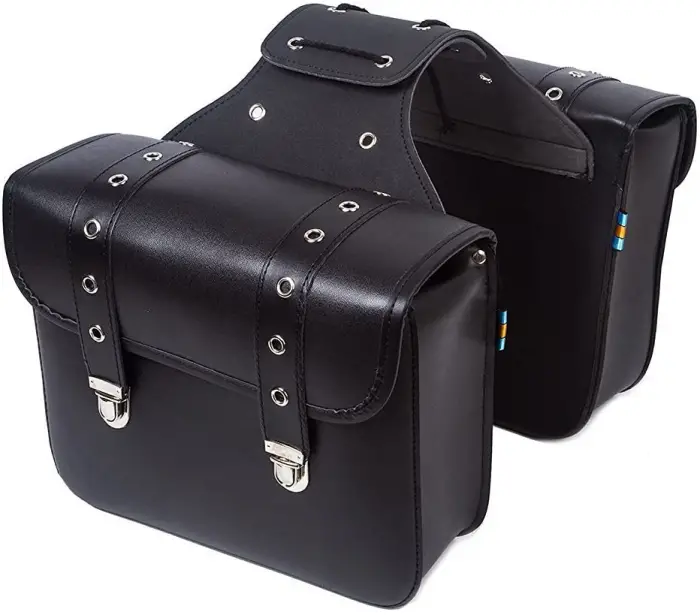 This is a pure animal skin leather hard pannier; well-coated to repel water. The bag has the capacity to withstand any weather conditions. 
It has a 2-strap saddlebag, with a heavy-duty waterproof PVC. The straps are used to attach the bag to your motorcycle.
This is well-cultured and upholstery leather of a high-quality bag — that attracts attention. The bag is suitable for all makes and models of motorcycle. 
The bag doesn't have a key but it has a hook cover by the side, which is used to cover it. The cover protects your valuable inside.
Pure leather bags are durable and cost-friendly. The bag is scratch-proof and easy to clean.
4. Moose Racing Expedition Pannier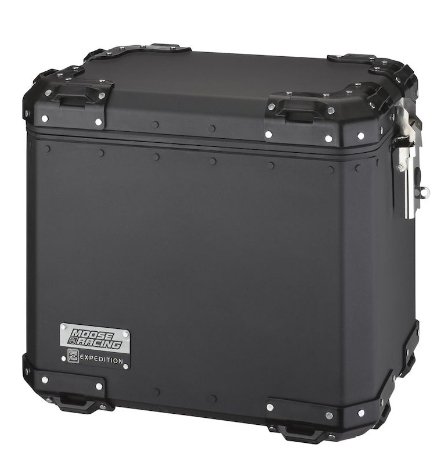 This is a sturdy bag constructed with 1.5mm thick aluminum that is heat-treated to make it more durable. 
The four edges are made with silhouette angles, which give the bag extra value and beauty.
Each of the components is heat-treated to be defect-free before assembling. The components are stainless and aluminum rivets. 
It has a stainless steel latch or hinge system of key, which secures cargo.
It has dimensional size of 17.8″ L x 12.6″ W x 15.4″ H and weight 10.4 lbs
This bag is not waterproof but well-sealed on every edge, to prevent water from getting into the interior. 
It's lightweight — you can easily move with it.
At the base, it has a hook that raises the bottom from the ground, which prevents the beneath from getting dirty.
5. Saddlemen 3501-0717 Cruis'n Deluxe Saddlebag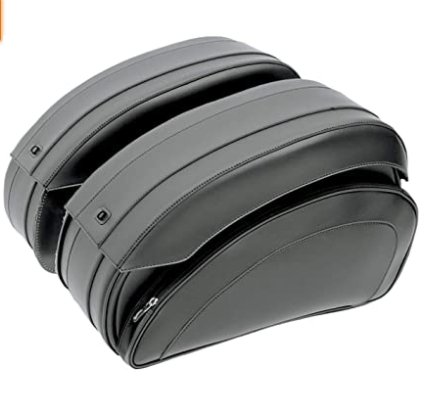 These beautiful and customized styles of saddlebags fit any motorcycle. It has a layered lid and spacious zip side punches that flow together.
It's a rugged saddle bag built to handle any weight of luggage you want to carry. It has an internal reinforcement shape. 
The cover has lids that pivot the control of the opening for you to quickly access the content.
The saddlebag is easy to detach. It has an adjustable system that also makes installation easy. 
This is a customized U-shape bag with an outer zip that you can use to expand the bag. The bag is waterproof and water-resistant. It's easy to clean and maintain!
6. GIVI OBKN48BPACK2A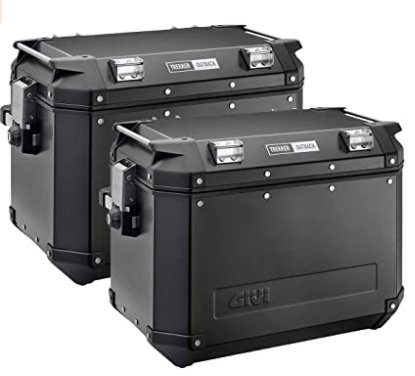 This product has a flat top that is coated to protect the content from any liquid. It's a 48L pair of both left and right.
Givi products are high-quality with waterproof and water resistance features as well. The interior is reinforced with quality material that keeps the contents dry no matter how long it stays inside.
The external body is made with heavy-duty aluminum, which makes it durable and withstands any weather conditions. 
It has the capacity to carry 24.2 pounds with a dimensional size of 12.05 x 19.49 x 15.24 inches. Any motorcycle can use this bag because it can fit any rack. 
You can easily mount it on the bike. It has lightweight that is good for long-distance work. 
The four edges are steel fortified — the external body is produced with aluminum. 
7. Emgo 72-32440 Travel Trunk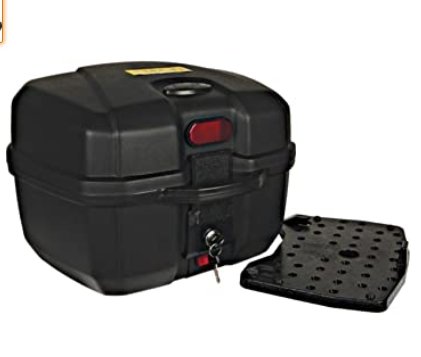 One of the advantages of buying the Emgo 72-32440 travel trunk is that it comes with mount hardware, a lock, and two keys. 
You don't have to buy another mount hardware, none key once you have this bag. It is highly durable and water-resistant.
It has a reflective print on the back, which acts as a security indicator for you when driving at night. The external body is coated to prevent it from being destroyed by weather conditions.
It has a strong lock that prevents an authorized person from accessing the content. The bag is produced from durable Acrylonitrile Butadiene Styrene (ABS) plastic, which makes it last longer.
It can fit into almost any rack. You hardly see any motorcycle that this bag will not work perfectly well. it's an affordable bag with a measurement of 12in.L x 16 1/2in.W x 11in.D
8. Niche Deluxe Motorcycle Rear Travel Bag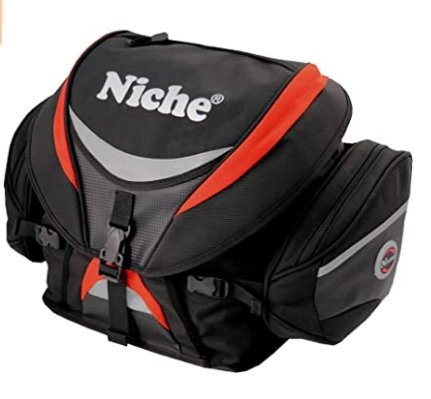 This is a touring bag for sports and a street backpack. It's a weather-resistant, heavy-duty tail bag — waterproof luggage bag as well.
it's constructed with high-quality 1680 Denier Nylon, which contains carbon fiber inflection. It has a nice color that keeps the bag shining.
The bag is built with strong reflective trim on each side that offers clear visibility in dim weather.
You don't worry about if your valuables look good inside because it has a well-padded interior and a solid base constructed with PE board lamination. 
It has a different compartment, where you can store your valuable item. You don't find it difficult to use this bag because of the side detachable pocket. 
Do you know, that this bag has a roll-top Velcro closure? Yes! it does.  It has a release buckle and a big lid, which prevent rain from entering inside. 
The top lid has a zipper pocket that you can easily use to keep items. The manufacturer of this bag did so well by making every component easy for users. 
The velcro straps and elastic hooks make it easy to fasten the bag with the ground rubber handle. The ground rubber makes it easy to move with it.
The bag is built with a waterproof rain cover, which prevents dirt and dust from hitting the bag. Also equipped with a weather-resistant.
The reflective print on the bag creates safety if it's raining and poor visibility. The bag measurement is: 12.6L" x 11.0W" x 9.8H"
9. Motorcycle Saddlebags/Panniers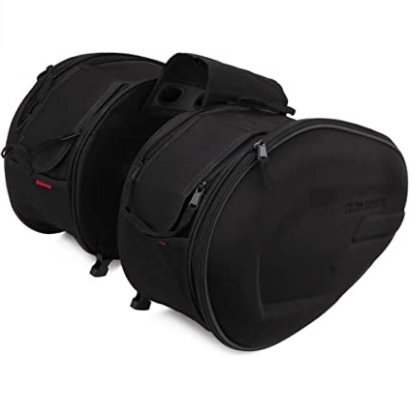 This bag is specifically designed for sports motorcycles. Its rack is for sportbikes — it might not necessarily fit other bikes except for sportbikes. It has an excellent amount of storage space for your luggage. 
Are you looking for a bag for a short or long tour that you can mount on your sports bike? This bag is one of the best options you should consider.
It's a versatile and durable bag. It has a 36L size before expansion but after expansion, it has a 58L capacity. 
It has a side pocket including the inner storage space. The side pock has the capacity to hold some gear. It's built with heat-resistant and anti-slide material at the base.
You can easily attach this bag to your motorcycle because it makes use of the third seat belt safety strap, which secures the panniers to the underneath seat of the motorcycle. 
It has a rain cover that protects your luggage from rain and other weather conditions. 
You can also adjust the bag to fit in and give you the comfort you want by using the shoulder strap adjustable. 
10. Niche Motorcycle Tail Bag Travel Luggage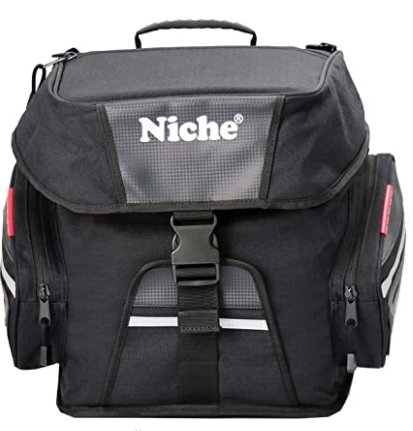 Niche is one of the good producers of panniers. This particular one has excellent space, which you can maximize to carry your luggage when going for a trip such as camping, kayaking, and fishing.
Your valuables are safe from the unannounced weather conditions because of the waterproof rain cover. 
Carrying this bag on your shoulder is not difficult nor heavy because it has a shoulder strap and is lightweight. 
It's a durable bag because it is produced from 600D Ripstop material with PVC. It has a high visibility reflective trim on each side for night safety.
The elastic hook makes it easy to assemble. The top rubber handle also makes it convenient to move with it. There are two rings that connect both shoulders carrying straps. 
The bag has a square shape and the main compartment has a square interior space. It has a Roll-top Velcro closure with a release buckle and a big lid. 
It has a roomy main compartment and the base of the rear bag is foamed and PE board laminated. 
This lamination section is good for you to store your valuable paper document and those you frequently make use of during camping.
The exterior is a waterproof and weather-resistant design. The neon material on the exterior keeps dust and dirt out of the bag. 
You're safe driving with this bag at night because of the reflective prints on the exterior body.
Features of Hard Panniers
Panniers are used to protect and save valuable items. it also makes riders comfortable to drive without any dividing attention. 
These bags come in a wide variety of shapes, sizes, and designs that'll compliment your motorcycle. 
However, there are features you need to look out for before purchasing a hard pannier. Therefore, let's take a look at some of the features.
Storage Space
The type of trip you want to embark on determines the amount of luggage you are going with. 
Therefore, it's important you check the amount of space the panniers have before you conclude the transaction. 
If the panniers aren't space enough, you can go for a more spacious one like the one reviewed in this article.
Protection
Another feature you need to look out for before you buy panniers is the protective system of the cover.
Is the lock good enough to secure your valuables? If the lock is flexible, anybody can open it and make away with your property.
Protecting your valuables is a very important feature that you need to ensure the panniers have before you conclude the contract of buying.
Comfort
How comfortable you'll be depends on how a pannier is able to hook on your motorcycle rack. 
If there is a rack problem you might lose your panniers on the way unknown to you when driving your motorcycle.
To avoid this misplacement of your rack, get a pannier with a good rack that'll hold your motorcycle very well. 
Conclusion 
Panniers are designed to carry sensitive documents and none sensitive documents that you may not want to squeeze during transit. 
Traveling with hard panniers helps you to secure your valuables. The reflective print on the exterior provides you safety when driving during poor visibility.
These top 10 hard panniers reviewed here will help you to make your choice based on the adventure you want to embark on.